I figured that if I'm going to post about another messy court battle, I might as well give you some man nipples. Just try to ignore the fact that those man nipples are attached to a smegma-covered dildo. Oh fuck it, just salivate over that Corona instead.
Entertainment Tonight says that on Friday, Superior Court Judge Lawrence Cho declared that Sofia Vergara's ex-fiancé Nick Loeb can file an amended lawsuit against her ass in his battle for sole custody of the frozen embryos they made when they were still together. The revised lawsuit will include a claim that Sofia breached an oral agreement (which is my favorite kind of agreement behind an anal agreement) to bring the embryos to full term using a surrogate. Sofia was against the amendment lawsuit, because duh, she wants this fucked-up situation to be over. Sofia's lawyer argued that Nick is just doing this for attention and is trying to get back at Sofia. Sofia's lawyer also said that she and Nick signed a consent form that states they both have to agree before anything is done with the embryos. But the judge sided with Nick.
Nick's lawyer echoed what he said in that New York Times op-ed piece and to the Today show. Nick believes those embryos are his daughters and he doesn't want to destroy them or do what Sofia wants, which is to let them stay in a freezer forever.
When Nick first filed the complaint against Sofia in 2014, he filed as a John Doe and called her Jane Doe. Since everybody knows about this wreck of a situation now, he will file the amended lawsuit using their real names. Once he refiles, his lawyer and Sofia's lawyer will go back to court for some legal custody embryo fight fun!
Nick is a crazy bitch with lots of money and lots of time, so I'm sure he'll drag this out until it can't be dragged out anymore. Sofia Vergara's pussy game must be serious, because she's got hos so wound up that they're trying to keep her in their lives by taking her to court over embryos. Sofia's lawyer should argue that Nick shouldn't get sole custody of their embryos, because if those two embryos become babies, he'll probably name them Onion and Crunch and that's not only wrong, but it's child abuse.
Pic: Wenn.com
October 20, 2013 / Posted by:
Sweetas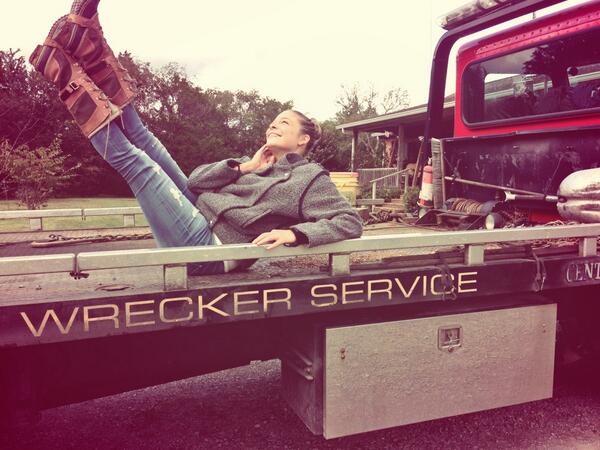 It's another lazy Sunday morning, which means most of us are hungover as hell and promising never, ever to drink that much again (until next Saturday night).  It's a perfect time to post this pic because 1) you can only see out of one blurry crusted over bloodshot eye, 2) you already have a splitting headache, 3) you probably have a little "hair of the dog" ready, and 4) you already have a cat caca taste in your mouth.  It's like a symphony of wreck, and this pic is the crescendo.
So here is Leann Rimes coming to terms with and owning her broke down bitchedness via Twitter.  She says it's her dad's wrecking company, and blah blah blah, but we all know what really happened.  The tow truck driver knows a horrifying accident when he sees one and was just doing his job by clearing out the trash.  Because we're already feeling weak and queasy, I won't even address her legs in the air situation.  SHUDDER.
Sadly, since there was photographic evidence, he couldn't just quietly take her to the dump.  Everyone knows that shit can't ever be fixed so she's now sitting in her front yard with her hood up.  Do NOT drive by there…nobody needs to see that.  It will push your hangover over the edge and into violently barfing last night's delicious frou-frou drinks all over yourself.
Twitter