October 20, 2013 / Posted by:
Sweetas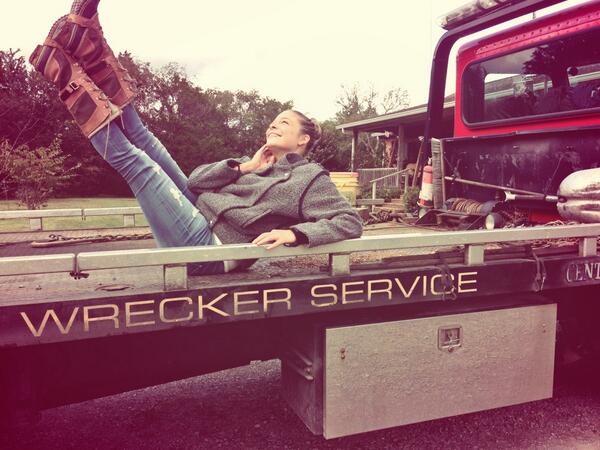 It's another lazy Sunday morning, which means most of us are hungover as hell and promising never, ever to drink that much again (until next Saturday night).  It's a perfect time to post this pic because 1) you can only see out of one blurry crusted over bloodshot eye, 2) you already have a splitting headache, 3) you probably have a little "hair of the dog" ready, and 4) you already have a cat caca taste in your mouth.  It's like a symphony of wreck, and this pic is the crescendo.
So here is Leann Rimes coming to terms with and owning her broke down bitchedness via Twitter.  She says it's her dad's wrecking company, and blah blah blah, but we all know what really happened.  The tow truck driver knows a horrifying accident when he sees one and was just doing his job by clearing out the trash.  Because we're already feeling weak and queasy, I won't even address her legs in the air situation.  SHUDDER.
Sadly, since there was photographic evidence, he couldn't just quietly take her to the dump.  Everyone knows that shit can't ever be fixed so she's now sitting in her front yard with her hood up.  Do NOT drive by there…nobody needs to see that.  It will push your hangover over the edge and into violently barfing last night's delicious frou-frou drinks all over yourself.
Twitter
Our commenting rules:
Don't be racist or bigoted, or get into long-ass fights, or go way off topic when not in an Open Post. Also, promoting adblockers is not allowed. And some comment threads will be pre-moderated, so it may take a second for your comment to show up if it's approved.