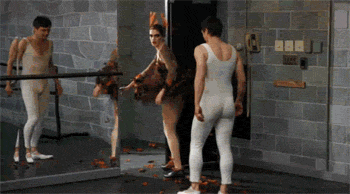 Most of us can agree that last night's Oscars made us loooooong looong loong for the days of David Letterman and his stupid dog tricks. A Golden Retriever twirling around the stage on two feet while wearing a Black Swan costume would've been a million times more entertaining than the rusty bubble of shit that Oscar farted out last night. Don't get me wrong, it had its moments including: Kirk Douglas' glorious verbal crash into a wall of WTF (get it here), James Franco's nalgas waving "goodbye to us" in the stupid Black Swan sketch (fap at the GIF above), Melissa Leo's F-bomb (more on that later) and the children of the 80s freaking out over Corey Haim getting shut out of the In Memoriam. Corey probably sent a white dove down with the message "I'm good" after he found out the greatest singuh in daaaa world would be singing "Smile" during it.
But about the hosts… Anne Hathaway is that annoying girl in drama class who takes the "invisible ball" exercise way too seriously, calls the theater teacher by their first name, chants "UN-IQUE NEW YORK" in the hallways and cries when you say that you thought Mary Poppins was dumb and boring. Anne is like Lea Michele's Glee character on Dexatrim and uppers that give you a manufactured form of peppiness. Annoying as fuck, but at least the ho tried. James Franco on the other hand….
James punched out his invisible time card about 20 minutes after the show began. I understand that James was beyond over it. But he could've freebased some of that Charlie Sheen drug backstage, jumped off the script and blurted out his own shit. James is this generation's (fill in the name of every literary legend here) so he has it in him (or not). But instead, James mumbled out whatever was written on the teleprompter while his sad eyes stayed sad. Bitch was like a junkie reading out the rules of rehab on his first day of treatment. James can't always rely on his ass cheeks to entertain. Did I just type that out loud?
Basically, what I'm trying to say is that the "Bring Back Rob Lowe & Snow White" campaign starts now.
As for James Franco's flat-chested Marilyn Monroe drag, I give it 5 out of 5 Sashay Aways.
Our commenting rules are pretty simple:
If you make any overly offensive comment (racist, bigoted, etc..) or go way off topic when not in an Open Post, your comments will be deleted and you will be banned. If you see an offensive or spammy comment you think should be deleted, flag it for the mods and they'll be forever grateful and give you their first born (although, you probably don't want that).