And now I know what it feels like to actually agree with Taylor Swift. It feels strange and someone might need to hold me.
Taylor Swift was walking backstage at the Billboard Music Awards last night when she caught her best friend 4eva awkwardly cheek kissing Justin Bieber and her reaction spoke for all of us. Since Taylor was dressed up like a damn figure skater, I give her ICK NAST face all 10s! Sticking your tongue out after watching your friend kiss on her douche ex-boyfriend is totally some junior high school shit, but for once I'm not annoyed by the fact that Taylor is an 8th grade mean girl trapped in the body of a squinting ostrich.
It's even better in GIF form and this GIF should go under "Taylor Swift's Greatest Achievement" on her Wikipedia page: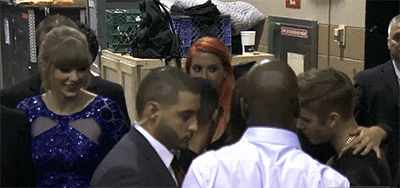 A slow clap and a standing ovation for Tay Tay!
And I made the same exact face when Taylor jumped on stage last night wearing one of Dawn Wiener's outfits.
Our commenting rules are pretty simple:
If you make any overly offensive comment (racist, bigoted, etc..) or go way off topic when not in an Open Post, your comments will be deleted and you will be banned. If you see an offensive or spammy comment you think should be deleted, flag it for the mods and they'll be forever grateful and give you their first born (although, you probably don't want that).