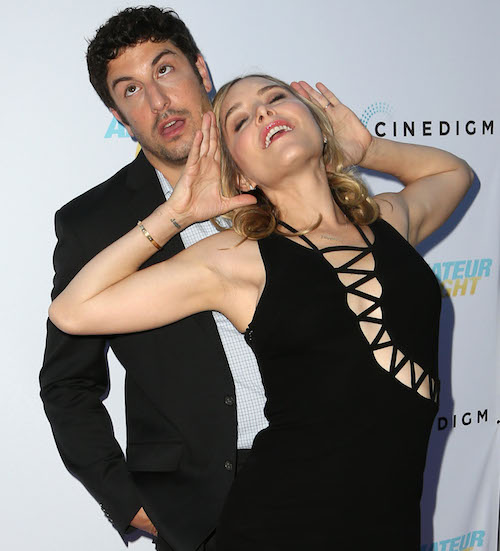 Jason Biggs and Jenny Mollen announced today that they're expecting a second child. The Spike TV version of Dax Shepard and Kristen Bell already have a three-year-old son named Sid Biggs. Since Jason and Jenny are a combination of so extra and not-right, I assumed they would have announced their baby news through a series of Instagram stories in which Jason reminds us of his love of urine by pretending to play Jenny's piss stick like a flute. They actually kept it somewhat normal. Well, normal for them.
In case you don't know, a NoseFrida is a device you use to suck snot out of a baby's nose. A sponsored Instagram pregnancy announcement involving an actor who was super famous in the 2000s that wasn't for Clearblue? I bet the social media team at Clearblue just gasped in shock.
I hope Jenny and Jason remember to Instagram a second, less gross announcement tomorrow for everyone. I've been dry heaving for the past 10 minutes at the thought of Jason Biggs getting sucked off in any way, and I have a feeling the lack of air to my brain is going to affect my memory.
Pic: Wenn.com/FayesVision
Our commenting rules:
Don't be racist or bigoted, or get into long-ass fights, or go way off topic when not in an Open Post. Also, promoting adblockers is not allowed. And some comment threads will be pre-moderated, so it may take a second for your comment to show up if it's approved.