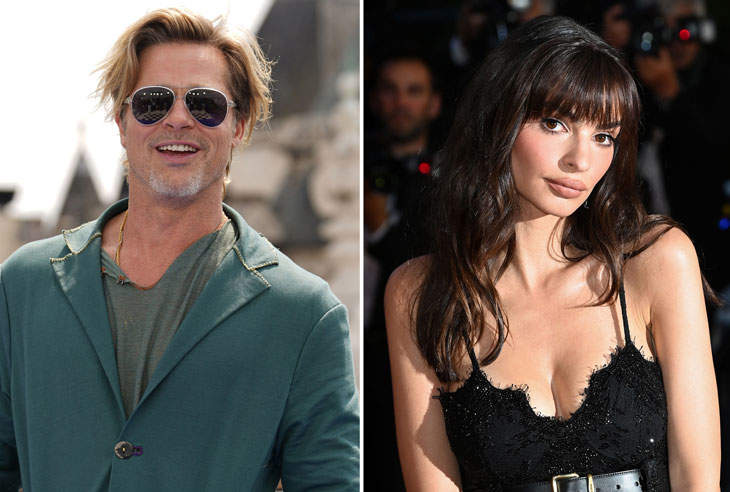 The hottest thing on the planet is the fucking weather, but according to Brad Pitt, global warming ain't got shit on Emily Ratajkowski who he reportedly thinks is hotter than Heat Miser's hemorrhoids. It's been about a month since we started hearing rumors that Brad and Emily were bumping down-low parts, but there hasn't been much proof of that. All of Emily's mail goes to her social media accounts since she practically lives on the internet, but Brad hasn't made one appearance in any of her posts. And sources claim that the reason why Brad and Emily are keeping things "low-key" is because he's afraid that if he gets a serious girlfriend, that other busty-lipped dark-haired skinny woman in his life, Angelina Jolie, will use it as ammunition in their never-ending child custody fight.
Emily became single in July after splitting from her husband Sebastian Bear-McClard over his alleged inability to keep his rogue dick from moseying into other coochies. Brad Pitt became single when Barack Obama was still POTUS after Angelina filed for divorce in 2016. Since then, Brad's casually dated MIT professor Neri Oxman and model Nicole Poturalski. And now he's casually dating Emily RideAJetSki, according to the tabloids. A source tells Life & Style that Brad thinks Emily is hotness personified and that they "totally gel" but they're taking things slow.
After noting that the dates have been "on the down low," the source adds, "He thinks she's the hottest thing on the planet and they totally gel."

While Brad, 58, and Emily, 31, appear to be hitting it off, the romance is not serious. "It's still very early days and they're having fun," the insider notes.
Another source tells Page Six that they're going to continue to take things slow because they're both dealing with breakup drama:
But we're now told that he's keeping their friendly relationship low-key — because he and the model are both in the midst of messy public breakups.

"Brad has quietly dated the last couple of years. He worries that [Angelina] Jolie will badmouth him to their kids, more than she already has, if he has a serious girlfriend," a source said.
If Brad and Emily are waiting for his messy woes with Angie to end before they get serious, they will have to wait a while. Brad is still fighting with Angie over custody of four of their six children (21-year-old Maddox and 18-year-old Pax have aged out of that mess), and they're still in a legal tussle over Chateau Miraval. But since Brad and Emily's romance is completely real and made of potent everlasting love, I'm sure she'll wait forever for him. Picture it, the year is 2067, and Brad Pitt is lying on his death bed while clutching the hand of his casual girlfriend of 45 years, Emily Ratajkowski. And as he's about to open his mouth to say to her, "Will you be my serious girlfriend?", he'll get a text from his lawyers that Angie has sued him again and they're going to countersue.
Pics: Yui Mok/PA Images/INSTARimages.com/Cover Images, Doug Peters/PA Images/INSTARimag
Our commenting rules:
Don't be racist or bigoted, or post comments like "Who cares?", or have multiple accounts, or repost a comment that was deleted by a mod, or post NSFW pics/videos/GIFs, or go off topic when not in an Open Post, or post paparazzi/event/red carpet pics from photo agencies due to copyright infringement issues. Also, promoting adblockers, your website, or your forum is not allowed. Breaking a rule may result in your Disqus account getting permanently or temporarily banned. New commenters must go through a period of pre-moderation. And some posts may be pre-moderated so it could take a minute for your comment to appear if it's approved. If you have a question or an issue with comments, email: [email protected]