June 1, 2022 / Posted by:
Emily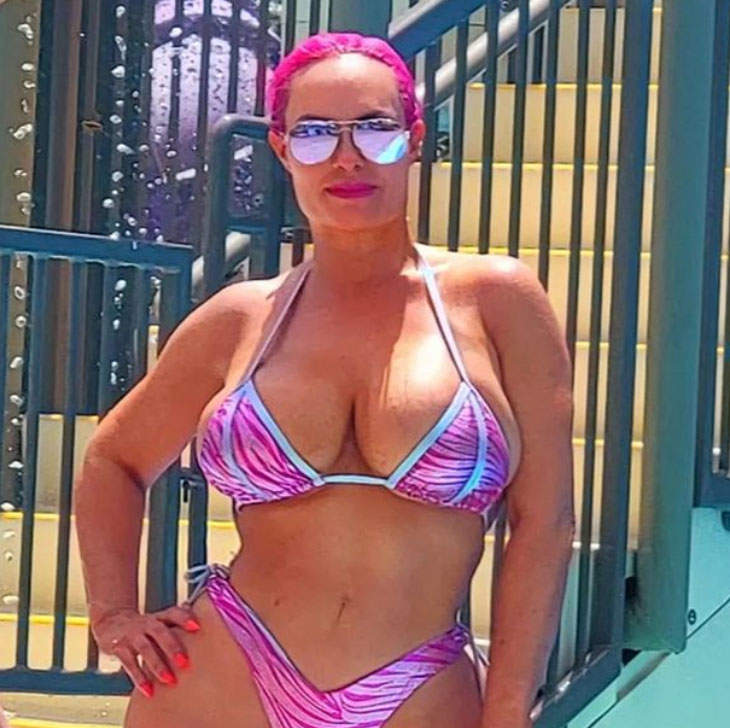 Coco will become the most controversial celebrity mother since OctoMom, and no amount of pearl-clutching will stop her! Last week the 43-year-old was criticized for letting her 6-year-old daughter, Chanel, ride around in a stroller at the Atlantis Bahamas Resort. Coco, Chanel (ohhh, Coco Chanel!) and Ice-T are still on their family vacay, and the scandals keep coming. Now Coco's getting shit for wearing a skimpy G-string bikini at a waterpark, where there were… brace yourselves… children in attendance! Great, now dozens of parents will be forced to explain to their kids what "true glamour" is.
Obviously, Coco took to Instagram to share numerous photos of the outing:
The New York Post recapped some of the more outraged comments:
"Your bathing suit is soooo NOT appropriate for a water park," one of Coco's three million followers wrote. "So I gotta ask, don't you ever feel like maybe at a kid-friendly place a G-string is inappropriate? Just curious if you ever feel like that," another said.

While another wrote: "INAPPROPRIATE for a water park." "It's disgusting that's what you think is acceptable to wear around children," one said.
The Post reports that the Baha Bay Water Park's website doesn't mention any rules against wearing a G-string. And some of the commenters defended Coco's choice of bathing suit, pointing out that she's "not hurting anyone," and "she's in a two-piece, not naked."
Haven't these scandalized mothers ever been to Europe? It is my (totally ignorant) understanding that parents take their kids to topless beaches in countries like Spain, Italy, and France, where they're exposed to bare boobies, skimpy thongs, and tight lil' speedos. And if the children don't like it, the moms hand them a bottle of red wine and say, "Amuse-toi bien, ma puce!" Translation: "Have fun, honey!" I guess Coco and Ice-T are just a little more cultured than their trashy American followers!
Pic: Instagram
Our commenting rules:
Don't be racist or bigoted, or post comments like "Who cares?", or have multiple accounts, or repost a comment that was deleted by a mod, or post NSFW pics/videos/GIFs, or go off topic when not in an Open Post, or post paparazzi/event/red carpet pics from photo agencies due to copyright infringement issues. Also, promoting adblockers, your website, or your forum is not allowed. Breaking a rule may result in your Disqus account getting permanently or temporarily banned. New commenters must go through a period of pre-moderation. And some posts may be pre-moderated so it could take a minute for your comment to appear if it's approved. If you have a question or an issue with comments, email: [email protected]