Guy Fieri's Apple Pie Hot Dog!
Leave it to America's premier culinary sage Guy Fieri to fart out a real contender for the most American food to ever America. We all know that apple pie and hot dogs are about as American as an anti-masker punching out a minimum wage-making employee for asking them to put a mask on, or a hospital sending you to collections for a medical bill you can't pay. So Guy took apple pie and a hot dog, put them together, and created the reason why bald eagles cry with happiness today: THE APPLE PIE HOT DOG! And if America had an "official" sex tape, it'd be the footage of Guy fucking a hot dog into an apple pie pocket.
The Takeout says that Chevrolet got Guy Fieri to bring Flavortown to a special baseball game between the Yankees and the White Sox at the filming location for the 1989's  Field Of Dreams in Dyersville, Iowa. The game will happen this Thursday and those who go will be able to wrap their lips around Guy Fieri's apple pie wiener. If Guy Fieri builds it, people will come…in their panties from the delicious gourmetness of it all! In a statement, Guy's Apple Pie Hot Dog is described as being a pie crust that's filled with a hot dog, pie filling, and bacon jam and covered with apple mustard and sugar and apple pie spice.
The one-of-a-kind recipe will feature an all-beef hot dog, apple pie filling, and Fieri's signature bacon jam, enveloped in flaky pie crust, and topped with an apple mustard drizzle, apple pie spice, and demerara sugar. The Apple Pie Hot Dog will be offered exclusively to attendees of MLB at Field of Dreams presented by GEICO in Dyersville, Iowa, on Aug. 12.
Guy's Apple Pie Hot Dog will only be sold at that one game, but fear not, Heat Miser's refined food connoisseur nephew has shown you how you can easily make it yourself:
Maybe it's because my palate is permanently set to STONER (SPOILER ALERT: That's the reason!), but that actually brings the tingles to my mouth. I already make Pillsbury dough-wrapped hot dogs in the air fryer, so now all I have to do is add some pie filling, sugar, Bacos (I am too lazy to make that bacon jam), and mustard, and I'd create a Guy Fieri masterpiece! If tastes like trash, I can just rinse my tongue out with Pellegrino. And just like that, every person who got hungry from looking at Guy's Apple Pie Hot Dog is hungry no more. Because they remembered that cursed GIF of Guy Fieri tongue fucking a stream of Pellegrino.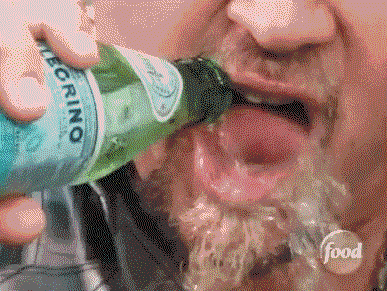 Pic: Chevrolet
Our commenting rules:
Don't be racist or bigoted, or post comments like "Who cares?", or have multiple accounts, or repost a comment that was deleted by a mod, or post NSFW pics/videos/GIFs, or go off topic when not in an Open Post, or post paparazzi/event/red carpet pics from photo agencies due to copyright infringement issues. Also, promoting adblockers, your website, or your forum is not allowed. Breaking a rule may result in your Disqus account getting permanently or temporarily banned. New commenters must go through a period of pre-moderation. And some posts may be pre-moderated so it could take a minute for your comment to appear if it's approved. If you have a question or an issue with comments, email: [email protected]