June 12, 2020 / Posted by:
Emily
Cue up Michelle Branch's Goodbye to You, and pour one out for life in plastic, because Chrissy Teigen got her Tupperware titty bowls removed. They were just twenty years old. RIP to many of the big boobies born during the 90s/early aughts, when hard-boulder-tits reigned supreme. Sigh. Something for our kids to read about in the history books.
Yesterday, Chrissy let fans know she was safe and sound post-surgery on Instagram:
Awww, booby goodbye cards from her kids, Luna, 4, and Miles, 2. I think that shit says, "Have fun pulling your boobies out" and "BYE BOOBIES". Come on, Luna, get with the program, you can't just split up words between lines! But at least it's better than what I assume is Miles' red scribble.
Super-relatable Chrissy announced her surgery plans over two weeks ago. She decided to take those suckers out (or, suckees, since she's a mom of two), because she didn't wanna keep risking death during boob maintenance surgery. Apparently, if you have implants, you need to get them replaced every ten years.
Also, she was over not being able to find dresses in the right size. As someone with slightly larger boobs (thanks weight gain in my twenties!), I can relate. There's nothing more heartbreaking than finding a perfect dress that's ruined by the fact that it flattens your chest down into one long horizontal smushed titty.
I hope John Legend had enough time to give those plastic chichis a proper motorboat sendoff before they ended up in a medical waste bin behind Cedar-Sinai Hospital (unless Chrissy ate them like women eat placentas?). Or maybe a long, tearful motorboat was too painful, and Chrissy just gave him a quick Bon Voyage flash, a la Arrested Development's Kitty Sanchez: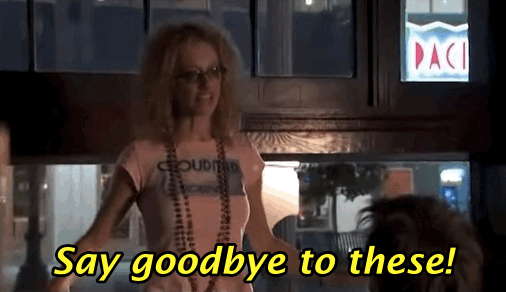 Chrissy's titty send-off reminds me of the time my father chauffeured my teenage friends and I to see Brokeback Mountain. Somehow the subject turned to breast reductions, which kicked off an excruciating anecdote about the time he threw a busty ex-girlfriend a "Tit-Going-Away Party" pre-surgery. My friends laughed, but I died of embarrassment, later writing in my diary, "I HATE him, HATE HIM. Why did he have to use the word TITS?!". This was followed by a detailed passage about how Heath Ledger slamming Jake Gyllenhaal against the wall in a passionate kiss was the sexiest thing I'd ever seen in all my sixteen years. And ya know what, dear reader? It still is.
Pic: Wenn.com
Our commenting rules:
Don't be racist or bigoted, or post comments like "Who cares?", or have multiple accounts, or repost a comment that was deleted by a mod, or post NSFW pics/videos/GIFs, or go off topic when not in an Open Post, or post paparazzi/event/red carpet pics from photo agencies due to copyright infringement issues. Also, promoting adblockers, your website, or your forum is not allowed. Breaking a rule may result in your Disqus account getting permanently or temporarily banned. New commenters must go through a period of pre-moderation. And some posts may be pre-moderated so it could take a minute for your comment to appear if it's approved. If you have a question or an issue with comments, email: [email protected]