June 4, 2020 / Posted by:
Emily
Nicole Byer is a comedian, actress, and host of Netflix's delightful amateur baking show Nailed It, which I enjoy watching when I'm down in the dumps. So yeah, it's been on a lot this week. Last year Nicole called out Netflix for removing her image from the thumbnail of their main page and replacing her with two white men (her co-host Jacques Torres and assistant director Weston "Wes" Bahr) and a mannequin head. It worked, Netflix changed it. And lately, she's been vocal in her support of Black Lives Matter.
Nailed It is a family-friendly show (except for sexy, sexy Wes), so a lot of moms and dads follow Nicole on the socials. One of them commented on one of her BLM posts and said that they will "keep their head down and just let their kids watch nailed it." Well, that disturbed Nicole, because "you will allow your kids to watch me, but not stand up for me".  So she helpfully posted a "conversation you can have with your white child" to explain Black Lives Matter.
Here it is:
Since Instagram is allergic to paragraphs, here's a more decipherable version:
Hi hello I'm Nicole. I host a tv show called @nailedit a lot of kids watch the show. In an Instagram comment someone said they would "keep their head down and just let their kids watch nailed it." (I turned off the comments so ya can't find it and attack that person also dunno their ethnicity or anything about them)

That made me boo hoo hoo. That you will allow your kid to watch me but not stand up for me. So I'll do the work I'll write you a conversation to have with your white child

A good way to explain to kids #blacklivesmatter : "you like this black lady right? She's silly? She makes you tee hee hee?You would be sad if a police officer hurt her right? Well this is the current country we live in where someone you like can be hurt by the color of their skin and people in charge aren't doing a fucking (you can replace that with dang if ya kids are soft) thing about it. So they are protesting, and the looters… well some of it is staged as a distraction some are opportunistic and some are people who've been oppressed for so long it bursts.

And nice cops? There are no nice cops because if a cop was nice they wouldn't watch and participate in violence against black and brown people. If cops were really nice they would have spoken out about police brutality years ago and maybe walked out on their precincts to send a message that they are against this. Instead they dress up like your GI Joe doll and are very mean.

The curfews the helicopters the police in riot gear is all because black people have asked to not be killed… that's it. There's literally nothing else to it. Now once a week let's read about shit (stuff for the soft kids) that happens to black people that doesn't get covered in schools like Juneteenth, black Wall Street, how black people have influenced most of pop culture today and aren't credited or it's just co-oped… and if you do this post about. Post about the black history you teach your white kid to maybe inspire another white parent to do the same thing.

There I did it you can read it verbatim to your kids. Also I'm open to any additions.
Raise kids who give a fuck and you gotta give a fuck
#blacklivesmatter
She went on to comment:
A post showing you teaching is better than a black box… and if you feel like it's too much to post it isn't. I would love to see white parents raising racially conscience kids
Nicole also posted the message to Twitter. She received an outpouring of support, but obviously, people had opinions. One mother disagreed with her statement that there are "no nice cops", and here's how Nicole responded:
This is worded terribly but I think ya get the point!

— nicole byer (@nicolebyer) June 2, 2020
At the near-fetal age of 31, I don't have any kids of my own. But if I did, I'd read this to them, being sure to include all the "fucks" and "shits" (hey, they gotta learn sometime). It sucks that a Black woman has to be the one educating white parents, especially during such a difficult week, but hopefully, they'll listen and learn. One might say that Nicole… Nailed It?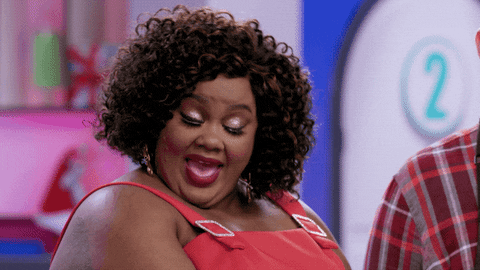 Pic: Wenn.com
Our commenting rules:
Don't be racist or bigoted, or get into long-ass fights, or go way off topic when not in an Open Post. Also, promoting adblockers is not allowed. And some comment threads will be pre-moderated, so it may take a second for your comment to show up if it's approved.