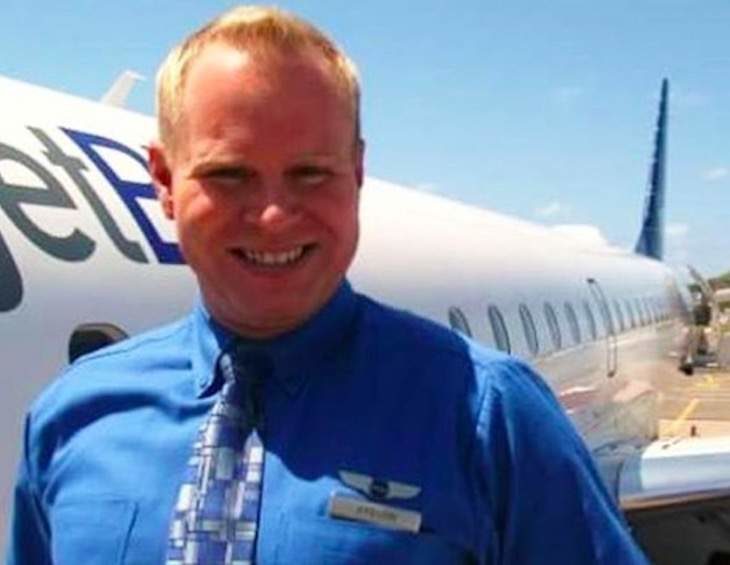 This is disturbing news. Steven Slater is the former JetBlue flight attendant who safety-slid into our hearts when he quit his job right after the flight he had been working on landed at JFK on August 9, 2010. Steven reportedly used the PA system to note (with fuck bombs) that a passenger had abused him, that he had had enough of that shit and was quitting, and then stole two beers and deployed the safety slide, using it to escape the plane. TMZ reports that the American hero is now missing in Mexico. Did they check the AeroMexico terminal at the airport? Maybe he's using his example to lure flight attendants out of a life in bondage.
Someone filed a missing persons report with the Chula Vista Police Department in California a couple of days after this public plea was posted by a friend calling themselves HeartIKnowByHeart.
Steven's friend says that Steven, who they note has struggled with substance abuse, was living in San Ysidro which is right on the U.S./Mexico border. He appeared to be working in Mexico and traveling through the San Ysidro Point of Entry every day, using Ubers and the San Diego trolley in lieu of driving.
Steven posted a pic of the border crossing on Facebook after work on Sunday night, and said he was headed to "Avienda Revolucion", which is the main drag for tourists in Tijuana. They haven't heard from him since.
There are clues from his phone and social media profiles that show that he (or someone using his phone) has been active since Sunday.
His phone was ringing through Monday and Tuesday at least, and with an international ring tone, indicating his phone at least had not slipped back into the US since then (with him attached to it). Additionally. his Facebook messenger had been showing he had been online — or whoever has his phone if it's not him that was checking the app.
The FBI, Border Patrol, San Diego and Tiajuana are all reportedly on the case. His friend says that Steven was nearing one year of sobriety from methamphetamines and that it wouldn't make sense that he would head to whatever gay bars or clubs are in ""Avienda Revolucion" just to break it.
Hopefully, Steven will be found, safe and sound, and his example of the most dramatic way to quit this bitch will be lauded for ages to come.
Pic: 9news.com.au
Our commenting rules:
Don't be racist or bigoted, or post comments like "Who cares?", or have multiple accounts, or repost a comment that was deleted by a mod, or post NSFW pics/videos/GIFs, or go off topic when not in an Open Post, or post paparazzi/event/red carpet pics from photo agencies due to copyright infringement issues. Also, promoting adblockers, your website, or your forum is not allowed. Breaking a rule may result in your Disqus account getting permanently or temporarily banned. New commenters must go through a period of pre-moderation. And some posts may be pre-moderated so it could take a minute for your comment to appear if it's approved. If you have a question or an issue with comments, email: [email protected]