Just a few days after Aretha Franklin's family and publicist confirmed the soul-breaking news that she was getting ready to travel to the heavens to fill the ears of the angels with her legendary voice and legendary charisma (and legendary shade skills), her publicist says she died at her home from advanced pancreatic cancer in Detroit last night.
"In one of the darkest moments of our lives, we are not able to find the appropriate words to express the pain in our heart. We have lost the matriarch and rock of our family. The love she had for her children, grandchildren, nieces, nephews, and cousins knew no bounds."
Aretha was surrounded by her friends and family at the time. She was 76.
We knew this awful news was coming, but I was still hoping that Queen Aretha would miraculously pop up out of bed, and say, "Get me a pen, some paper, and a carrier pigeon, because I need to let Dionne Warwick how I really feel this time," before booking a world tour. So my heart free fell and is living in my foot now.
To say that Queen Aretha's contributions to music and culture were enormous is as big of an understatement as saying that Queen Aretha was just okay at shade. There's a billion and one obits about Queen Aretha out there, so I won't write a full one here, but it'd be illegal for me not to mention how she changed music by perfectly infusing gospel and R&B with pop, won 18 Grammys (as well as a Grammy Living Legend honor), was the first woman inducted into the Rock & Roll Hall of Fame in 1987, received the Presidential Medal of Freedom in 2005, and is one of the best-selling music artists of all-time. Aretha, who dropped out of high school, got honorary doctorate degrees from Berklee College of Music, Yale University, and Harvard. And Queen Aretha accomplished all of that, and much more, after going through a hard childhood and having two children by the time she was 14. She had four sons.
And now for some proof (although, none is needed since it's already a fact) that Aretha was one of the greatest. Here she is melting the mic with her four-octave powerhouse wail while performing her first #1 hit I Never Loved A Man (The Way I Love You).
And Aretha doing what is arguably her most popular hit:
Let's jump to the 80s when Queen Aretha invented freeways with this masterpiece:
The nipples of the angels are going to tingle off of their bodies when they see Aretha and George Michael reunite to perform this:
In 1998, Pavarotti was supposed to perform at the Grammys but got sick. Queen Aretha stepped in at the last minute and sent the roof flying into the universe where it knocked out a planet and destroyed it (RIP Jupiter).
And THE HAT!
Since this is the internet, I have to pay tribute to Queen Aretha for also being the Queen of GIFs!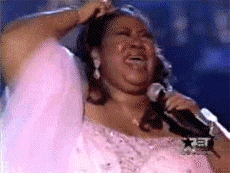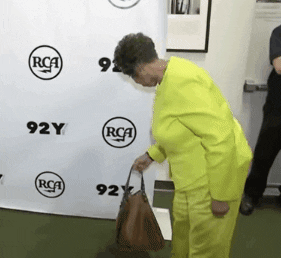 And of course, for being the forever reigning Queen of Shade: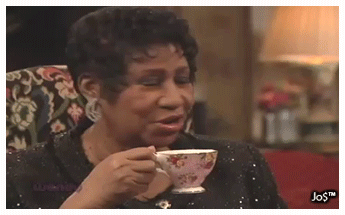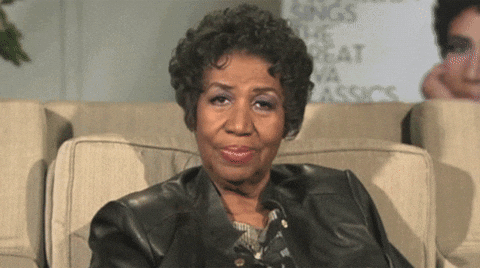 Rest in peace to this icon, legend, and goddess. And somebody should really get ice packs for the angels who work the front gates of heaven, because I'm sure they fell back after Queen Aretha strolled on through like this: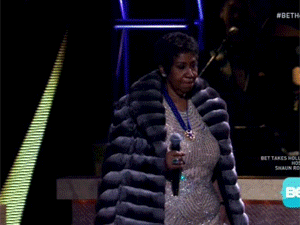 Pic: Wenn.com
Our commenting rules:
Don't be racist or bigoted, or get into long-ass fights, or go way off topic when not in an Open Post. Also, promoting adblockers, your website, or your forum is not allowed. And some comment threads will be pre-moderated, so it may take a second for your comment to show up if it's approved.