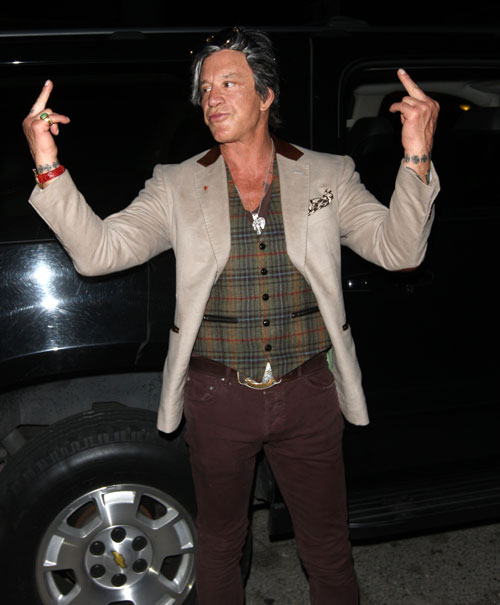 Even though boxer Manny Pacquiao shat up a non-apology for saying that gays are "worse than animals," he continued to double down on his comments by Instagramming Bible scriptures that say gay dudes getting caught doing gay sex should be murdered. While some of us patiently wait to hear the news that Manny P was caught tap-dancing in a men's public bathroom somewhere, Loki's human and champion boxer (Um, don't give me that look, even if he used his wallet to win it, he still won it!)  Mickey Rourke gave his thoughts about that shit. TMZ caught the Panty Creamer Hall of Famer outside of The Nice Guy in West Hollywood on Friday night and asked him about Manny P's words. Mickey shat on Manny P's comments and pretty much quoted notable philosopher Honey Boo Boo when he said he's a little gay himself. (Cut to Little Gay from The Soup poking out of Mickey's gorgeous wig while waving.)
Here's what Mickey said about Manny's comments while dressed like an extra fancy gay hair dresser from Wild Wild West times:
"I think they were wrong and out of place and I think that we all got to watch what we say. You know, that was from the Old Testament, he was quoting, so you got to give him a little bit of room. But I got a lot of gay friends. I'm a little bit gay myself."
And to show he's a "little gay," Mickey kissed on another dude in front of the paps.
Manny P is probably not going to respond to Mickey, but I'd like to see him try to snatch the wig cemented onto the hot piece of salmon jerky's head. It's impossible. Mickey came prepared by using Gorilla Glue, Super Glue, Krazy Glue, Elmer's Glue, four different rubber cement brands and chameleon saliva to keep his hot wig from leaving his head.
A high-powered winch, a crane clamp and a hungry eagle couldn't yank off that wig. Mickey stays winning!
And here's more of Mickey working that "butch Cinderella's stepmother" lace front outside of  The Nice Guy and at the premiere of Triple 9 with Norman Reedus.
Our commenting rules:
Don't be racist or bigoted, or post comments like "Who cares?", or have multiple accounts, or repost a comment that was deleted by a mod, or post NSFW pics/videos/GIFs, or go off topic when not in an Open Post, or post paparazzi/event/red carpet pics from photo agencies due to copyright infringement issues. Also, promoting adblockers, your website, or your forum is not allowed. Breaking a rule may result in your Disqus account getting permanently or temporarily banned. New commenters must go through a period of pre-moderation. And some posts may be pre-moderated so it could take a minute for your comment to appear if it's approved. If you have a question or an issue with comments, email: [email protected]