This morning, my ass is suffering from bronzer fumes inhalation, breast plate burns to the face and a Vitamin D deficiency due to shade overload, and that could only mean one thing: RuPaul's Drag Race is back! The show that Xtina uses as her own personal make-up tutorial (Note: But no self-respecting queen on Drag Race would let her pussy plasma drip down her leg without throwing some glitter on it first) dropped on our TV screens and brought Elvira, who I can't believe has never been on that shit before, in as a guest judge.
There are a few queens to talk about like Phi Phi O'Hara, who I swear has "bitch" written next to nationality on her passport ("Go back to Party City where you belong!" is my new favorite verbal slap and I don't even know what it means), Latrice Royale and Willam whose face is always telling you that it's 5 o'clock, but none of them compare to Sharon Needles! Sharon Needles was born one night in Pittsburgh when Courtney Love's favorite heroin-shooting vein busted open and squirted all into the gutter as Marilyn Manson jacked off on a Nina Hagen voodoo doll. Bitch is like a Real Housewife of Silent Hill.
Last night's challenge was to queef out a glamour look for the Rupocalypse and Sharon Needles easily wrapped up that competition by crawling out looking like she just snowballed (tar balled?) a Tar Monster on the shores of a swamp.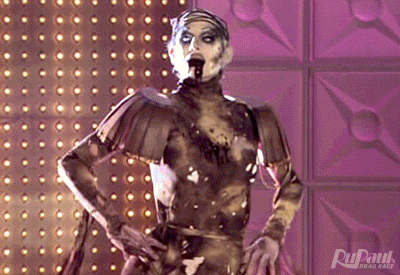 The season is still young, but so far I'm stretching out my arm to tie a pair of panty hose around it before shooting up some Sharon Needles. TEAM SHARON NEEDLES (If that doesn't get me an "HIV test appointment reminder" postcard from the free clinic, I don't know what will.)
Our commenting rules are pretty simple:
If you make any overly offensive comment (racist, bigoted, etc..) or go way off topic when not in an Open Post, your comments will be deleted and you will be banned. If you see an offensive or spammy comment you think should be deleted, flag it for the mods and they'll be forever grateful and give you their first born (although, you probably don't want that).