At the end of every day, I throw myself on top of my bed and stare at the water spot on my ceiling while trying to exorcise all the KardashianLohanStoddenFishsticks foolishness from my head so it doesn't follow me from my daymares into my nightmares. While I was in the middle of doing this last night, I felt a tingling on my lobes travel up to my ear holes like a feather fairy wearing glitter skates was doing figure eights across them. I just figured that my neighbor a few doors down was listening to Clay Gayken's first album again, but now I know the real reason why!
During The Silver Fox's Ridiculist segment on Mah Boo 369me, he gave all little girls an inferiority complex when he busted into a giggle tornado while talking about Gérard Depardoodoo's mile high golden showers. War bullets and Pro-Mubarak crazies are no match for Mah Boo Anderson Cooper, but put a bunch of piss puns in his mouth and he melts into a puddle of giggles. A puddle I just want to pour into a silver decanter and charge hos $5 to listen to it. I never thought that I'd want the sound of a baby pink dolphin getting tickled in the blowhole by a pair of rainbow hands as my funeral song.
Sunshine on my shoulders don't do shit for me, but watching a Mah Boo giggle meltdown makes my happy place open franchises all over my body. Kittens in baskets can take the day off, because nothing will top this.
If scientists can come up with a way to hypnotize all tween girls into devoting their lives to Justin Bieber (that definitely is the work of some evil ass scientists), then they can come up with a way to embed this GIF on the inside of my eyelids: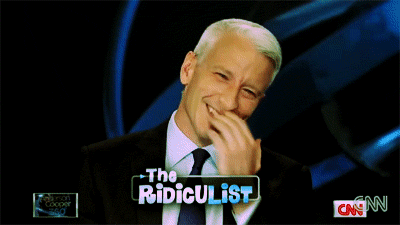 Dear Tyco, all I want for Christmas is a Tickle Mah Boo Doll complete with it saying, "This has never happened to me before…."
Good. Night.
via ONTD (Thanks to everybody who sent this in)
Our commenting rules:
Don't be racist or bigoted, or get into long-ass fights, or go way off topic when not in an Open Post. Also, promoting adblockers is not allowed. And some comment threads will be pre-moderated, so it may take a second for your comment to show up if it's approved.