STOP LYING
Monday, February 20th 2012
Above is a picture that is supposed to be the whoring whores of ungodly trash from Westboro Baptist Church picketing Whitney Houston's funeral in New Jersey on Saturday. The picture was Tweeted by master whore of propaganda Margie Phelps. Below is an untouched picture from Whitney Houston's funeral in New Jersey on Saturday without the shit stains from Westboro Photoshopped onto it.
Westboro declared that they were going to come to NJ to picket Whitney's funeral, but those cowardly whore beasts never showed up and tried to make everyone believe that pieces of shit from their "church" were there by rubbing a clean picture on Photoshop's dirty asshole. NJ.com confirms that there was restricted access in front of the church where Whitney's funeral took place and no protesters showed up. HAHAHAHA @ those stupid bitches.
This is why I try not to feed those attention whoring hyenas from hell. They always say that they're going to picket someone's funeral and they don't show up since making signs at Kinko's drained their piggy banks and they can't afford to buy a bus ticket. But this might be the first time that those stuntin' trolls faked a protest by Photoshopping themselves into a picture.
Doesn't Margie Phelp's lying ass know that above everything GOD HATES PHOTOSHOP!!!!!!
Thursday, November 24th 2011
Pimp Mama Kris recently said that her main prized pig Kim Kuntrashian has such a giving soul (more like giving hole) and always quietly gives to charity without getting any attention for doing so. Pimp Mama Kris proved to be right yesterday when Kim graciously took a break from her busy schedule of being the whoring whore of all whoring whores to feed the homeless at the Los Angeles Mission while surrounded by a team of bodyguards, half a dozen paparazzos, a make-up artist, a hairstylist, a camera crew and the souls of a dozen dead turkeys eye rolling at this blatant publicity stunt. TOTALLY INCOGNITO!
Jennifer Love Hewitt is where the word "desperate" goes to feel better about itself and yet she still doesn't look 1/10th as desperate as Kim looks. Just look at this transparent trollop dressed like "real people" and acting like she didn't drop that ladle and run to her chauffeured SUV the minute the cameras stopped clicking. Kim could find the cure for cancer in her queefs while curing a dozen orphans of the urinary retention they suffer from by baring her ass (Fact: When Kim bares her ass, the piss just comes shooting out of your piss hole), and we'd still see her as a fame whoring STUNT QUEEN heffa whore. That is the truest story ever told.
And haven't the homeless people been through enough? They're already homeless and then they had to sit there while a skank gave them their meal. They came for Thanksgiving dinner, not Skanksgiving dinner.
Wednesday, July 27th 2011
Failed gold digger Crystal Harris told Howard Stern yesterday that a tongue depressor held by a free clinic nurse has been in her vagina longer than Hugh Hefner's tortoise head dick was. In case you haven't already shuddered through that mess, Crystal said sexy time (because there was only one) with Hef was anything but sexy and it lasted about 2 seconds. Crystal also said that Hef had to stop guzzling down the Viagra since it was making him blind in the eyes and all he really wanted to do anyway was cuddle with her. Did you hear that makers of the Boyfriend Pillow? This is your cue to start making a Whore Friend Pillow (with a built-in waist vagina pouch for keeping your hard candy safe) just for Hef.
Well, Hef went on Twitter last night to call Crystal a liar and say that she BAMBOOZLED his old fool heart. Hef has since deleted a few of those Tweets, but here they are thanks to the power of copy+paste to clipboard for future use.

The sex with Crystal the first night was good enough so that I kept her over two more nights.

Crystal lied about our relationship on Howard Stern but I don't know why.

When I said, "I missed a bullet" when Crystal left, I didn't mean I didn't love her. I meant I realized she really didn't love me.

I feel sorry for Crystal. She seems lost.

Crystal convinced me that she adored me. That was the first lie.

I'm happy to be in a better place with new girlfriends Anna Sophia Berglund & Shera Bechard.
Long Tweet short, they're both dumb whores. Crystal is a dumb whore for admitting that she's not into necrophilia (there goes her gold digging career since she turned off every possible sugar pepaw). Hef is a dumb whore for thinking that a 23-year-old is with him for him and not for the bag of $2 million that falls into her lap when he croaks (insert a Holly Madison shank eye here).
And I'm a dumb whore for still talking about this mess. It doesn't matter if Crystal boned that bag of bones once, twice or a million times. It all still leaves me with the same feeling I felt when our family cat brought me a baby bunny head with bloody veins spilling out of its neck and shit. I tried to push a fake awww out of my mouth, but the wet heaves rushed up my throat, wrapped around it and dragged it down.
Thursday, June 30th 2011
This will come as no surprise to you sluts as this is the biggest DUH excuse given to your lovah when asked about humping on someone else's fuck parts during a BREAK UP PERIOD, but supposedly the Fox was on hiatus from licking on her now husband Brian Austin Green when she supposedly waxed LaDouche's pocket monkey.
In response to an internet FRENZY, a nosy bitch-type (Megan texting via a prepaid ghetto phone) working on the set of the first two Transformer movies told US Weekly, "It was when Megan and Brian broke up, they had a 10-month break before getting back together." Detective Latoya, please sit down.
On again off again relationships are somewhat familiar to me, so let me just clue you in on the five words that will save your ass in a pinch "WE WERE NOT TOGETHER THEN!" You're welcome (it doesn't work).
Monday, June 27th 2011
Anyone that has had kids possibly knows of the joy of getting rid of a kid's pacifier... there's not a more perfect parent in the world that knows this to be TRUE FACTS more than VADGE!!!
VADGE is stiiiiiiiiiiilllllllll sucking on the pacifier known as Baby Brahim (aka Jello Pudding's new pedo-pop) despite prior reports of her dropping him off at the orphanage.
I've seen people try many a trick to discourage the pacifier ISSUE!!! However, VADGE knows how to mother the young of tomorrow and is only doing this for the GOOD OF HUMANITY!!!
My hat's off to VADGE, but more importantly to Kid-N-Stay for sticking out having to watch her beef jerky ass do hours of weight lifting, NOT 14 HOURS LIKE HEIDI, DON'T BE IRRATIONAL!
Wednesday, June 8th 2011
The Mirror broke its oath to always tell the truth by publishing this headline today: "Prince Harry chats up gym buddy Cameron Diaz"
My initial reaction to this charbroiled turnover of lies is best expressed through this GIF: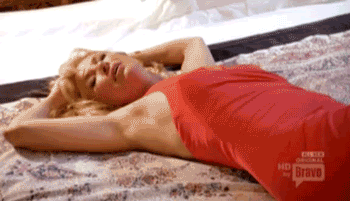 After I stopped my heart from attacking itself by shooting Pinot into its veins, I read the rest of the fan fiction The Mirror came up with after getting stoned on red weed. The voices in their heads say that while Cameron Diaz is filming the movie Gambit in the UK, she's keeping up the six-pack on her ass cheeks for A-Rod by working out at some super fancy and exclusive gym. This is the same fancy and exclusive gym where Prince Hot Ginge apparently works out. You know where this is going so I'll just let this source take it from here:

"Since first clocking one another and saying hello, they have coincided visits on two further occasions. During the second one, they were pounding along on adjacent treadmills and Harry cheekily nudged-up Cameron's speed dial, suggesting a one kilometer race. Cameron agreed... and won. They have become pretty friendly – Harry even invited his new gym buddy out drinking with him and his Sloaney chums."
If that quote was a Billy Idol song, it would be called LIES WITHOUT A FACE! The Mirror is really trying to make me believe that a mere mortal like Cameron Diaz was next to a sweaty Prince Hot Ginge and she never stopped to get a jar so she could collect his salty pore nectar to bathe in later? That's what anybody would do. The Mirror also wants me to think that Prince Hot Ginge would actually be seen with a raggedy, Dorito-faced, droopy-eyed womp womp bitch? Oh, wait. Shit. God save this queen because I'm about to have a heart attack sequel.