Photoshop Awards
Wednesday, March 7th 2012
Thanks to Demi Moore showing off her naked pregnant ass on Vanity Fair in 1991 and the technological advances of Photoshop, any knocked up celebrity trick thinks she can flash all her nooks and crannies on the cover of a magazine. Case in point: here's Jessica Simpson recreating "the Demi" for Elle's April issue. Elle must have dulled all their Photoshop tools while touching this up, because Jessica's baby balloon in its current state would need 2 pages to show it in its complete glory. That's some "after the fold" shit. Either that, or this picture was taken at week 6 before a steady pregnancy diet of blended funnel cakes and Pop Tart burgers caused her ass to grow to the size of a whale's fart bubble.
Jessica tells Elle that she knew something in the womb was a baby when she suddenly didn't feel like boozing and biking:

"We were goin' to have an all-day drinking binge. Gonna ride our bikes, hang out…do naughty things. But I started feeling this overwhelming guilt. Why would I feel guilt at the idea of going out and having cocktails with my friends?"
Speaking of booze, not guzzling down any has been the hardest part of her pregnancy:

"Givin' up my Scotch? My Macallan 18? That was hard for me! … Though now, being pregnant, you crave other things. A big thing of water sounds great!"
That last part really made me queef out a happy queef on the inside, because now I know that there will be another human on this planet who says "A BIG THING OF WATER."
Jessica also said that she's having a girl and she will eat a bowl of raw vegetables to her death if her daughter turns out to be a butch bitch:

"Ah swear, ah will croak if she asks me for a pair of Nikes instead of Christian Louboutins! Eric is so athletic. We're gonna have this ath-a-letic girl and I won't even be able to take her shopping."
Jessica has already come up with a name, and she says it's not a Pilot Inspektor kind of weird and it will make sense to people. With those clues, I'm thinking Jessica will go with: Dayzee Macallana Simpson or A BIG THING OF BABY Simpson.
And I've never noticed Jessica's innie belly button before. Or maybe she's really an outie and it ran up into her belly after watching Papa Joe slobber on set.
Wednesday, February 29th 2012
re·al·i·ty [ree-al-i-tee]
1. the state or quality of being real.
2. resemblance to what is real.
3. something the hos at Sensa need to find a way to turn into crystal form so they can shove it down their mouth holes in ladle fulls, because this is some shit.
This Sensa ad from Star Magazine as scanned by Jezebel is supposed to be that crazy hamster-looking bitch Patti Stanger aka The Millionaire Matchmaker showing off her AMAZING new body. This isn't Patti Stanger's body. This isn't a human's body. This is the body of a knock-off Bratz doll at the 99 Cent store that nobody buys. For three seconds there, I thought this was an action figure based on one of those Shahs of Sunset tricks.
Sensa is supposed to stop your will to eat delicious food when you sprinkle it on your nightly dinner of a deep fried Philly cheesesteak. But if whoever put this ad together uses it, then it obviously stops your brain's will to think. The makers of Sensa need some sensa knocked into them. Who at Sensa thought this ad looked like anything but shameless fuckery? This is some Promise of a New Day shit.
You don't even need to buy Sensa to lose some chunk. The next time you get the urge to swallow a cheeseburger whole, just look at this ad and you'll laugh so hard that your brain will forget you're hungry. You won't want to put anything in your mouth when you're too busy blowing LOLs out of it.
And for comparision, here's a few pictures of Patti in real life with Marc Bouwer at The Heart Truth's Red Dress Collection show in NYC on February 8th. Oh shit, maybe it's Marc Bouwer's body in that jacked up ad above. They should've given his ass credit.
Wednesday, February 15th 2012
Here's the newest completed high art project from Photoshop Lifetime Achievement Award winner Lil' Kim. The group of Photoshop artists who cracked their knuckles from spending days on end touching up the cover for Kim's new single should be proud that they made her face look like an inside/out plastic lion mask decorated with lead-based varnishes. Kim should be celebrated as a true original, because when was the last time you saw the Beast in Beauty's dress? Nicki Minaj can stay sitting, thankyouverymuch.
via Rap-Up (Thanks, Cory)
Wednesday, February 15th 2012
Lindsay Lohan should probably be at her local H&R Block to ask their asses if they can sort out her tax situation in exchange for a suitcase of stolen joree and a week's worth of sloppy hand jobs, but instead she's posing for Terry Richardson again. Actually, these pictures are outtakes from her photo shoot for Love Magazine, so they're probably a few months old, but they somehow made their way onto the Internet yesterday. Uh huh. That leak smells like a used urinal cake, a barback's bin, a barf burp, peroxide, old sardine juice and cigarette butts, so I'm sure White Oprah leaked this shit to make all of us forget the last photo shoot LiLo did with Uncle Terry.
That last photo shoot looked like scenes from a retirement for crack whores and in this one she actually looks good? Maybe it's because I'm always used to seeing LiLo looking like four layers of hell loosely wrapped around lukewarm tragic, but these aren't that bad. We've all seen worse and the "nothing difficult about this brown" pose is a true work of sophisticated classiness. And I can already hear the "CLOSE YER MOUTH, BITCH" comments, but if your nostril canal was like a maze game, you too would be a permanent mouth breather.
Tuesday, February 14th 2012
Hours before Sports Illustrated was supposed to show off the cover of their annual For Horny Teen Boys Who Don't Have Private Internet Access issue on The Late Show last night, a gas station in Michigan leaked it after the magazine arrived early. A GAS STATION IN MICHIGAN! Sports Illustrated should've moved the unveiling to that gas station in Michigan, because that would've been a more fitting place to bring out this 80s cartoon mess of a cover. Kate Upton is only 19-years-old and I'm sure she's perfect in real life, but they sort of fucked her up. I'm sure before the cover shoot, the conversation between the editors went something like this:
"We need to shoot her from below so that her tits looks like two Junior Mints melting over the side of a picnic table. Then catch a pirate hamster, rip off his eye patch and throw it on Kate's crotch. Don't worry if it makes her crotch look like two jelly snakes fighting under a Spandex blanket. We're going to Photoshop her down low bits until she's got Barbie crotch. Oh, and don't bring our high-powered fan. We don't need it. We're going to give Kate a sideways Flock of Seagulls 'do with four cans of hairspray and a tease brush."
A MESS!
But like I said above, it's still an important day for horny teens whose parents won't let them be alone with the computer. It's kind of like the equivalent of what the JCPenney catalog meant to me as a young ho. Whenever that shit was dropped off at our porch (it didn't fit in the mail box, wink wink), I'd grab it, tear out the "underwear for men" section and basically stitch the pages to the back side of my chonies.
Wednesday, February 8th 2012
If a color blind 11-year-old Little Monster used Photoshop 1 on the half broken first generation Mac in his parent's garage to make a fan made poster for Lady CaCa's "Born This Way Ball" Tour, it would look a lot hotter than the "side of a van" shit THIS BITCH came up with. This is like something out of Lisa Frank's New Wave period and I do not appreciate.
There's really no safe place but the pink triangle for my eyeballs to land. That floating alien CaCa head is making the Three Wolf Moon wish they were mute and that castle is a direct threat to my childhood since it's reminding me of Castle Grayskull. If CaCa wanted to out-fug her "Born This Way" album cover, she didn't need to bring He-Man or the Three Wolf Moon into it.
via Twitter (Thanks to everybody who sent this in)
Thursday, February 2nd 2012
And thy name is Nate Naylor.
I really hope that you have an eyeball on your chin so that you can read all about our modern day Adonis as you lick his picture. This perfect human man (not my words) is currently blessing Scarlett Johansson's double Mount Olympus chichis with his natural beauty and so People put up their magnifying glass to him to find out who he really is. It reads like a press release about him, written by him and he should really start a second career in writing Match.com profiles. Nate Naylor (pronounced: Nate Nail Her) is in the business of overselling shit (surprise, surprise) and works as an advertising executive in NYC.
Nate has a NSFWish Tumblr, dated Kristen Johnston for a quick minute, is an Arizona native and is so beautiful in person that looking at him is like looking at a unicorn made of marijuana dancing on top of a double rainbow over an In-N-Out. Basically, Nate always keeps fresh silk hankies in his pocket, because you will weep like it's the first time you've wept when you see his face up close.
This is the second fact from People's "What You Need To Know About Nate Naylor" list and it's the only thing you need to know about Nate Naylor:

2. He gets high praise from friends – for his work and looks

Naylor "is the most beautiful man I've ever seen in person," says fellow freelance creative director Lawson Clarke, who is known in the ad world as Male Copywriter. "He basically looks like Morrissey in his prime." But Naylor's not just another pretty face. "Bottom line is Nate's a great guy and really respected in the industry," adds Clarke, who has worked with Naylor multiple times. "Scarlett should be so lucky."
"Nate Naylor is the most beautiful man I've ever seen in person." - Lawson Clarke
"He basically looks like Morrissey in his prime." - Lawson Clarke
Nate Naylor should get both of those quotes tattooed on his ass and forehead, because those words will close all deals. I swear, Lawson Clarke is the greatest dick puller ever. Now I'm not saying that Nate Naylor ain't hot (because I'd hit it, duh), but I am saying that Lawson Clarke has only seen three men in person and the other two were Brian Peppers and Mimi in drag. So he's not lying.
Tuesday, January 31st 2012
At this point, any pictures of Madge are no longer eligible for a Photoshop Award, because the skin on her face is Photoshopped in real life since its pores have been filled with wax and it gets its manufactured youthful glow from daily injections of rare fetus sperm. So even though nothing on this vowel-hating album cover was made from nature, it doesn't count!
Before my dad became allergic to mailing child support checks and dropped off the face of my life, I used to stay at his apartment in West Coveeeeeena once or twice a month. In the bathroom next to the couch I slept on, he had this 70s glass shower door that looked like that cover above. It was beveled and shit. It was kind of a horror show, because I could barely make out what was on the other side. So if Psycho took place in my dad's apartment (if you met my stepmother at the time, you'd agree that it very well could have) and the killer had an Express Yourself-era Madonna face, this cover is what you'd see right before she opened the door and thrust her memaw crotch sending your soul scurrying down the drain.
Even though this cover looks like a flyer for an after-hours club that someone taped over one of the urinals in the bathroom of a gay bar, I don't hate it. If it was a flyer, I'd even use it to floss the pubes out of my teefs.
Tuesday, January 17th 2012
A natural reaction to this new promo picture for Beyonce's last album is: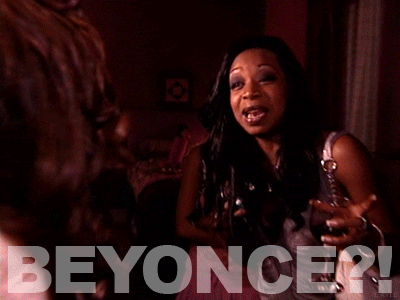 Because that looks like Beyonce as much as this pasty fat blob of depressing feelings over my stomach looks like Serena Williams' 10-pack. But some bitches aren't mad because the "Harpo, who dis woman?" Photoshop tool was abused during the making of this picture. They're mad because they say Beyonce was whitewashed AGAIN. Over three years ago, L'Oreal was accused of giving Beyonce whiteface filipinoface and now the #1 newspaper in Fuckeryville, The Daily Mail, says she might be at it again. They brought out some comments from 2008 that a writer for the Daily Mail made about how Beyonce is bad for Black and Asian girls:

"Too many black and Asian children grow up understanding the sad truth that to have dark skin is to be somehow inferior. Of course, black and Asian parents work hard to give their children a positive self-image and confidence in their appearance, despite the cultural forces stacked against them. But when black celebrities appear to deny their heritage by trying to make themselves look white, I despair for the youngsters who see those images."
But the DM also spoke to some "expert" who said that Beyonce's lighter skin color in the picture above could be from bright lights on her face and shit. To me, that's exactly what's going on here. It's just a light! Specifically, it's just Beyonce glowing inside from the illuminated seed of infinite light that Jay-Z jizzed into her. Either that or Beyonce was too busy shopping for South American baby ovens at the time of this photo shoot and so she asked my Cuban friend Armando to do his best Kylie Minogue drag for this picture.
(New York GIF via RealityTVGifs)
Thursday, December 29th 2011
On the left is a Photoshop artiste's rendering of Lil' Kim Jong-Il, and on the right is a hot bitch who pretty much knows it won this battle without even clenching its anal glands and moving its paw. Kim tried to win this shit by getting a ho to Photoshop her arms until they looked like two twigs harvesting skunk testicles on them. (Seriously, Kim's arms are what a dick looks like when it does ass sex with a Kardashian before her daily crack wax and dingle cleanse.) But the poodle truly knows how to wear pube puffs on its limbs. Therefore, the poodle wins (like you didn't already know).
And in case you a need a reminder on Photoshop's talent at turning fuckery into mega fuckery, here's the full promo tease from Kim's new album:
Bitch looks like a Barbie that became a new home to a family of woolly bear caterpillars after it was left out in the backyard. Kim even has that "forgotten Barbie" look about her. But I shouldn't hate, because I'm sure PayPal is tripling up their server since it's obvious that Kim's new album is going to top the PayPal charts!