Madonna
Sunday, February 5th 2012
Maybe it's because I'm on my way to becoming MVP of 2012's Super Smoke A Bowl, but that whole Super Bowl halftime show was an overstuffed ball of WTF wrapped in a sequined straitjacket made of pure CRAZY. That was like the dream sequence from The Big Lebowski crashing into She-Ra before getting hit head on with a glitter queef out of Elton John's ass. Madge LIP-SYNCHED FOR HER LIFE (and I think she fucked it up), LMFAO are like outcast Fraggles on low grade meth and Cee-Lo looked like a fat T-Rex dressed like a gay priest. Just every layer and shade of WTF. What I'm saying is, I think I liked it for that very reason.
Baby Brahim better be filling a tub made of children's skulls with BenGay, because Madge is going to need to SOAK her sore bones tonight after nearly falling on her ass. Madge twerked so hard that I'm sure she cracked two hips and pulled all her muscles. It's okay, I'm sure they're healing her with the saliva of Satan and fresh fetus veins. She'll be humping her mamaw crotch on Baby Brahim by midnight Indiana time.
Madge must have been slathered in a fresh coat of melted doll skin before she was carried out on the field, because she looked exactly like a retired Team America puppet. Bitch kind of danced like one too. And you should remember this show, because in about 20 years Lady CaCa will be doing a low-budget version when she performs at the halftime show for Queensborough Community College's touch football championship.
And in cased you missed it, here's M.I.A.'s STUNT EMPRESS (this is way beyond a Stunt Queen) move. Oh, M.I.A., you so edgeeee.
I love a middle finger, but I'd rather see Janet Jackson's nipple again.
Friday, February 3rd 2012
Yeah, that screenshot does look like a poodle in Marilyn Monroe drag begging for a treat....
It's the return of Madge thrusting her seasoned and weathered boy toy catcher right in your face. To whore out her Super Bowl halftime show on Sunday, Madge birthed out her video for that song that still sounds like an auto-tuned Toni Basil queef and this mess is the weirdest joint commercial between Old Navy and Target I've ever seen. Seriously, this video is a Magic the Dog cameo away from being an Old Navy commercial inspired by the cinematic classic Sugar & Spice as seen through the eyes of a David LaChapelle wannabe.
It's kind of like what happens when Lourdes spikes Madge's morning Benefiber with liquid acid. Madge busts out her spandex-covered crotch, suffocates a baby doll with her dry titty faucet, makes a team of young pieces grope her ass and relives the glory days by Like A Virgin-ing (with a dash of Material Girl and Vogue) herself. Usually when Madge is humping on a brick wall, I get Sally O'Malley meets Baby Jane vibes, but I didn't this time, so I don't hate it at all and her face does look as flawless as a shellacked Tupperware lid. But I'll probably like it a lot more when Sue Sylvester eventually does this video on Glee.
And Glittery Gays of YouTube, you know what to do.
Thursday, February 2nd 2012
In their ongoing battle to see who can be the biggest cunt in all the land, Madge has just jumped a million spaces ahead of Elton John with one little quote to Newsweek about her ticket prices. If you've ever complained about paying $300 to see Madge rub the dick muscle on her armpit (that is a dick growing out of her armpit, right?) against an 18-year-old backup dancer, then shut your mouth. Start saving your coins by only eating tap water and ketchup packets for the next ten months, because she's worth it. Newsweek asked Madge what she thinks about her fans complaining that her ticket prices cost more than some people's monthly car payment and the cunt angels sang her name when she said this:

"So start saving your pennies now. People spend $300 on crazy things all the time, things like handbags. So work all year, scrape the money together, and come to my show. I'm worth it."
HAHAHAHAHAHA. I love that even IN THIS ECONOMY, Madge is still a solid gold bitch to the 99%. But she does bring up a good point. Would you rather spend $300 on a leather bag you get to keep forever or do you want to spend $300 on watching a plastic bag thrust around a stage for 90 minutes. That's like a Sophie's Choice between a kitten and a Kardashian. But keep hustlin', Madge.
And here's Madge at a Super Bowl press conference today. If you're going to watch her halftime show, don't be surprised if a $300 charge shows up on your cable bill with the note: "I'm worth it. xo Madge".
Tuesday, January 31st 2012
At this point, any pictures of Madge are no longer eligible for a Photoshop Award, because the skin on her face is Photoshopped in real life since its pores have been filled with wax and it gets its manufactured youthful glow from daily injections of rare fetus sperm. So even though nothing on this vowel-hating album cover was made from nature, it doesn't count!
Before my dad became allergic to mailing child support checks and dropped off the face of my life, I used to stay at his apartment in West Coveeeeeena once or twice a month. In the bathroom next to the couch I slept on, he had this 70s glass shower door that looked like that cover above. It was beveled and shit. It was kind of a horror show, because I could barely make out what was on the other side. So if Psycho took place in my dad's apartment (if you met my stepmother at the time, you'd agree that it very well could have) and the killer had an Express Yourself-era Madonna face, this cover is what you'd see right before she opened the door and thrust her memaw crotch sending your soul scurrying down the drain.
Even though this cover looks like a flyer for an after-hours club that someone taped over one of the urinals in the bathroom of a gay bar, I don't hate it. If it was a flyer, I'd even use it to floss the pubes out of my teefs.
Tuesday, January 24th 2012
At last night's NYC premiere of the soon-to-be Razzie sweeper W.E., Madge told reporters that she was crossing her fingers and hoping that the academy would be so fearful of her wrath that they'd throw a bunch of nominations at her. Cut to this morning when she woke up in her coffin with a giant bouquet of hydrangeas on top and a note from the academy that read: Thanks, but no thanks. Okay, okay, technically W.E. was nominated for an Oscar (for Best Costume), so I guess the male members of the academy are still a little scared that Madge will crawl up into their beds at night, rip their nutsacks out with one bite and then replace the heads on the Oscar trophies with their gold-plated huevos.
For once, I can't really make fun of the shit that Madge wore to her premiere last night (or the shit she wore while escorting Baby Brahim to his nursery for bedtime). Bitch looks like the evil queen double fisting two tutu-wearing ballerinas. It's totally appropriate! Speaking of fisting, I also can't make fun of Madge's (DO NOT CLICK ON THAT NSFL LINK!!!) veiny testicle hands for once. I thought about it and if I was ever in the market for a silicone fist, I'd buy one modeled after Madge's hand. Four words: Veiny For Your Pleasure. I mean, John Travolta so wants to make sweet love to Madge's hand right now.
Friday, January 20th 2012
Elton John's husband David Furnish went on a bitter old queen rant the night Madge won the Golden Globe for Best Song over the song from his movie Gnomeo & Juliet. Shots were fired and Madge made a mental note to claim the soul of David's first born Zachary by revenge fucking him in 18 years. We should all assume that Madge also threatened to strangle David with her velocicrotch in his sleep, because he's put down his weapon, slid it over to her side and is now saying on Facebook (via UsWeekly) that his words were blown out of proportion.

"Wow! What a tempest in a teapot. My comments regarding The Golden Globes have been blown way out of proportion. My passion for our film Gnomeo & Juliet and belief in Elton's song really got my emotional juices going. But I must say for the record that I do believe Madonna is a great artist, and that Elton and I wish her all the best for next week's premiere of the film W.E."
Hmmm. I wonder which part was blown out of proportion? The part where he wrote "Madonna for Best Song? Fuck off!" or the part where he wrote that her "acceptance speech was embarrassing in its narcissism." Or maybe the part where he used her old CD booklets to line the inside of Elton's Depends? I hate it when this shit happens. David let his bitter bitch flag fly brightly and now he's backpedaling up Madge's ass, because he's afraid she's going to make his hairline jump back a few inches when she puts him in a neck-hold with her engorged peen arms. David is an embarrassment in his wussyissism (and I'm an embarrassment for using the word wussyissism).
And when you write the line "my passion for our film Gnomeo & Juliet," everything you write afterward should be struck from the record, because it's obvious you're okay with not making sense and it's not right for you to drag us down too.
Speaking of W.E., here's a piece of The Daily Telegraph's smile-inducing, heartwarming and day-making review:

Madonna's skill with the camera seems to extend to her being able to turn it on, but not a great deal further: to liven up an argument between Wallis and Edward, she has her romantic leads inexplicably run around a tree trunk. Later, we see Wallis dancing the Charleston with an African tribeswoman to the strains of 'Pretty Vacant' by The Sex Pistols in front of a Charlie Chaplin film, which must be a strong contender for the most garbled, half-baked image in cinema history.

W.E. is — still — a stultifyingly vapid film, festooned with moments of pure aesthetic idiocy. With characteristic humbleness, Madonna performs a song called 'Masterpiece' over the end credits, although one can't help but feel that her 2003 number one single 'Sorry' might have been more appropriate.
Now that's how it's done, David! W.E.'s chances at getting nominated for an Oscar are as bleak as my asshole getting nominated for an Oscar, but the academy should still flash this review when they acknowledge Madge's movie career in the In Memoriam segment.
(Thanks Gillian)
Monday, January 16th 2012
This is what old British cunt queen Elton John said on the GGs red carpet last night about going up against his arch rival Madge in the Best Song category: "Madonna hasn't got a fucking chance."
This is what happened a couple of hours later when the winner of Best Song was announced:
The OTHER old British cunt queen won and the look on Elton John's face was a thing of bitter beauty. It's like Elton inhaled the British queef (yes, she queefs with a British accent) Madge let out to make room for her bloated ego as she went on stage to gloat about beating him. Madge dropped a vagina fart on Elton's words and forced him to eat it. Elton wanted to strangle the smug fake Britishness out of Madge's tongue the same way her dress was strangling her chichis.
And Elton's mad face slowly got even more mad as Madge beat the Guinness World Record for saying the word ME approximately 45 million times in the span of 45 seconds. It was the highlight of the night for me, because I love it when old cunts fight. But it didn't stop there. Later last night, as Elton rage ate through a turkey drumstick that his chef sculpted to look like Madge (completed with charred turkey gristle arms), his husband David Furnish spewed more bitter bitchiness on Facebook:

"Madonna. Best song???? Fuck off!!! Madonna winning Best Original Song truly shows how these awards have nothing to do with merit. Her acceptance speech was embarrassing in it's narcissism. And her critisism of Gaga shows how desperate she really is."
This feud is almost better than watching your abuelita on your mother's side and your grandma on your father's side fight over the last piece of cake in a cup at your birthday party. You know, as much as I'd love to watch Madge and Elton slap each other in the face with pristine white gloves, I'm going to need Queen Elizabeth to hit both of them with her pocketbook to show these not knowing hos who the real QUEEN is. If Queen Elizabeth isn't available, then Quween on the Scene can step in for her.
Friday, January 13th 2012
ABC has chopped up Cynthia McFadden's interview with Madge and has sold it off in parts to Nightline (aired last night), Good Morning America (aired today) and 20/20 (airing tonight), and so the quotes are slowly trickling out like water torture. On Nightline last night, Madge kicked CaCa's tuck out again by saying "Born This Way" sounds "reductive." This bitch really used the word reductive like she's a spelling bee judge or some shit. Like she was helping Lourdes with some English homework that afternoon and barely learned the word. The way she said it too. Madge said it while smugly patting her smart gene. By the way, "reductive" basically means "simple" in pretentiouscuntanese. Moving on....
Cynthia also brought up the fact Madge's last piece Baby Jesus was only ten seconds out of the manger and her new piece Baby Brahim still has his mother's womb jelly stuck up in his ass crack. Cynthia asked Madge why she's always spreading her cougar coochie on boy toys who haven't yet mastered the art of lifting up the toilet seat before taking a pee pee.

"I didn't choose to, you know, I didn't, like, write down on a piece of paper I'm now going to have a relationship with a younger man. That's just what happened. You see, that's the romantic in me. I just met someone that I cared for, and this happened to be his age."
"I didn't choose to"? To quote everybody who stands in front of Kim Kardashian before she opens her mouth to say something: NOW YOU KNOW THAT'S A LIE! After being with a dude (Guy Ritchie) who didn't keep his mouth shut, Madge likes to be the one holding the whip in a relationship and so she chooses fuck pieces who will gladly hand the deed to their ballsacks to her and won't curse back because they can barely speak English! No hate from me. I guess when you're around a bunch of bitches who will do everything you say all day, you just want to go home and surround yourself with a bunch of bitches who will do everything you say all night. Makes sense!
Here's the full interview from Nightline last night and I sort of love that 24-year-old Brahim refuses to massage her centaur hooves. I'm sure Brahim won't make that mistake again after Madge punished him by ordering her henchman to cut off his auntie's feet and deliver them to her on a platter:
And will somebody let Madge know that we already have one Dowager Countess of Grantham and we don't need another, so she can finally quit the Downton Abbey act.
Thursday, January 12th 2012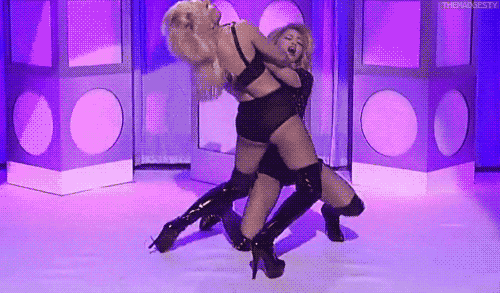 Over a year ago, Lady CaCa snuck into Madge's archives, discovered a deformed twin conjoined to "Express Yourself," gnawed it off with her teeth, dragged it away and then adopted it as her own after naming it "Born This Way." Madge never really commented on it until Newsweek asked her about it during a recent interview. It's best if you imagine Madge saying it in her faux British accent before using her gloved hand to wipe away the cunt venom from the tips of her teeth:

"I thought, this is a wonderful way to redo my song. I mean, I recognized the chord changes. I thought it was…interesting."
YAAAAASSSSS! Like I've said a billion times before, MEMAWS ARE NOT THE ONE! Now if we can only get Madge and CaCa into the same bathroom. Then we can all laugh until our popcorn tubs fly out of our laps from watching one of their wigs go into the shit can:
(GIF via Tumblr)
Wednesday, January 11th 2012
I was ready to devote this entire post to Madge trying to hide the zombie veins on her claws with some leftover gloves from Michael Jackson's "Bad" video, but then EVERYTHING changed when I came across this picture of a beautiful butterfly who fluttered off of Mimi's album cover and has now settled on the Madge side. That beautiful butterfly is Madge's publicist Liz Rosenberg (I think) and it's got me wondering why she's the publicist and that pinched plastic vampire piñata is the star. It should be the other way around, because a grown ass woman wearing some butterfly shit on her head outside of a rave or a children's birfday party needs publicizing!
There are a lot of reasons to hate living in this world (example: former Hot Slut Sandra Rinomato quitting Property Virgins!!!), but one reason to love living in this world is a woman matching her eyeshadow and phone to a butterfly headdress for the London premiere of her master's movie. I mean, an actual caterpillar spins a cocoon hoping it comes out as grand as Liz here. Now on to those gloves....
We all know Madge's hands could spook the One Ring out of Mount Doom, so I don't know why she's hiding that shit with those weird gloves. They ruin her entire ensemble. A cape that should only be worn by a vampire going to a swingers party does not go with gloves that should only be worn by a chorus member in an 80s musical about the Bloods. Madge should just let her Gollum hands hang out. Besides, how is Madge going to catch an English virgin to feast on later tonight with those slippery ass gloves on her hands?