Hot Slut of the Day
Saturday, May 11th 2013
The Waffle Taco from Taco Bell!
YAASSS! Now you no longer have to slave away in front of the microwave while making your own waffle taco out of an Eggo, microwavable eggs and a Jimmy Dean sausage patty. Taco Bell should just go ahead and get their license to sell medical marijuana, because they have one again made the tongues of stoners salivate by testing out their new Waffle Taco in certain Taco Bells.
Foodbeast posted a picture from an Instgrammer who bought the new Waffle Taco at a Taco Bell in Newport Beach, CA. Foodbeast says that Taco Bell is testing out the Waffle Taco in several Taco Bells in Orange County. The Waffle Taco is just a waffle hugging a pile of eggs and a sausage, and it's served with a packet of syrup.
When I first saw this, I thought that the Waffle Taco was a waffle made out of crushed taco shells and it was stuffed with cheese and lab-made ground beef (aka Taco Bell filling). The sad thing is, even that made my tongue twitch. But this is still a beautiful thing and I'm sure many stoners will fall in love with it and turn it into a waffle Fleshlight before eating it. What I'm saying is never take a bite from a stoner's Waffle Taco.
And this will hold me over until Taco Bell eventually puts out a bacon and egg-stuffed deep fried churro taquito.
via Fark
Friday, May 10th 2013
The Air Curler, because curling your hair with a regular curling iron is hard!
The Air Curler is a real product that a real company makes and if you want your hair to look like a tangled mop of frizziness (aka like you got attacked by a flock of birds during an electrical storm), then pull out your credit card, because this shit is for you. Or you can just do what they do in this commercial. Put your hair in the Air Curler, spin it around for about 2 seconds, take it out, curl it with a regular curling iron, put it back into the Air Curler and prepare to be amazed by the Air Curler's air curling magic!
But you know what the Air Curler is really good for? For fapping with practically zero clean-up. If you're a dude, just cover the Air Curler's hole with some Plastic Wrap, stick your peen in there and blow away without worrying about cleaning up afterward. You can put the cum rag away when you've got an Air Fapper!
(Thanks, Dr. Jennifer)
Thursday, May 9th 2013
Pearl Cantrell, the 105-year-old Texas rose who has discovered the key ingredient to a long, long, long, long, looong healthy life: BAAAACON!
Pearl Cantrell has given birth to 7 kids and did hard labor in the fields for decades, and since she's been retired all she likes to do is dance, sew and spend quality time with a delicious piece of bacon. Pearl told KRBC, "I love bacon, I eat it everyday. I don't feel as old as I am, that's all I can say."
When Oscar Mayer found out about Pearl's undying devotion to bacon, they sent one of their Wienermobiles to her house and gave her a bunch of free bacon for her 105th birthday.
So all we have to do is eat bacon every single day and our 105th birthday, a giant wiener will show up at our house and we'll get to ride it hard while eating free bacon and waving at our loved ones? Pearl Cantrell has unlocked the secret to EVERYTHING!
via HuffPo
Wednesday, May 8th 2013
The Treadmill dancer who has treadmill danced his way into the Internet's mostly dead heart! If dancing on workout equipment was an art (which it totally is), then this artist would be the Baryshnikov of that world.
The gym is a dreadful, soul-sucking place filled with unnaturally colored walls (see: that puke orange to the right), TVs playing CNN all the time and juicy pits, but sometimes magical things happen in there. Examples: Me finding a brand new Snickers bar in a locker once (it wasn't poisoned, I ate it and didn't die) and this dude dancing on the treadmill like he's dancing on Saturn's rings. He's dancing like he doesn't give a shit what the calorie counter on that machine says. He's dancing like his psychiatrist just diagnosed him as Virtually Insane. He's dancing like he doesn't care about the fact that if he made one wrong step this video would go from "this guy's got sweet moves" to "hahahah look at this asshole fall on the treadmill." That would never happen, though, because he's a master. The treadmill is his stage.
The only thing missing from this video are back-up dancers (aka Amanda Bynes on an elliptical and the Beyonce of the treadmills), an audience and 12 bouquets of roses falling at his feet.
Tuesday, May 7th 2013
Since he's the only thing anybody was talking about last night and I got more links to his now classic interview than spam emails from beautiful Ukrainian women in my inbox, you probably already know about American hero Charles Ramsey and I'm sure him saying "I'm eating my McDonald's" is already your ring tone.
Amanda Berry, Gina DeJesus and Michelle Knight were kidnapped roughly 10 years ago and yesterday they were rescued from their kidnappers' house in Cleveland by neighbors including salsa and barbecue-loving Charles Ramsey. Charles ate ribs and listened to salsa music with his neighbor and had no idea the crazy dude was a kidnapper. Nobody can tell Charles' account of Amanda Berry's rescue better than Charles can, so here's the first interview he gave.
"I knew something was wrong when a little pretty white girl goes running into a black man's arms." If Charles Ramsey has more priceless gems like that stored up in his brain, then I'm going to need him to write the Gospel According to Charles Ramsey and a copy of it needs to be put in the back of every church pew.
After Charles spat out that line, the interview got a little too real for that reporter and he almost fell back the same way I fell back when first putting my eyes on Charles' glorious receding hairline mullet.
And since nobody can get enough of Charles Ramsey, here he is telling the story again to a different reporter:
And finally here's the 911 call, which starts with "I'm sitting on my porch eatin' my lil' food" and ends with "I bet she been kidnapped, so put yourself in her shoes," so you know it's already a classic.
Sylvia Browne, who has the psychic skills of a broken Magic 8-Ball, wrongly predicted Amanda Berry's death a long time ago, but even her dumb ass can predict that Charles Ramsey is going to be the newest auto-tune superstar.
Monday, May 6th 2013
Elton Kim, the dry cleaners owner who showed Jackie Chan up when he jumped on the hood of a hit-and-run driver's car and held on for two miles as she took him for a ride.
Elton Kim told Channel 2 in Roswell, GA that he became a human hood ornament after he confronted the driver in the parking lot of his dry cleaners, because her crazy ass backed up into his wife's SUV and was about to drive away. Elton told her to stop and she wouldn't. Since Elton is not the one every day, he got in front of the crazy's car and tried to keep her from driving away. Crazy bitch did the opposite. She hit the gas and tried to run Elton over, but since he's not going down like that, he jumped on the car and held on.
For two miles, Elton held on as the crazy lady drove past other drivers who took cell phone video and asked Elton if he had called the police yet. It's nice to know that even when you're holding onto a speeding car for dear life, some dumb asses will ask you some stupid shit. Although, maybe it's not the dumbest question, because if Elton can hold onto a hood like that, I'm sure he can also reach into his pocket, pull out his cell phone and call the police before passing time by making a few personal calls. Or he could've pulled himself up the hood, punched out the driver's side window, grabbed her cell phone and used it call the police. Elton could've done all of that, but I guess he didn't want to show off.
The crazy lady eventually stopped and Elton hopped off the hood, but then she sped away. The police said her car has Alabama plates and if they catch her, she'll be charged with felony aggravated assault.
That's if the police get to her ass first. I'm sure that one day soon, she'll get into her car, look up and see Elton Kim hanging on to her hood and staring back at her with revenge in his eyes!
via Reddit
Sunday, May 5th 2013
Paleta Payaso, the chocolate-covered marshmallow lollipop that is the glue that holds millions of Mexican childhoods together!
When I was a kid, one of my uncles would rent a house in Ensenada every year and so my entire family would go down there and spend a few days together. (I'll never understand how one of us didn't go crazy, murder everyone, turn them into tamale meat and then sell them out of a cooler to tourists on the beach.) One of my favorite things to do down there was to go to the greatest supermarket in the world GIGANTE (pronounced: Hee-Gone-Tay, which is what Taylor Swift hears every time one of her boyfriends escapes from the basement cell she locked him in. "He gone, Tay....") Gigante isn't around anymore, but it will always hold a special place in my heart, because it's where we would buy made-to-order tortillas (which blew my mind) and Paleta Payaso!
Paleta Payaso is a marshmallow lollipop that's been dipped in chocolate and decorated with gummy eyes and a gummy mouth. It's been around so long that I'm pretty sure the Mexican soldiers toasted to victory with Paleta Payasos after beating the French. They sell them in Mexican grocery stores here in L.A. and it's been so long since I've had one, so one of my goals today (besides turning my body into 95% tequila) is to get my mouth around a Paleta Payaso!
To my ears, almost everything sounds better in Spanish. In English, "Paleta Payaso" means "clown lollipop" and hearing the words "clown lollipop" makes me want to blow into a rape whistle and scream for an adult. But "Paleta Payaso" doesn't! However, the horrifying commercial does:
¡Feliz Cinco de Mayo! Let's all bite into a Paleta Payaso and turn into serial killer clown children!
Saturday, May 4th 2013
Mr. Balls, the giant hairy ballsack who's the official mascot of the Brazilian non-profit cancer organization the Associação de Assistência às Pessoas com Câncer.
If you're ever having the greatest day at work and think that you have the best job in every universe, just remember these pictures and remind yourself that there's a person out there in Brazil whose job is to greet families in a giant hairy nutsack costume. Their job will always be better than yours.
Gawker found these priceless pictures from a gallery on AAPEC's website of the organization's official mascot Mr. Balls greeting the masses at events. Unlike Donald Trump, who is permanently trapped in a hairy huevos costume, people don't run away screaming from Mr. Balls. They love Mr. Balls. They love to hug Mr. Balls and take pictures with Mr. Balls and put their faces near his curly, greasy ball hairs. What's not to love about Mr. Balls?
If you ignore the fact that he could pass for a long-lost Kardashian sister (but way more beautiful), you'll fall in love with his buck teefs, poop-shaped eyebrows, Phoebe Price cheeks, pantyhose hands, pus-filled pimple nose, googly eyes, It's Pat hairstyle and hot boots.
I wonder if Mr. Balls does private parties, because he'd be the perfect host for John Travolta's monthly tea bag fiesta.
(For Rosie N, Sapan and Jack)
Friday, May 3rd 2013
China's new Circumcised Dick Building (official name)!
The high-level bridge queens of Scientology will have to rip up the architectural renderings of their new peen-shaped headquarters, because The People's Daily beat them to it. When the still-in-construction HEADquarters of The People's Daily, the official newspaper of China's Communist Party, started taking shape, every ho with eyes looked it and shouted, "It's a peen and it's going to fuck us all!""
When the building's done, it's going to look more like an anus massager from the future, but that didn't stop hos from making fun of it. The headquarters for CCTV is shaped like a giant pair of pants, so people have Photoshopped pictures of the Circumcised Dick Building shoved into the crotch part of the pants building. HuffPo says that the Communist Party wasn't amused by this (even though you know those kinky shits were secretly fapping to the pictures) and China's censors killed everybody's orgasms. Hos who go on Weibo and search for pictures of The People's Daily building are getting the message: "According to relevant laws, regulations and policies, search results cannot be displayed."
The peen haters in China need to get over it and fully embrace their peen building, because the world can never have enough peen buildings. They should dick it out completely. They should put jizz-shaped elevators in it and put bulging veins all over the windows. Go full peen. But really, that building isn't going to be around much longer. As I type this, John Travolta is planning to lube himself up and sky dive naked over that building. It'll be there one minute and gone the next, and sitting in its place will be a satisfied Travolta.
Here's a video explaining China's new cocktroversy.
(Thanks, Maria)
Thursday, May 2nd 2013
The refined rose at the Angels vs. A's game who took pictures of her chichis during the game, because why not? This is the redefinition of YOLO!
Busted Coverage has video from the game on Tuesday night of a true lady who was sitting behind home plate alone and was soooooo bored by all the men in tights throwing balls that she started taking pictures of tits. She went all Amanda Bynes at the baseball game.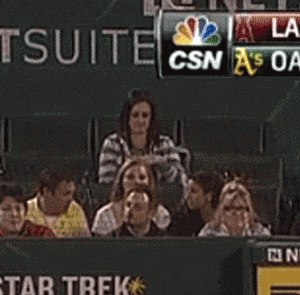 It's like watching a rose bloom at the home plate.
I really don't know what's going on and unless she's got a whole lighting crew down her shirt, those tit selfies are going to be really dark, but I'm still all for this. Any time is the right time to take pictures of your chichis. Keep fucking that chicken, home plate rose!
(GIF via Buzzfeed)