Golden Globes
Thursday, December 13th 2012
Because the Golden Globes had to recognize a mess of a movie where Zac Efron dances in the rain in his chonies and Matthew McConaughey (SPOILER ALERT) is the pass-around bottom bitch of choice for black dom tops in Florida, Nicole Kidman got a Best Supporting Actress nomination this morning. In The Paperboy, Nicole squatted over Zac Efron and had a hands-free coochie seizure while staring at a white trash-ified John Cusack, so they should just give her that GG right now. Her and her bladder earned it.
The Golden Globe nominations for all 534 categories were announced when the sun was still down early this morning and the biggest snub bitches are screaming about is the little girl from Beasts of the Southern Wild not getting nominated for Best Actress in a Drama. My guess is because she's 9-years-old and one of the GG rules is that all nominees must get at least ten shades of shit-faced drunk during the show, so that the producers can always cut to them making droopy-eyed drunk faces throughout the night. Since she can't legally sip on the sweet nectar, she's out!
The full list of nominees is after the jump. Judging by the Best Television Comedy nominations, the theme this year is WHA?, so why didn't they go all the way with that theme and nominate Lindsay Lohan for Liz & Dick. She could've been nominated in the Comedy and Drama categories since her performance had that many layers. The bitch was ROBBED! GO!

69 comments
•
Read more
•
Tuesday, October 16th 2012
Yeah, I know that picture choice is as bizarre as all the choices I make on this site, but I have a reason! The only right picture for this story is a picture of a drunk Tina Fey shaking the hand of an imaginary person while Amy Poehler's mouth tries to keep itself from hosting a drunk barf party and Jon Hamm has an intense conversation with his Hamm sausage (or maybe he's getting an imaginary beej or maybe his Hamm sausage is juggling party nuts).
Since Honey Boo Boo and Uncle Poodle are already booked to host the Oscars, who ever is in charge of choosing hosts for the Golden Globes chose Tina Fey and Amy Poehler! Ricky Gervais is out. The president of NBC announced this last night:
"Having both Tina Fey and Amy Poehler on board to host this year's festivities is a major coup. Tina and Amy have a proven chemistry and comedic timing from their many years together on SNL to their successful co-starring roles in Baby Mama."
YAAAASSSS! The only way this news could be better is if NBC also announced that this year's Miss Golden Globes is Jon Hamm's peen. Yes, Jon Hamm's peen is a girl and yes SHE can hold a trophy, because she has hands. She's the peen that can jack herself off.
Monday, January 16th 2012
Someone who doesn't know my ass very well asked me who I thought was the best dressed last night and and my answer was and will always be: WHO CARES! Picking out a pretty dress is easy! It's so easy a MiserAlba can do it. The men and women who really deserves some attention (and heavy amounts of extra chunky shade) are the ones who rolled into a truly busted outfit and bravely smiled through the fugness in front of all the cameras. Because it takes a lot of work to look that fucked up and we should give them the recognition they deserve. So here's my favorite messes from last night in no particular order.
Piper Perabo - The car cover for my mom's old Buick got a second chance at life when Piper used it to make a ball gown that Cinderella would've worn if her Fairy Godmother was a pervert who just wanted to see her nipples. If you were walking through the woods and heard the voice of crazy calling at you from above, and you looked up to find a nekkid ass Sharon Stone caught in a parachute stuck in the trees, she would look just like Piper Perabo. Piper's dress told me that yes, she does acid. And Piper's curious poses told me that yes, she does acid AND Ecstasy.
Melanie Griffith - Okay, Melanie's dress was totally normal, but the scene she gave on the red carpet was a totally different story. The way Antonio Banderas held her up and dragged her across the carpet... The way she kept those sunglasses on.... I really thought it was a Weekend at Bernie's situation until I realized that Melanie probably got a quick glance at Piper's posing and was knocked back by the DRAMA!
Zooey Deschanel - I shouldn't look at the top of a dress and think that my dog's idea of heaven would be scooting across it. AstroTurf for your titties is not the look.
Sarah Michelle Gellar - The worst ad for MiO Water EVER! I'm not sure I wanted to know what it would look like if I was swimming at the bottom of a pond in Smurf Village and looked up just as all the Smurfs started to piss into the water. That being said, I want that dress as my next screensaver.
Lea Michele - We're living in a world where Lea Michele is Beyonce in her own head and we're also living in a world where nobody told her that she looked like a mermaid linebacker from Chernobyl.
Amanda Peet - The good news is that her 1-year-old daughter now has a cribskirt for almost every day of the week.
Jessica Chastain - I KNOW! I can already hear it. Everybody thought Jessica Chastain was the epitome of perfection and is what would grace your eyes if you looked at an angel's pearl necklace under a microscope. But I just looked at Jessica Chastain and saw a really bad Swoosie Kurtz circa 1989 impersonation.
I will say, though, that Jessica is someone you want in her life. When Giuliana Rancic was interviewing Jessica on E!, she loved everything. Jessica said she LOVED Giuliana, was such a fan and has also been dreaming of coming to the Golden Globes ever since she was a little girl. Yes, Jessica is one of those people who loves everything. So she's definitely the person you want to tell when you've just found out you have Gonorrhea. You'd be like, "Jessica, I just got back from the doctor and he told me that being a bareback slut finally caught up with me and I have Gonorrhea now." Jessica would keep a smile on her face and be like, "Gonorrhea?! That's my favorite STD! I love gonorrhea! I'm a huge fan. I'm so happy for you!"
Thomas Jane - I did not know that Knott's Berry Farm let you keep the costumes after you take a picture at one of their old timey photo shops.
Monday, January 16th 2012
In the sea of candle faces, burnt sienna skin and rejected bridesmaids dresses, out came an alien goddess from planet Bowie whose hair blows without any wind around it. They should've put a giant CLOSED sign on the red carpet as soon as Tilda Swinton stomped in looking like the Snow Queen going to a high-powered business meeting. Bitch is business on the top and ELEGANZAAAA on the bottom. Normally, I'd feel sad on the inside if Tilda didn't show up in a dress that looks like an iridescent condom made by Frank Gehry, but all of this worked from the top of her Hermey hair to the bottom of her Sally's Beauty Supply shoes. Speaking of, only Tilda can look at the hair samples under the dye boxes at Sally's and say, "I want that on my feet!"
Monday, January 16th 2012
As soon everybody on the red carpet at last night's GGs got over the shock of seeing Angie Jolie not wearing a laundry bag of a dress in the color of black grave dirt, their blood veins started shaking out of a fear since she had the look of hunger sparkling in her eyes as she dragged Pepaw Brad behind her. Never mind that Angie's dress made her look like a rolled napkin at a Valentine's Day party, I couldn't get past her terrifying vampire face. I know that Angie always looks like she's just been floating above the cobblestones in Transylvania in search of a village virgin to feast on, but last night I wore a garlic choker and a clip-on crucifix nipple ring, because she looked like she was trying to drain my blood with her eyes. Even Vincent Price was like, "Too far, Angie. Too far."
And this skinny ho really needs to do a dollop of Daisy on all the veins she's about to eat from. But before Angie ate all of the children from Modern Family in the parking garage of the Beverly Hilton, I hope she gave Brad a hug. He needed one after his brofriend, George Clooney, went from singing "I only have eyes for Brad" to singing "I only have eyes for Michael Fassbender's peen" while accepting his Best Actor trophy:

"I would like to thank Michael Fassbender for taking over the frontal nude responsibly that I had. Really Michael, honestly, you can play golf like this with your hands behind your back. Go for it man, do it!"
And just like that, Brad's heart crumbled the same way the ground behind George's Italian villa crumbled after he told his contractor to build a private golf course for Michael Assbender and him. Michael Fassbender's peen is the new Brad Pitt.
Monday, January 16th 2012
This is what old British cunt queen Elton John said on the GGs red carpet last night about going up against his arch rival Madge in the Best Song category: "Madonna hasn't got a fucking chance."
This is what happened a couple of hours later when the winner of Best Song was announced:
The OTHER old British cunt queen won and the look on Elton John's face was a thing of bitter beauty. It's like Elton inhaled the British queef (yes, she queefs with a British accent) Madge let out to make room for her bloated ego as she went on stage to gloat about beating him. Madge dropped a vagina fart on Elton's words and forced him to eat it. Elton wanted to strangle the smug fake Britishness out of Madge's tongue the same way her dress was strangling her chichis.
And Elton's mad face slowly got even more mad as Madge beat the Guinness World Record for saying the word ME approximately 45 million times in the span of 45 seconds. It was the highlight of the night for me, because I love it when old cunts fight. But it didn't stop there. Later last night, as Elton rage ate through a turkey drumstick that his chef sculpted to look like Madge (completed with charred turkey gristle arms), his husband David Furnish spewed more bitter bitchiness on Facebook:

"Madonna. Best song???? Fuck off!!! Madonna winning Best Original Song truly shows how these awards have nothing to do with merit. Her acceptance speech was embarrassing in it's narcissism. And her critisism of Gaga shows how desperate she really is."
This feud is almost better than watching your abuelita on your mother's side and your grandma on your father's side fight over the last piece of cake in a cup at your birthday party. You know, as much as I'd love to watch Madge and Elton slap each other in the face with pristine white gloves, I'm going to need Queen Elizabeth to hit both of them with her pocketbook to show these not knowing hos who the real QUEEN is. If Queen Elizabeth isn't available, then Quween on the Scene can step in for her.
Monday, January 16th 2012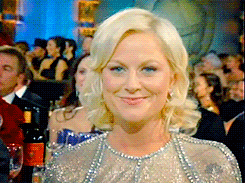 Somebody had to give the videobomb of the night and even though I was secretly hoping it would be an actual lit bomb behind Madge as she licked her own ego during her ten-year-long acceptance speech, it was Tina Fey! While who ever was on stage was throwing out the names of the nominees for Best Actress in a TV Comedy, Amy Poehler thought the camera lens and her were having a special intimate moment together, but then Tina snuck in like a chrishansenhaveaseat.gif. Tina is seriously becoming a seasoned bomber, because this is her second time stealing a ho's shine at an awards show.
So if your ass is ever sitting in a $30,000 borrowed gown at an awards show and you hear the sounds of the Jaws theme behind you, it's Tina Fey stealing your shot! Or it's Phoebe Price since the secret ingredient in her chicken cutlets are magnets that drag her toward the camera. Wait. Are we sure this isn't actually Chicken Cutlets in a Tina Fey mask?