Brangelina
Monday, January 17th 2011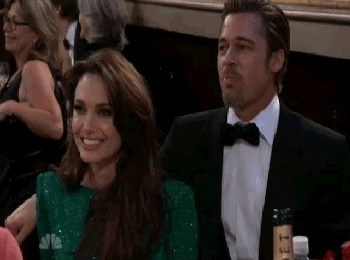 While Matt Damon honored Robert DeNiro with some fancy award at the Golden Globes (Yes, we're still on those damn Golden Globes) last night, the camera cut to Angelina Jolie applying a thin layer of lip gloss like real women folk do! Saint, please. You know what she was trying to do. Angie promised to forgive all of the executive producer's sins as long as he cut to her doing a menial "human being task" like lip gloss application. Angie wants us to think that her lips aren't made of Athena's labia and therefore don't require lip gloss to keep them luscious. Bitch is trying to be one of us, but you can't trick a trick.
You can't tell from that GIF, but three seconds later Angie handed the gloss wand to one of her servants who immediately transported it to a third world country where it was used to plump the mouth of a needy orphan with tragically thin lips. Angie's lip dust has the power.
As for Angie's dress, some people said that she and Brad Pitt looked like they just fell out of an episode of Dynasty. Um. Those people need to go back to community college to earn more Dynasty credits, because even Alexis Carrington wouldn't wish that fug ass dress on her greatest enemy. That dress looks more like something a memaw of the bride might buy at a JcPenney in 1979. But a memaw of the bride would have the SENSE to wear it backwards.
And she really should've applied some gloss to her forehead vein instead.
Friday, January 7th 2011
Because what we really need is ANOTHER FUCKING MOVIE about John Lennon, Brad Pitt has reportedly received Yoko Ono's blessing to produce and star in a biopic based on his life story. I realize that St. Angie Jo regularly farts out the melody to "Imagine," but that's still not a sign that Brad is the right one to play John Lennon in any medium. Not ever.
A source tells The Daily Star (I know, I knoooow) that Brad plans to master the Liverpool accent and sing all of the songs himself. The source went on to say, "Brad already has a writer working on the script. And Yoko has given the project her blessing so long as it's true to John's life."
The "source" probably heard that Brad Pitt once stared at The Beatles picture on Apple's website for more than 15 seconds and so they went with it. But if this is true, then Yoko has some serious explaining to do. If Brad dropped 50lbs by going on the St. Angie Jo Diet, he still wouldn't come close to looking like John Lennon. Personally, I'd rather see a John Lennon biopic starring Maddox as both Yoko AND John.
via Showbiz Spy
Wednesday, January 5th 2011
Don't you just want to hug Star Magazine from the back for finding this beautiful picture of Angelina Jolie looking like half of the two-headed serpent who guards the entrance to the underworld? Halo all crooked and covered with barf splatters and shit. You kind of want to put a tiny sombrero on her head and charge tourists a $1 to take a picture with her. It's a beauty.
Unfortunately, the story that goes with this cover is not. Star is trying to hit all stops on the ESCANDALO Expressway, but their gas pedal got stuck and they crashed into the center divider instead. Basically, their sources say that Brad Pitt wants Angie to go somewhere to relax, because she's always stumbling around like a mess. Jezebel read the article and summed it up:

At the Berlin premiere of The Tourist, Angelina "seemed so wasted and weary." An insider claims "people were whispering… it was like she was on drugs or something. There were moments where she could hardly walk and needed Brad's arm for support." Maybe she was tired from jetting around the world and raising six kids?

Angelina allegedly keeps getting disoriented and needs to sit down, and collapsed at home once. Brad wants her to take a break and go somewhere to relax. We think it sounds like he means a spa, but the mag says Angelina has been drinking lots of wine and taking Ambien to help her sleep, and Brad has to watch her to make sure she doesn't take too many pills and overdose. Sometimes she drinks a whole bottle of wine by herself after the kids go to sleep. Sounds normal! Though Angelina hasn't used heroin in years, the mag brings it up and claims the thought of doing it "lingers in the back of her mind."
First of all, Angie keeps falling, because the only thing she nibbles on during the day is an orphan's whisper she keeps in a jar in her purse. I'm no Joy Bauer, but I'm pretty sure there's no nutritional value in that whisper. Second of all, if I lived with a bunch of loud ass kids I'd drink a bottle of wine every night too. And then I'd use that bottle to smoke crack.
Monday, January 3rd 2011
Traveling on an eight-seater Pegasus donated by Zeus himself, Brangelina and their gang of tiny deities paid visits to both Namibia and Missouri over the holidays. Between their travels, they even managed to write a $2 million check to a wildlife sanctuary. Brangie ended their goodwill holiday tour by chewing on pieces of teriyaki-glazed whoopie cushion (that's what that shit really tastes like) at Benihana in Beverly Hills. Well, Brad and the child army sank their teeth into beef while St. Angie carefully licked on a bell pepper (cut into the shape of a flower blossom) for about an hour straight.
You know, even though Benihana has been described as TOTAL TRASH, it's still one of my favorite "special occasion" restaurants. And the Benihana mug I stole from my mom as a child is still one of my most prized possessions. Dear future children of mine, This is what you're going to inherit:
It has so many uses: margarita cup, flower vase, ash tray, neti pot, bong....
Wednesday, December 22nd 2010
When Dr. Drew called St. Angie Jo a heroin addict whose relationship with Brad Pitt will eventually end in a nuclear explosion that will turn the Great Pyramids to dust and cause the oceans to flood onto land, he was only speaking hypothetically and says his words were never supposed to be seen by public eyes. So basically, a naked Brangeloonie duct taped themselves to a homemade cross in front of Dr. Drew's house and refused to move until he said he was sowwy. Or maybe Maddox threw the severed head of one of Jennifer Aniston's Beanie Babies on Dr. Drew's front porch. Note to Maddox: Dr. Drew got the message.
Dr. Drew tells Radar that his words were taken out of context and he was speaking in a hypothetical exercise and merely used Brangie as an example. HYPOTHETICALLY! You know, just like how Brangie's lawyers threatened Dr. Drew by saying that hypothetically St. Angie could send her army of Brangeloonies to his house to drag him down to the dungeon of Malchiah where he'll spend the rest of his days in MISERABLE LONELINESS! Hypothetically, of course.
Here's Dr. Drew's apology and explanation:

"These comments were taken completely out of context (and) they were never meant to be printed. I do not know Brad or Angelina (and) I certainly don't want to be saying things that could be perceived as hurtful for them, or harmful for them in any way. I'm deeply concerned and apologetic and apologize for these comments that were taken out of context.

I don't know these people, I don't know the facts. Literally as though one was speculating, just going through an exercise of speculation and not some sort of analysis that was supposed to be factual or for public discourse... I could not be more upset and disturbed that these things were printed as though I was making some sort of categorical analysis of people I really don't know. I wish them the best, I hope they do well, enjoy the holidays with their kids and have a nice time. I wish them no ill, believe me... I'm sorry these comments were taken out of context and made public."
But you probably didn't read one word above, because you're too busy staring at Dr. Drew's peen lips print in the picture above. It looks like it's trying to spit out water.
Tuesday, December 21st 2010
It's a slow week and the flu is fucking me not-so-gently and refusing to stop, so now seems like a good time to read what Dr. Drew has to say about what will happen when the holy duality of Brangelina breaks into a million pieces. For some reason, HuffPo asked Dr. Drew to give his opinion on everyone from Miley Cyrus ("She's in trouble") to Kelsey Grammer ("I can't make sense of it") and this is what he said about Brangie:

Just add up a couple things. There's no such thing as 'I was a heroin addict.' That doesn't exist in nature. Something is going on with [her] addiction. Or she's in recovery. And I don't see any evidence that's the case. So we've got one person who's a heroin addict. Which is a chronic lifelong condition, period. We have another person who has said things like, "Well, Jennifer [Aniston] was into long-term relationships, that's just her way of looking at things." I mean, that demeaning attitude towards other people's emotions. Now put those two people together and you have got a really volatile situation. And they're constantly creating things to weld themselves together. Which is only going to serve to make a more nuclear eruption. There will be some sort of meltdown that will be phenomenal when it does happen.
Dr. Drew's right. When Brangie breaks, so will the world. The Four Horsemen will be replaced by Jennifer Aniston's lonely vagina squirting FUCK YES juices for the first time in years and the swarm of locusts will be replaced by the blood and tears of rabid Brangeloonies who have nothing to live for anymore. But more importantly, can somebody please ask Dr. Drew if it's okay if I drink the used water in my Vicks Vapor Humidifier? With whiskey, of course.
Thursday, December 16th 2010
Brangelina's never-ending "Go See The Damn Tourist Or Maddox Will Have To Wear LAST Season" tour took them to Madrid, Spain tonight where Brad Pitt continued to look like a retired Euro DJ who drives a Lamborghini and wakes up to Pure Moods Vol. 1 on his alarm clock. And Angie Jo continued to look like she just sashayed directly out of the Kardashian Khristmas Kard.
You know, I'm going to look past Angie's misinterpretation of "If Morticia played Sable on Dynasty" hair, because she's actually wearing SPARKLES on her tits! That's the only thing Twihards and I have in common. As soon as I see SPARKLES, I don't care that they're on the body of a vampire who attacks innocent virgins in the name of BLOOD!
Here's more of Brad trying to escape Angie's clutches so that he can smoke a bowl with Johnny Depp in the bathroom before they have to sit through that shit again.
Tuesday, December 14th 2010
My guess is that Brad Pitt and Angie Jo are dressed up and ready to go to the funeral of her German hairdresser who was immediately consumed by a swarm of locusts shortly after she cursed him for doing THAT to her hair. I do love the "freshly fucked in the back of a convertible going 90mph down the carpool lane" look, but not on Angie. And I do love a good black velvet glove dress straight out of the 80s b-hole, but again, not on Angie. Angie looks as if Morticia Addams had one too many embalming fluid shots at a "Dress As Your Favorite Prince Girl" costume party.
I'm going to curb the hate for Brad Pitt's overall look, because I'm pretty sure I've worn that same outfit before. Unforgivable, I know. And yes, when I wore it I got the memo that wearing an ensemble like that is only acceptable if you're a post-apocalyptic vampire hunter or a Euro technopop star circa 2001.
In other Angie Jo news, she said that being nominated for a Golden Globe for The Tourist was an honor and then she went on to say, "We were laughing because it's the first time that I've been in the comedic category so it's new for me." Yeah, and I'm sure it was one of those "These bitches are so far up my ass that they will even kiss my shit" kind of laughs.
Here's more of Natasha Fatale and the giant Boris with Johnny Depp at the German premiere of that movie tonight.
Tuesday, December 14th 2010
The News of the World's headline be: "Johnny Depp Gives a Half-Mast Crooked Hitler Salute in Germany!" But that's not what Johnny Depp's doing. He's simply showing Angie Jo how together they open-hand fisted up Hollywood's ass by getting Golden Globe nominations for The Tourist. And then they laughed and laughed and laughed away! Just like how I'm laughing to keep from crying, because Johnny will forever dress like a wealthy lesbian hippie who is about to embark on a journey of self-discovery through the rugged wilderness of Montecito.
According to the hanky code, Johnny's "olive drab" hanky worn on the right means that he's a military bottom. But personally, I think it just means that the foundation he's got smeared on his face tends to run and he needs something within arms reach to dab it with. Keep the beauty smooth at all times, Johnny!
Here's more of Johnny, Angie and their director Florian Henckel von Donnersmarck at the photo call for The Tourist in Berlin today.
Monday, December 13th 2010
The hardcore Brangeloonies of the world declared this past weekend a religious holiday and they observed this by dropping their hard-earned dollars into the donation basket (aka Fandango) and bowing to every single sermon (aka every single showing of The Tourist) at their local place of worship (aka an AMC). Their worshiping and dedication failed to take their HOLY GOD higher, because The Tourist disappointed at the box office this weekend by only bringing in $17 million. The Brangeloonies will punish themselves with 100 lashes to the face (aka watching the first thirty minutes of The Bounty Hunter).
Box Office Mojo says that The Tourist landed in the #2 spot after The Chronicles of Narnia: The Voyage of the Dawn Treader, which also sort of flopped domestically by earning only $24.5 million. Some fancy movie experts are blaming this weekend's box office on SNOWFLAKES! You know, because bitches were practically freezing their culitos off and they didn't want to pay $12 to freeze it some more on St. Angie's icicle-inducing glares. CULOS WERE AT STAKE!
E! News says that The Tourist cost around $100 million to make and there's a chance it could make its budget back overseas but that's not looking good either. The Tourist, which also opened in a few other countries, brought in $25 million worldwide while Narnia's worldwide gross is at $105.5 million.
I didn't see The Tourist this weekend, because I prefer to nibble on a turkey in the comfort of my own bong room, but I've already added that greasy mess to my Netflix queue (since it's probably coming out next week on DVD). I mean, I love a mess that brings out the cuntness in reviewers:

"In a year of craptaculars, The Tourist deserves burial at the bottom of the 2010 dung heap." - Rolling Stone

"It's actually rare for me to see a film that is such an utter failure on so many levels." - 7M Pictures

"Boring, bland and self indulgent Vanity piece for Angelina Jolie." - Eclipse Magazine

"My mother is going to love this movie." - UGO
SOLD!