Amy Poehler
Saturday, April 20th 2013
In this week's edition of Amy Poehler's advice show Ask Amy, a girl tells Amy that all of her friends spend hours upon hours watching dumb, stupid ass videos on YouTube and she feels like she's wasting her time watching them. If I was answering that girl's question, I'd tell her that there's really something wrong with her if she thinks that a video of a cat making out with a vacuum is pointless. It's important and she should watch it. But Amy didn't tell her that. Amy brought up all the images of the victims from the Boston Marathon bombing and wondered if seeing those pictures (and that autopsy picture of the bomber that keeps landing in my inbox because people hate me) does something to our brains. Amy said:
"I've been looking at photographs that have been really hard to take. And I've been thinking about what these images do to our brain and to our heart. … I wonder if we could soften our hearts and minds and our eyes? If we could give our eyes a break and see things in a different way? To see things by reading about them or talking about them or listening? Be okay with letting some things rest in peace. … I love you, Boston."
"Give our eyes a break...." I should've watched this video and taken Amy's advice before I looked at those pictures of Tan Mom.
via The Frisky
Tuesday, April 2nd 2013
When Amy Poehler and Will Arnett broke up, the definition of true love drowned its feelings in cake batter and whiskey stew, and it pulled the bed sheets over its head and hasn't come out since. Most of us figured (no, we didn't) that Amy would realize that she'd never find love like that again and she'd become a recluse and only come out of her mansion to turn the garden hose on couples walking by hand-in-hand. But Knope! Page Six says that Amy is trying to find love again and went out to eat things with comedian Nick Kroll who she knows from UCB. They could've just gone out as friends, but a witness says they were cozy and shit.
A spy tells us the two looked "cozy" as they sat across from each other at a small table. The couple also went unnoticed by other customers as they dined. "No one really recognized them," a witness told us. While sources tell us that this wasn't a first date, reps for the two comics didn't get back to us.
I don't really know anything about Nick Kroll, but while reading his Wiki page, I learned that his dad is some kind of corporate investigations mogul (whatever that is) and is worth billions of dollars! I know Amy has millions of dollars, but billions of dollars buys more waffles than millions of dollar does. So don't L'eggo that Eggo, Amy.
And here's Amy at a park in Beverly Hills with her son on Sunday.
Tuesday, March 5th 2013
A special place in hell became my #1 "I want to go to there" place today when Taylor Swift condemned Tina Fey and Amy Poehler there because Tina made fun of her ass at the Golden Globes. Taylor told Vanity Fair that there's a special place in Hades for women who don't help other women and she was obviously talking about Tina and Amy. Amy took a little break from buying SPF and a water bottle hat for her special trip to hell to give The Hollywood Reporter her thoughts on what that shade-throwing bird girl said about her and Tina. Amy said this:
"Aw, I feel bad if she was upset. I am a feminist, and she is a young and talented girl. That being said, I do agree I am going to hell. But for other reasons. Mostly boring tax stuff. "
Yes, that response was on the right side of classy and it was also smart, because the IRS is laughing at it while Amy secretly moves some of her money to off-shore accounts. But this not the response I wanted! I wanted Amy to slick her hair back in a bun, stick razors in her hair, put on all her rings, get in her car, pick up Tina Fey and drive to Taylor Swift's house to jump that bitch for talking shit. Handle it Mi Vida Loca style.
But really, Amy's response was perfect and had the perfect touch of shade in it.
UPDATE: Tina Fey said this to ET about Taylor wishing her to hell and it's best if you picture Tina saying this while she's greasing up her face and pulling her hair back, "If anyone was going to get mad at us, I thought it would be James Cameron. I did not see that one coming. It was a joke, it was a lighthearted joke."
Monday, January 28th 2013
The Shrine Auditorium is still standing today and that means that Anne Hathaway won the SAG Award for Best Supporting Actress, because if she didn't she would've screamed and bawled until the entire building collapsed into a pile of dust and tears. To accept her 699th award of the year, the 15-year-old theater nerd trapped in the body of an Anne Hathaway wore a see-through skirt over a shorty cocktail dress covered in black aquarium rocks.
I don't know how to feel about this dress. On one hand, that skirt might be detachable and I have serious feelings about skirts that detach. It looks like something Lucille Ball would've worn to a funeral party in the 80s. On the other hand, methinks that skirt wasn't detachable, because if it was it would've detached itself from that annoying ass ho as she gave another annoying ass acceptance speech (click here to see it). Bitch is always out of breath and she tries really hard to come across as humble, but she's about as humble as Kanye West.
On a positive note, I am starting to like the mop on Anne Hathaway's head. She obviously goes to the same barber as John Krasinski. If she shaved her sides, she'd have Justin Timberlake hair. I bet during commercials breaks, Justin and Anne shared a flat iron and a can of AquaNet in the ladies lounge.
Here's a few pictures from last night's SAGs. In order!: Peter Pan in funeral drag, Jaimie Alexander, Dr. Blossom, Jessica Chastain, B. Coop, Marion Cotillard, Claire Danes, a construction worker, Michelle Dockery, Nurse Jackie, Tina Fey, Jennifer Garner, the owner of the Hammaconda with Jennifer Westfeldt, Julianne Marguiles, Taye Diggs with Idina Menzel, Julianne Moore, Amy Poehler, Amanda Seyfried, Timberlake, Sofia Vergara and Naomi Watts.
Sunday, January 13th 2013
We're halfway through the Golden Globes and if you're playing the Amy & Tina drinking game, then you're probably doing a steady 55mph on the booze highway while making you're way to Drinkville. And you're probably shaped like a giant meatball sub, because you swallowed one giant meatball sub whole after hearing someone thank Harvey Weinstein. Make room for another, because I'm sure somebody else is going to thank his ass. If you're playing your own drinking game, then there's probably fifteen empty bottles of Strawberry Hill and a comatose hooker on the floor, because I know how you are. You drunk!
Here's Amy and Tina busting out poses on the red carpet earlier tonight and I'm sure they totally planned to look like a lesbian couple going to a daytime wedding in a backyard garden in 1956. And if you missed Amy and Tina's opening monologue, it's below these block of words. Wait, there's two of them saying words, so I can't call it a monologue. Do I call it a DOSologue? Yeah, I guess so. Anyway, if you missed their opening DOSologue, it's below these block of words:
And they should each get a Golden Globe for yanking James Franco's taint and James Cameron's droopy taint in the same monologue....I mean DOSologue.
Tuesday, October 16th 2012
Yeah, I know that picture choice is as bizarre as all the choices I make on this site, but I have a reason! The only right picture for this story is a picture of a drunk Tina Fey shaking the hand of an imaginary person while Amy Poehler's mouth tries to keep itself from hosting a drunk barf party and Jon Hamm has an intense conversation with his Hamm sausage (or maybe he's getting an imaginary beej or maybe his Hamm sausage is juggling party nuts).
Since Honey Boo Boo and Uncle Poodle are already booked to host the Oscars, who ever is in charge of choosing hosts for the Golden Globes chose Tina Fey and Amy Poehler! Ricky Gervais is out. The president of NBC announced this last night:
"Having both Tina Fey and Amy Poehler on board to host this year's festivities is a major coup. Tina and Amy have a proven chemistry and comedic timing from their many years together on SNL to their successful co-starring roles in Baby Mama."
YAAAASSSS! The only way this news could be better is if NBC also announced that this year's Miss Golden Globes is Jon Hamm's peen. Yes, Jon Hamm's peen is a girl and yes SHE can hold a trophy, because she has hands. She's the peen that can jack herself off.
Thursday, September 6th 2012
We all have two options:
1. Curse at Lainey at Lainey Gossip for writing a blind item that was made one of hundred percent fact.
or
2. Grab a soggy waffle and do the slow wall slide before becoming a sad puddle of misery on the floor. Because People just said this:

Amy Poehler and Will Arnett are calling it quits.

The comedic stars, who wed in August 2003, are ending their marriage, a rep for both actors confirms to PEOPLE. The couple are parents to two sons – Archie, 3½, and Abel, 2.
And we have to hear it from People?! Amy and Will didn't even knock on each one of our doors, sit us on the sofa and tell us to hug our favorite sofa pillow (you know you have one) before breaking the news to us gently and telling us that everything okay and we'll see Will every other weekend (because NetFlix will start airing the new Arrested Development episodes early and every other weekend to help us deal with this tragic news)?
Let's just cancel marriage altogether since it's obviously a LIE! Jennifer Aniston had it right for so long. It's best to stay a miserable, lonely, dog-hoarding, dry in the pussy spinster who fills her empty heart with tequila. Because unlike love, tequila never does us wrong. (Cut to me in five minutes, opening up my kitchen cabinet to find an empty bottle of Patron. DAMMIT ALL TO COLD SHIT!)
Monday, January 16th 2012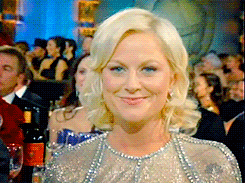 Somebody had to give the videobomb of the night and even though I was secretly hoping it would be an actual lit bomb behind Madge as she licked her own ego during her ten-year-long acceptance speech, it was Tina Fey! While who ever was on stage was throwing out the names of the nominees for Best Actress in a TV Comedy, Amy Poehler thought the camera lens and her were having a special intimate moment together, but then Tina snuck in like a chrishansenhaveaseat.gif. Tina is seriously becoming a seasoned bomber, because this is her second time stealing a ho's shine at an awards show.
So if your ass is ever sitting in a $30,000 borrowed gown at an awards show and you hear the sounds of the Jaws theme behind you, it's Tina Fey stealing your shot! Or it's Phoebe Price since the secret ingredient in her chicken cutlets are magnets that drag her toward the camera. Wait. Are we sure this isn't actually Chicken Cutlets in a Tina Fey mask?
Monday, September 19th 2011
And with one Tina Fey photobomb, any thought I had left about that Emmys shit has really been blown from my mind. There's nothing more to say!
Monday, September 19th 2011
Trying to prove that the stick that's permanently shoved up her ass is actually a funny bone, Fishsticks Paltrow showed up to the Emmys last night in a hilarious dress that got more laughs than the shit was on Charlie Sheen's head. When she was talking to Ryan Gaycrest on the red carpet, I thought his peen was going to crawl up into his stomach so he could barf it out when he said that her Pucci dress was so sheer that we all faced the threat of seeing her cucci. Bitch's sense of reality is as fried as her hair if she thinks this shit looked sexy. GOOP looked like she was wearing a dildo cozy made of funeral doilies and grandma's old panties complete with Metamucil-induced skid marks.
Fishy is as skinny as a tampon string, but that dress made her look like she's serving up organic caca souffle. But I'm sure that a mere mortal will soon write an essay in The Morton Report about how they were choking on a chicken wing at an Emmy party when the sight of Fishy's stomach made them dry heave it out and SAVED THEIR LIFE! Fishy saves lives even when she looks like cold vanilla shit wrapped in memaw's table runner. Move on...
Here's a small gallery of more hos from last night along with my one-second comments. In order:
Paula Abdul who I'm assuming is wearing a sash made of bedazzled Vicodin pills for easy access.
Claire Danes who needs some fucking Latisse for her limp ass hair.
The Ginger Keeper of the Magnificent Chichis whose husband was obviously Mother Theresa in a past life.
Stepford Katie whose jooree box was obviously raided by Suri Cruise and Tommy Girl.
Heidi Klum whose coochie looks like its foaming at the mouth. Cujo coohie!
TWO CROSS-EYED GLAMOUR GODDESSES!
Jenna Aushwitz (I forget how to spell her last name and don't make me Google on a Monday
morning) who is wearing a reworked version of Brenda and Kelly's prom dress.
Sofia Vergara whose teeth scare me.
Jon Hamm with Jennifer Westfeldt whose face is starting to look like it's made of non-biodegradable materials. And I don't know if Jennifer's sticking out her stomach in that second picture or if her ovaries are orgasming from touching her piece (probably the latter).
Kristen Wiig whose nostrils must've had a case of the shies last night.
Evan Rachel Wood who at first I thought was Austin Scarlett in drag and got really disappointed when I learned the truth.
Peter Dinklage who made my nipple holes squeeee when he picked up that big Emmy and spoke at that tiny microphone.
Julianne Marguiles who should throw those clear aquarium rocks at whoever told her to wear that busted dress.
Olivia Munn who needs to have a seat and stop.
Jim Parsons who needs to spend less time dipping his face in a bowl of foundation and more time manicuring those brows.
Kate Winslet who is there.
And finally, Melissa McCarthy, Tina Fey and Amy Poehler!!!!