Joe Jonas
Sunday, July 8th 2012
With The Silver Fox and Frank Ocean coming out in the same week, professional beards everywhere are shaking out of fear that this will inspire closeted queens to also come out and then their jobs will be in danger. But you can always count on tricks like Joe Jonas to keep the beard economy alive! Joe traded his usual partner in struttin', this hot piece right here, for a new ho (literally, a new ho, but I'll get to that later) and the two of them walked around in Manhattan the other day with his parents and his brother Nick Jonas. How and when did Nick Jonas go from looking like a meek, weak toddler bird to looking like THIS? Dude used to look like a Twinkie without any cream filling and now he looks like a hot dog puffing up in the microwave. And I am not trying to look at Nick Jonas' bulge, but it's kind of hard since you can almost see the outline of his purity cock ring.
Now, back to Joe's latest rent-a-beard. I approve of her for one simple fact. Her name is:
NATASHIA HO!
She had me at HO.
Friday, May 18th 2012
Now that Joe Jonas is living in New York City, the city should really designate parts of the sidewalk as "The Joe Jonas Only Lane," because hos need to get out of the way when he busts out his signature swish sway strut. Naomi Campbell who? Joe and a hot friend sashayed and shante'd through SoHo yesterday afternoon and time stood still when everyone dropped their sunglasses to gaze at the strut show while men in business suits sang out, "Whoooooooooo's that laaaaadaaaaaaay?" Joe's pearl diggers (Do you really think he's digging clams in that outfit?) tell me that he wanted to keep his ankles free to really make each step pop!
No Joe Jonas strut show is complete without a theme song, so press play and get your snappin' fingers ready:
"Honey, don't stop a speeding train before it reaches its destination." It's like 1980s Sheena Easton was a visitor from the future and thought about Joe Jonas' strut when she sang out that lyric. No truer words have ever been sung.
Monday, December 19th 2011
Poor Joe Jonas had the aches in his stomach so bad on Sunday that he had to check into the emergency room at The Children's Hospital in L.A. Yes, the fucking children's hospital. I did hear once that Joe Jonas has the esophagus of a 5-year-old boy (No Sandusky). TMZ says that Joe was partying hard in Chicago on Friday night, yodeled out musical notes during a concert on Saturday night and when he got back to L.A. on Sunday his insides were gurgling like the soul-devouring minion Disney implanted in there was trying to eat its way out.
Joe's spokeswhore wouldn't say why he had the sicks, but they did say that he was released shortly after he got there and was well enough to eat sushi with his brother later last night. So to recap, Joe Jonas had to go to a children's hospital for stomach problems and he later drowned the pains with a whole lot of raw fish. This story is a spread eagle Hilton who doesn't ask you any questions. Just too too TOO easy.
But seriously, why is this giving me shades of the "Jordan Knight gets a gut full of jizz pumped out of him?" urban legend? Well, Joe Jonas is this generation's Jordan Knight, so I guess this is his destiny. This should also teach him to have a private medical team standing by when his piece convinces him that an arm-sized dildo covered in Mexican cocaine will make his prostate's life! Tommy Girl would never make that mistake.
(Image via Fame Pictures)
Thursday, November 3rd 2011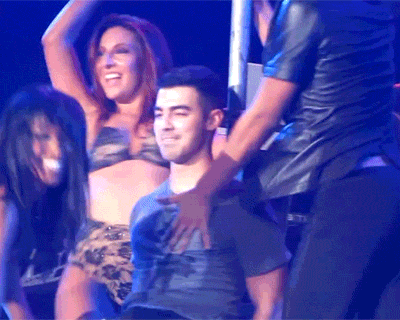 Before I shove my face into a huge bowl of shit stew with generous chunks of Kuntrashian, Bieber and Lohan, allow my eyeballs to get hypnotized by the hand traveling down to Joe Jonas' purity place at Brit Brit's show in London the other night. I love how Joe is serving up a "Guuurrrrrl, where do you think your paw is going? Fish, be gone!" darting side-eye at the lady dancer but doesn't have anything to say about the booty tooching (I hate you for putting that word into my head, TyTy) boy dancer doing the handjob shimmy down to his Magic Kingdom.
This GIF is already a star in the sparkling gay universe, but would it become the Big Dipper of gay constellations (SPOILER ALERT: the answer is yes) if I told you I have that same shirt Joe is wearing? It's the same shirt that some tramp at Duane Reade asked me if I got at Mandee's. Bitch, it's not from Mandee's! It's from Forever 21's men section, thankyouverymuch.
via WOW Report (Thanks Kenny!)
Wednesday, August 10th 2011
Apparently, not every celebrity in Hollywood knows each other like that. Case in point: Shia LaDouche and Joe Jonas passed each other outside of a restaurant in West Hollywood yesterday and not one of them said a word to each other. Even if Joe didn't recognize Shia as thee Shia LaDouche, he could've at least pulled out a dollar and handed it to the raggedy walking muff ball who looks like a dirt-eating forest hobo. What a RUDE QUEEN that Joe Jonas is.
You know, I don't think it's a coincidence that this suspect scene looks exactly like you on the street when you run into the one-nighter who cried after he couldn't get his dick fuck-ready and then plugged up your toilet while taking a stage fright shit. The "don't look, didn't happen" face Joe is making gives it away. Oh, those two.
Thursday, March 17th 2011
It is a sad day for contract writers, notaries, staples and Xerox machines, because yet another one of their fine works will not get a sequel. Just a day after Joe Jonas' "Don't call me Joe Gaynus (that's a two in one right there)" interview with Details turned all of us into Aunt Bunny for a minute, Page Six is saying that there will be no more staged photo-ops between him and Ashley Greene. In a hotel room somewhere, Joe Jonas is sitting on the edge of the bed and strumming out a song about how an expiration date broke his heart.
A source (aka Ashley Greene's publicist using the email address: imnotashleygreenespublicist@nuuh.never) tells Page Six that Joe and Ashley's completely authentic heterosexual love affair died like the feeling in his legs after wearing skinny jeans for more than 3 hours, because of their busy schedules. Ashley is off shooting Twatlight while Joe is working on his music in L.A.
Ted Casablanca at E! News also thinks that Ashley and Joe's PR stunt relationship is null and void, because they were both spotted solo at the same club a week apart. One witness type says Joe made it clear that he's not with Ashley anymore by doing the Jonas mating dance with a bunch of girls, "He was very flirtatious all night, and if I were Ashley Greene I would not want my boyfriend acting like that towards a bunch of hoes. He had his hands all over this girl's ass saying he couldn't take his eyes off her when she danced."
Are we sure that Joe wasn't hitting on actual garden hoes, because that would make more sense.
Contract writers can lift their weepy faces off of their keyboards, because Ashley isn't the type of fame fucker who is going to let a little thing called "failed negotiations" get in the way of her finding a love affair built for the pages of UsWeekly. I'm sure Ashley has already asked (insert the name of some famous dude with gay rumors on his back) to meet her in the conference room. Wink. Wink.
And in case you're wondering what the Jonas mating dance looks like:
UPDATE: It's confirmed. True love doesn't exist. The world only knows heartbreak. Blah blah blah
Wednesday, March 16th 2011
Joe Jonas struts his shit down the hallway like he's trying to scratch an itch on his prostate with every single stomp. That boy's skinny jeans strut makes my nipples spit glitter, but that doesn't mean he's got a thirst that only peen can quench. Joe is a vagina loving, breast licking heterosexual in every single way. So even though the colors of the rainbow shoot off of his heels every time he steps, he's completely straight. Joe talked about Taylor Swift (WHO CARES ABOUT THE SQUINT!) and declared his love for lady vagina to the completely heterosexual magazine Details.

He's dated the troubled Disney star Demi Lovato ("I wish her the best") and the actress Camilla Belle. Taylor Swift was so bitter after their breakup that she wrote a song about it ("Forever & Always") and went on The Ellen DeGeneres Show, in 2008, to complain that Joe had dumped her in a phone call that lasted 27 seconds.

Joe countered by saying that it was Swift who had hung up on him. Now he says, "I think all artists have a right to write about what happens to them. But," he adds with a smile, "I have a right to write about things too."

He won't say whether his album will contain a Swift rebuttal—just that there will be songs about "different love scenarios that I've been through, breakups, hurts. Me hurting somebody and feeling bad about it. I think there's a lot of scenarios where people might wanna hear my side of the story."

But who would break up with Joe?

"Some guy," he says with a laugh.

It's a nod to the gay rumors he's been fending off ever since he got into a verbal altercation with some taunting paparazzi earlier this year. "There's nothing wrong with being gay," he says now, "but I'm not."
"If I were gay, why not admit it? I am a normal man. I love women and sex. I am a real hot-blooded Puerto Rican, but I have never been attracted by sex with a man." - Ricky Martin, 1999
"There's nothing wrong with being gay, but I'm not." - Joe Jonas, 2011
I'm joking. Joe Jonas would never tell a lie. You see those raven mink worms over his eyes? They would never stay with him if he told lies. Bitch would have bald brows. Eyebrows don't like liars!
Monday, February 21st 2011
Ashley Greene celebrated her 24th birthday at Pure in Las Vegas on Saturday night and was surrounded by a sugary rainbow of sweet confections that made every hole in the room beg for a cavity search. And I'm not talking about that Candy Land mess of a cake. Joe Jonas was at Ashley's side for her party and she was on him like a fly on a sugar dipped cherry, and he was on her like....well...like dignity on a Lohan. Joe is keeping his hands at his side like Ashley is a beard made of vagina hairs.
Can't Joe give Ashley something to work with?! At least she's trying to hang on him like his dick is not letting out a "meh" from being that close to girl cooch. I mean, Ashley even tried to slap away the gay rumors by telling People that Joe doesn't know the difference between "vintage Coach" and Chanel. Bead, please:

At her 24th birthday celebration at Las Vegas's Pure Nightclub on Saturday, the Twilight beauty donned a form-fitting black cocktail dress and sported a gold Chanel charm bracelet on her right wrist. The latter was a gift from Jonas.

"The funny thing about it is when I got it, my boyfriend said it's vintage Coach – and I was like 'Thanks so much.' And then I put it on and was like, 'Oh my god, this is Chanel,' " Greene said, letting out a scream.

"It was very cute and sweet and adorable to me because my boyfriend gave it to me," she said. "Coach, Chanel, [it] makes no difference to him ... [But] I absolutely love it because he knows what I like."
Let's hope that Chanel charm bracelet had a Chanel key on it that opened a Chanel box to a Chanel vibrator, because that's the only way Ashley was going to have a birthday orgasm at the end of the night. But really, Ashley went a little too far with the "vintage Coach" shit. "Vintage Coach" is just a fancy way of saying "Coach bought from the bottom of a clearance bin at Filene's Basement." And there's no way Joe would ever strut his shit through a Filene's Basement.
Monday, February 14th 2011
This is what the line to the glory hole at Cinderella Castle's must look like, right? But no, this is two of Disney's most ravishing and cherished Adonises, Zac Efron and Joe Jonas, sitting next to each other at the Calvin Klein Men's show in NYC yesterday. Thighs parted.... Hands politely clasped... They're as stiff as a Republican politician waiting for the airport men's room to clear. That could only mean one thing: they are trying desperately not to act on their impulse to cuddle on each other's honey buns right there in front of everyone. Oh, how Zac just wants to softly blow at Joe's brows and watch them dance like wheat in the wind. At least that's what the thought bubbles that I created for their asses say.
If only a butterfly made of strawberry gloss landed on Joe's lips during the show. Zac cannot ignore anything made of lip gloss so he'd have to plant his lips on Joe's. That's obviously what Kellan Lutz, Jack Huston and the only and only Bryan Boy were hoping to see too.
Wednesday, January 5th 2011
Joe Jonas was leaving a restaurant in Los Angeles the other night when a pap tried to single-handedly solve a dozen blind items by asking him if he's gay and if his contract with Ashley Greene expires next month. You can always count on a bold bitch pap to be the voice of bloggers and anonymous commenters. The pap was obviously hoping that one of two things would happen:
1) Joe dances a jig, click his heels together and proudly proclaims his gayness as the gay angels above cry confetti tears of happiness all around him and Ashley Greene texts Taylor Lautner to see if he's hiring. A 3D "Yup, I'm Gay" People Magazine cover, if you will.
2) Joe rages like a KFC employee and puts the spandex in his skinny jeans to the test by throwing a full body attack at the pap. Joe gets busted, the pap sues and the words DISNEY GAY RAGE show up on every newspaper.
But none of this happened. Joe kept his cool and remembered what his sensei Mickey Mouse taught him. Calmly tell the pap that he's being disrespectful and then wait a few minutes before calling Goofy and the other members of the Disney mafia "to take care of things."
Source: Hollywood.tv via ONTD