Gay
Wednesday, June 6th 2012
Before John Travolta hired Kelly Preston as his full-time face merkin and terrorized massage therapists with his gaping, powderless donut hole, he rode on the wings of butt sex love with his pilot Doug Gotterba. That's what John's former secretary, Joan Edwards (read that as John Edwards or Joan Holloway if you this story is already bland for you), and Doug's ex-boyfriend, Robert Britz, tells The National Enquirer (via Radar). They both say that shortly after Doug started working for John in 1981, the two started doing it on the down low. How many times do you think they did it in the cockpit and how many times do you think John asked Doug, "Do you want to cock my pit?"
Joan Edwards, who worked for John from 1978 to 1994, says that she's always known John likes to gobble peen with his b-hole and she never cared. After Doug became part of John's staff, he and Joan hit it off. Doug confessed to Joan that he was sexing on John regularly. Robert Britz, who dated Doug after John, tells the Enquirer that Doug and John's relationship wasn't exactly the epitome of romance. It all started, because John kept grabbing at Doug's crotch. Doug finally gave in, because the job was "lucrative" (translation: bitch got paid). Robert also says that he watched a video of Doug and Robert hanging out topless in a hotel room together:
"I personally saw about two minutes of Doug's home video showing John Travolta sitting at the end of a bed with his shirt off. There were plates of food in front of him. The video appeared to be shot in a hotel room. Doug made it clear that it was very lucrative for him to be what he called John's 'personal right hand man' and homosexual partner."
Just like how most love stories of our time end, Doug stopped fucking John, because he suddenly became grossed out by John's hairy bear body.
All of these gay sex stories about John Travolta pretty much have the same theme. John is always going after dudes who have no interest in diving deep into his sugar walls. The ones that do it, do it for the cash and not because they want to. Humping on a dude who is rolling his eyes, playing Sudoku on his phone and cutting off his cuticles with a tiny pair of scissors doesn't sound like a good time to me. "That's funny should say that because...." - my last boyfriend
Wednesday, May 23rd 2012
Jim Parsons of The Big Bang Theory (the show my mom watches religiously but always forgets the name of so just calls it the "other" How I Met Your Mother) is gay, like officially, and I thought we already swept up the popped rainbow balloons after having that party. I'm not serving that on a bed of warm sarcasm either. I know Jim thanked his partner Todd Spiewak (click here to see them in several states of awww) when he won a Golden Globe a couple of years ago, but I thought he already said the words out loud in a magazine or something. I guess not, because everyone is saying that Jim has "quietly come out of the closet" in an interview with The New York Times. High brow!
In a piece about Jim's starring role in a Broadway revival of Harvey, the NYT casually dropped this in:
The Normal Heart" resonated with him on a few levels: Mr. Parsons is gay and in a 10-year relationship, and working with an ensemble again onstage was like nourishment, he said. As the production was ending last summer, he heard that the Roundabout Theater Company was considering a revival of "Harvey" — initially with John C. Reilly under consideration for Elwood — and last November the play's director, Scott Ellis, asked him and Ms. Hecht to do a private reading of the work in Los Angeles.
The article also mentions that Jim is 10 months away from turning 40. Now that's the real RED SIRENS GET CNN ON THIS news. Jim Parsons being gay is something we all learned in school, but Jim Parsons being almost 40 is the real shock. Jim Parsons looks like a come-to-a-life cartoon of a 5th grader as drawn by Charles M. Schulz. Dude looks eternally 11, so the headline should be: JIM PARSONS COMES OUT AS A 39-YEAR-OLD.
And I know everyone is waiting for Anderson Cooper to casually come out, but he better not do it like this or I'll never speak to the cardboard cutout of him I have in the corner of my bedroom AGAIN! Usually, I'm not really into it when hos come out on the cover of People for a check, but I'll make an exception for Anderson. Andy's coming out needs to be a spectacle! It needs to be some "sliding down the rainbow, resurrecting Judy Garland, unicorn heads exploding" shit! It needs to be an international holiday and Lady GaGa's stupid ass better copy another Madonna song when writing Anderson's official coming out anthem. When Anderson finally comes out publicly to the media, I better turn on the TV and see an infomercial for the commemorative plates with his giggling face on them. It better be like that.
Friday, May 11th 2012
In that picture above, is John Travolta making an "over-the-shoulder two-handed handjob" pose or a "Hooray for me for getting it DP-style" pose? Or is he grossed out because he just realized he made a vagina with his hands? Process that through your brain and we'll discuss later.
The masseur who opened up the unlocked, glass Pandora's Box of John Travolta's man molesting ways has come up to the podium to shrug while saying, "Ooops!" John Doe #1 first claimed that John Travolta grabbed at his peen without an invitation on January 16, 2012 at the Beverly Hills Hotel. But after John Travolta's team pulled out completely suspect pictures, a receipt from. Mr. Chow and flight records proving that he was in NYC that day, John Doe #1 says he got the date wrong. More like John D'OH! #1.
A source tells Radar that John Doe #1 is now claiming that John Travolta touched him wrong BEFORE January 16th. The source says that John Doe #1's lawyer will amend the lawsuit, but every other detail in the documents will stay the same. John Doe #1 and his lawyer aren't worried that this will screw up their case. The source went on to say:
"The lawsuit will likely be amended, but this doesn't change the facts of the lawsuit. John Doe #1 gave very specific information, and staff from the Beverly Hills Hotel will absolutely be included as witnesses in the case. Let's not forget John Doe accuser #2. It's very interesting that Travolta's team hasn't gone after him.
This case will absolutely proceed through depositions and to a trial. The lawsuit can't and won't be thrown out because the date was wrong by the first John Doe, which will ultimately be up to a jury to decide. Both accusers are ready to go public, and aren't afraid of John Travolta, and they will see this through to the end."
If you're suing John Travolta and a multi-million dollar settlement is on the line, how in the sore on Xenu's taint can you mess up the date? John Doe #1 says John Travolta found his ass online and they e-mailed back and forth, so wouldn't that shit be in his Gmail or whatever? Either John Doe #1 is a confused ho who really mixed up the date, he's scamming a trick or he's already settled with Travolta and part of the deal is for him to slowly discredit himself. Yeah, that last one is the Detective La Toya in me poking out.
In other Trollvolta news, a third dude who has come forward claiming that John tried to pay him for sex in 2009. Fabian Zanzi tells The Daily Mail that he was a VIP host on a Royal Caribbean cruise and John hugged him while naked before offering to pay him $12,000 for some peen-on-prostate action. Fabian turned him down.
Never mind that John was trolling for dick on a Royal Caribbean cruise like a regular, middle-class closeted husband from the suburbs, who turns down $12,000 for a few minutes with John Travolta? I swear, morals and standards are so overrated. John needs to work on his trolling skills, because it sounds like his butt hole is always barking up the wrong peen. Every trick I know will gladly stick his peen in the glory hole in John Travolta's closet door for $12,000. Hell, those whores will do it for $12 and an autographed Danny Zuko glossy.
Wednesday, February 29th 2012
The first time I heard a George Clooney gay rumor was during his E.R. days and a friend told me that his friend's friend's favorite bartender's cousin's stepmother's pussy waxer's hairdresser's priest's fuck buddy's friend once heard that George was caught making out with another dude in one of the hallways on The Facts of Life set. In my mind, I pictured that Charlotte Rae caught George and she watched for a few seconds, softly stroking her pearls before she broke it up with a yard stick. Since then, I've heard all sorts of shit about George's gayness from how he keeps a kept trick in Italy to how he's a lifelong beard collector to how he hired Germany's finest butt dildo maker to craft a replica of Michael Fassbender's peen using only stills from Shame. Okay, that last one I heard from one of the voices inside of my head, but it's been right before. Anyway, The Advocate (via People) asked George about all the gay rumors and he's not about to confirm or deny that shit:

I think it's funny, but the last thing you'll ever see me do is jump up and down, saying, "These are lies!" That would be unfair and unkind to my good friends in the gay community. I'm not going to let anyone make it seem like being gay is a bad thing. My private life is private, and I'm very happy in it. Who does it hurt if someone thinks I'm gay? I'll be long dead and there will still be people who say I was gay. I don't give a shit.
If George is a citizen of closet city and wants to stay that way, he gave a good answer. If George doesn't get a craving for foreskin on his tongue, he gave a good answer. The bitch gives good answer, I'll give him that. And George sleeping with a lock of Brad Pitt's hair under his cheek every night (which he so does) isn't totally gay, but it is totally sucio.
Wednesday, February 29th 2012
File this under: Rick Santorum's answer to Brangelina (sorry, Duggars) has been found.
This is one of those gross things that I never saw coming, but should've seen coming, because it is a match made in wholesome boring Aryan heaven. Both Celebuzz and Clevver News say earth's only direct connection to Jesus, Tim Tebow, and the American Anne of Green Gables, Taylor Swift, went out to dinner together on Monday night after meeting at a pre-Oscar party last week. I can try to use all of my brain's energy to come up with a couple name for these two, but it's easier and more fitting just to call them: UGH!!!!!
Celebuzz says that Taylor skipped up to Tim at WME's pre-Oscar party on Sunday night and started talking to him for over an hour. Talking to Taylor for over an hour would make me Tebow right over a toilet, but he was obviously into that shit, because he took her out for dinner on Monday night. Clevver News says that Taylor and Tim skipped into Century City's Toscanova restaurant and sat with a small group. Tim and Taylor didn't leave together, but he walked her out like the true gentlemen that he is. GROSS!
You know, some bitches have been trying to tell me that Tim Teblowjob is as gay as the image of me ordering a pouf from Cb2 (or the image of me dancing to an Atomic Kitten song in the shower while soaping myself up with a turquoise puff full of strawberry-scented body wash), but he never made me fart out a rainbow until now. Dating Taylor Swift is to gaydars as the cast of Jersey Shore is to breathalyzers. Taylor can make a gaydar overload and explode. Nothing says "I LOVE TO GARGLE ON A PEEN HEAD" like "dating" Renee Zellweger-in-training Taylor Swift.
Thursday, January 26th 2012
Prepare yourself to know what it feels like to never trust anything that comes out of Brad Pitt's mouth again (because I know that up until this point you hugged every word that came out of Brad Pitt's mouth with warm arms of trust). Brad Pitt has regularly declared before the gay gods (aka a sculpture of Rojo Caliente riding a Liberace unicorn centaur down a flannel rainbow) that he will never slip a wedding band on Angie Jo's bony finger until everybody in the U.S. can get married. Well, the bitch is a teller of lies.
As you and your same-sex partner wait at City Hall until it's legal for you to file a marriage certificate, the asshole who vowed to stand with you until the end will whisk on by with his zombie vampira skeleton bride and cut in front of the line. RIGHT IN YOUR BETRAYED FACE. Because Brad tells The Hollywood Reporter that he's probably going to break his promise by becoming Angie's third husband:

"We'd actually like to, and it seems to mean more and more to our kids. We made this declaration some time ago that we weren't going to do it till everyone can. But I don't think we'll be able to hold out. It means so much to my kids, and they ask a lot. And it means something to me, too, to make that kind of commitment.

I'm not going to go any further. But to be in love with someone and be raising a family with someone and want to make that commitment and not be able to is ludicrous, just ludicrous."
I'm going to force myself to not get hypnotized by the fact that Brad's goatee looks like an upright grandpa stache and an upside-down grandpa stache holding hands over a soul patch, because there's more important matters at hand (not really). Brad has just proven that he cares about keeping his commitments as much as he cares about finding a shampoo for extra oily hair. (Seriously, Brad, it's not hard. Just ask someone at Sally's Beauty.) If Brad rips the notary stamp off the promise he made to gays and gayelles, how can Angie Jo trust that he won't rip the notary stamp off the marital bowels (Oh, Freud, I love it when you trip me) he makes to her? Oh, wait.
Thursday, November 3rd 2011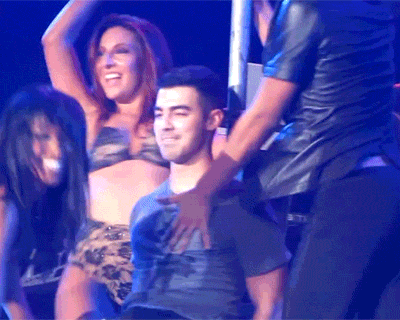 Before I shove my face into a huge bowl of shit stew with generous chunks of Kuntrashian, Bieber and Lohan, allow my eyeballs to get hypnotized by the hand traveling down to Joe Jonas' purity place at Brit Brit's show in London the other night. I love how Joe is serving up a "Guuurrrrrl, where do you think your paw is going? Fish, be gone!" darting side-eye at the lady dancer but doesn't have anything to say about the booty tooching (I hate you for putting that word into my head, TyTy) boy dancer doing the handjob shimmy down to his Magic Kingdom.
This GIF is already a star in the sparkling gay universe, but would it become the Big Dipper of gay constellations (SPOILER ALERT: the answer is yes) if I told you I have that same shirt Joe is wearing? It's the same shirt that some tramp at Duane Reade asked me if I got at Mandee's. Bitch, it's not from Mandee's! It's from Forever 21's men section, thankyouverymuch.
via WOW Report (Thanks Kenny!)
Sunday, October 16th 2011
A "Yes, Spock Likes The Cock!" cover of People Magazine and a media parade where he somersaults down the street in a rainbow leotard while shooting glitter our of his b-hole is not Zachary Quinto's style, so he decided to be a little more subtle on you bitches for his big coming out. Yeah, yeah, Zachary Quinto brushing his luscious otter brows against man nips in the early morning hours is a surprising revelation right up there with "sneezing chihuahuas are silly," "anuses are wrinkly," and "Trace Cyrus is scared of snakes," but he said the words out loud while talking about his new movie Margin Call with New York Magazine. Queen Toe talked about doing the plays Angels in America, dropped his thoughts on Occupy Wall Street and then nonchalantly flicked the gay fact into New York Magazine's lap:

What was terrifying?


Just the sheer scale of the play to begin with. And then I just think revisiting that work and revisiting the themes of that work at a time when the political and social climate of the country is shifting so dramatically and so irreversibly, to really come up against the echoes of that hatred and that bigotry and that fear that still exists in our culture, just in a different context now — you know, I feel it was just a really interesting exploration for me.

Doing that play made me realize how fortunate I am to have been born when I was born. And to not have to witness the decimation of an entire generation of amazingly talented and otherwise vital men. And at the same time, as a gay man, it made me feel like I — there's still so much work to be done. There's still so many things that need to be looked at and addressed. The undercurrent of that fear and that, you know, insidiousness still is swarming. It's still all around us. To revisit that world at all, it took a toll on me. It definitely was an incredible experience but it was really daunting at times.

What do you think is gonna happen with Occupy Wall Street? Do you think it's gonna fizzle or grow week-by-week?
As a left-leaning Democrat, I feel a sense of resonance with their position, but as a citizen of this country, I feel deeply unsettled that people are rising up in movements against one another. It feels like we're missing the mark. I just think it's all broken. I think our financial system, so many aspects of our social connections, seem fractured. And I think it's a really tenuous time for our country. I don't know what will happen going into this election year. It seems like the Tea Party, Occupy Wall Street — there's such tremendous disparity right now. It's like, you have the legalization of gay marriage in the state of New York and three months later you have Jamey Rodemeyer killing himself, yet another gay teenager bullied into taking his own life. And, you know, again, as a gay man, I look at that and say there's a hopelessness that surrounds it. But as a human being, I look at it and say, "Why? Where is this disparity coming from and why can't we as a culture, as a society, dig deeper to examine it?" We're terrified of facing ourselves, we're terrified of what we'll find and so, instead, we seem to waste time and energy with small-mindedness and intolerance and with bigotry and with hatred and with fear. And those things are just gonna — no matter if it's Occupy Wall Street or any other social or political or financial issue, we're hurtling towards something that is really scary to me.
If a celebrity wants to shout that they're gay on the cover of a weekly magazine, then I say whatever works for them and their publicists. It all helps. I mean, if my teenage self saw Ricky Martin screaming SOY HOMOSEXUALIS!!!! on the cover of a People en Español at the Stater Bros. checkout line, it might've inspired me to be more over-the-top Norma Desmond-ish about my official coming out scene. Mine was totally boring. I just said "going to hang out with my boyfriend," or something like that, when my mom asked me where I was going. I knew that she knew before I knew. But now I wish I would've jumped up at the Thanksgiving table and shouted SOY HOMOSEXUALIS!!! I might not ever get to shout the words SOY HOMOSEXUALIS!!! again.
That being said, I still like the way Zachary Quinto eloquently and casually dropped it like it's not a big deal and isn't breaking news. That's pretty much how you do it.
UPDATE: And for Zachary's own words on this, click here.
And yes, this still calls for a leche party!
Wednesday, October 12th 2011
If you took Taylor Lautner out of Hollywood, you'd take away 90% of the gay blind items. Taylor Lautner is destined to join Scientology, marry some girl from a show on The CW, exchange her human parts for robot parts, claim the girl baby she made with her ex-boyfriend as his own and name his new daughter Irus. But Taylor says this isn't going to happen. Even though Taylor has a forehead made for a butch top to watch HD porn on while he rides that peen cowboy-style, he says that he's not gay at all.
GQ Australia brought up Taylor's dinner date with openly gay director Gus Van Zant and writer Dustin Lance Black and asked him if they hit on him. Taylor responded with this:

"No, definitely not. I think they know I'm straight. But they're great guys. They're a lot of fun. It's not a coincidence that there was a writer, a director and an actor at dinner."
Oh yeah, GQ Australia. When two gay dudes take a straight (for pay) dude to dinner, they automatically try to footsie him in the crotch under the table. I know that when two straight dudes take me to dinner, by the time dessert rolls around they get me to eat a plate of coochies and cream. And then I'm turned! Before you know it, I'm feasting on poon pavlova and diving face first into pussies jubilee. After I air kiss the straights at the exit door, I turn back into a gay. Yup, I drink the cooze-aid every time I have dinner with two straight dudes.
As for Taylor saying he's straight, this GIF starring one of his relatives pretty much sums up my response:
via Examiner
Monday, October 3rd 2011
Thomas Jane plays a Midwestern father who peddles his peen to ladies for cash on HBO's Hung and he tells The L.A. Times (via Towleroad) that in real life he once took a price tag to his saleable bits and turned tricks on Santa Monica Blvd. Thomas admitted that he tasted man for money when the L.A. Times reporter brought up the "I told HBO, the year I end up with a penis in my mouth is the last year of the show" line that caused some of the gay media to light his asshole for free.
Instead of giving the public (read: me) what they really wanted by passing forward detailed stories, Polaroid pictures, sketches, videos and flip books of his man-on-man hooker car sex, Thomas went on and on about how being a gay hustler showed him that dude ass ain't for him. You know, because dicks and pussies are like brussels sprouts, you can't know that you don't like em until you've tried em. And just like brussels sprouts, dicks and pussies are best when served with a little garlic salt and melted butter on top. This is what Thomas had to say about selling ass and sexuality:

You've gotten a lot of grief in the gay media ... here's your chance [to explain yourself].


Hey, you grow up as an artist in a big city, as James Dean said, you're going to have one arm tied behind your back if you don't accept people's sexual flavors. You know, when I was a kid out here in L.A., I was homeless, I didn't have any money and I was living in my car. I was 18. I wasn't averse to going down to Santa Monica Boulevard and letting a guy buy me a sandwich. Know what I mean?

Do you feel that experience had any cost or was it just doing what you had to do?
You're a lot more open to experimentation as a young man. And for me, being a young artist and broke in Los Angeles, I was exploring my sexual identity. And probably because of my middle-class, white blue-collar upbringing, I would have never had the opportunity to confront some of my own fears and prejudices had I not been hungry enough to be forced to challenge myself in that way.

So then it was productive for you in terms of self-knowledge?
Yeah, absolutely. It blew the doors off of my conventional upbringing and thinking and opened up possibilities for me that were akin to World War III. And then you actually have a choice, and I chose to be a heterosexual guy because that's what my DNA dictates and my nurture dictates that I am.

Then is that a choice?
I don't know. I think up to a point it's a choice. But I'll tell you what — it's not a choice until you're open enough to experience both male and female sexuality. Until you've tasted the food, you don't know whether you'll like it or not, as my mom always said.
What Thomas is saying is that it wasn't his choice to be straight, but it was his choice to let a man go throat deep on him for a tuna melt. Right? Okay. But the most offensive, wrong, uneducated and dangerous part of his comment is the sandwich part. Do you know how many first-time johns are going to pick up a twink queen on Santa Monica Blvd. and throw them a wink as they whisper out of the passenger window, "Can I buy you a sandwich?" That poor john's dick-sucking wet dreams are going to be crushed when the twink queen thinks he literally wants to buy him a sandwich and tells him to pull into the Subway a couple blocks up. I swear, Thomas Jane is totally whoring for Subway!
By the way, selling ass for a sandwich is totally my new life motto.