Your Lips Scare Me
Thursday, October 13th 2011
.....and it is the exact opposite of this methtastic display of freckled roughness that was spit out of a crack house's toilet and rolled onto the red carpet of the launch party for some video game in L.A. last night. That S in the background doesn't stand for Supper Club. It's the Health Department's newest rating: S for SkeezaSitDown!
The highly flammable weave, the cheeks that make her look like she's storing 8-balls for the winter and her signature collagen labia lips all need more JESUS (or something) in their lives, but Lindsay Lohan's nostrils are another thing. It's like a mob of coke granules did the Occupy Nostrils march right up into her nose innards. LiLo has snorted around the block a few times, so she should know that right after your nose eats a line of the bad shit off of a glove compartment lid in your dealer's Chevy pick-up, you have to settle down your swollen nostrils with some Prep H. Amateur slip-up that disappoints White Oprah so.
Now on to the thing that everyone is hissing and throwing sprinkles of Listerine at:
For the love of Nana Lohan, can't a bitch spike her Red Bull with some fluoride or even some paint thinner. Those Teeths of Meth look like Gollum's fingernails after he fisted a zombie with diarrhea. If you scraped the several thick layers of crack-infused smegma off of her teeth and shoved it into a pipe and smoked it, you'd probably get a quick buzz. That's what dentists called "methavitis."
But being the fashion forward icon that she is, maybe LiLo is way ahead of all of us and knows that the next big trend will be to match the color of your teeth to the color of your ass lips.
Friday, September 23rd 2011
(Apologies to the gorgeous lizard flower that is Courtney Stodden for that comparison.)
Here's the gold digging, bed bug-killing, cocktail wasting, freckled dildo of delusion Lindsay Lohan completing her community service hours by volunteering at an Italian AIDS hospice today. Oh, did I type "volunteering at an Italian AIDS hospice"? I really meant to type that she's pouring free champagne down her throat hole with designer Philipp Plein at an amfAR party in Milan tonight. Same thing!
Maybe it's because I just ate an entire bottle of red wine, but besides the fact that her lips looks like two constipated bubble gum worms trying to push out a fart, she sort of looks o.k.a.y.? We're used to seeing LiLo looking like a 49-year-old flea-ridden, morning shift Mordor hooker who just got a train ran on her (an actual train, not a gang bang), so this is an improvement! Yes, I'm still going to spray my eye balls with RID, but I'll do two squirts instead of ten. Now I'm going to do the impossible by typing the following words: Lindsay Lohan actually looks good.
And yesh, I just admitted that I'm drinking red wine. Can you believe this shit? I'm trading margaritas for red wine, because Dr. Oz said it's good for the heart. I'm of the olds. Just brand me with the word EXPIRED and roll me into Boca city limits.
Monday, September 12th 2011
File this under: Riveting news is RIVETING!
Jason Sudeikis and Lindsay Lohan, seen here looking like a (don't click on that) prolapsed anus wearing expired eyeliner, were both at a party for Purple Magazine on Saturday night when one thing led to them trying to bust a nut into each other's mouth holes. A ho who witnessed this important moment in peanut history gave this first-hand account to Page Six:

"Jason and LiLo were sitting across from each other, then Jason started throwing peanuts or paper at her. Lindsay kept ducking to miss them until she decided to throw them right back at him. Then they began throwing nuts at each other trying to get it into each other's mouths. Once finished they got up and hugged and started laughing together."
This is the part in the post where I come clean and admit that I only posted this non-story so that I could use that naturally gorgeous picture of Blohan looking like hot death warmed over a plate of dehydrated scab skin. I also posted this so that when the Clinica Mobile nurse lets you know that you have once again contracted Chlamydia of the retinas, you can blame it on that headline.
Sunday, August 21st 2011
No, this is not a page from the "Buy 1 Get 1 Free" clearance section of a Russian brides catalog that caters to gerontophile gentlemen who are in the market for a pre-owned model. This is Lindsay Lohan (on the left) and White Oprah (on the right) looking like if Jerri Blank brought Aunt Magda as her date to her winter formal. If Florida public access did a low-budget version of The Real Housewives of Boca, this is what it would look like.
Blohan and White Oprah peeled themselves out from under the heat lamp on the Sizzler buffet line and Crisco-ed themselves into the finest gowns from Frederick's to watch Kim Kardashian make a Geico caveman her second husband (and counting). Kim's invitation said that all hos must only wear black and/or white, so it's not like Blohan tried to hump the spotlight away from the bride. I wouldn't put it past her, but she had more important things to worry about. Like trying to sneak as many centerpieces into the trunk of her car so she can sell them later on eBay.
To see more priceless and coked up pictures of the Orange Chicken Sisters, click over to ONTD or Gossip Center. Those who don't already know will probably spend a few minutes trying to figure out which one came out of the other one's vagina. They're both on the wrong side of 48. But my favorite part of those pictures isn't that they both have the complexion of a chicharone. It's that they both obviously looked into the mirror of delusion and said at the same time, "Damn, bitch, we're going to make dicks rise tonight!"
Here's more pictures from Kim's second pre-divorce ceremony of her bridesmaids, Gaycrest, Julianne Hough, Brody Jenner and Avril Lavigne. This mess looks like one of Charlie Chaplin's black & white bowel movements.
Thursday, August 4th 2011
No, this is not a still of a lost scene from Splice. This is OctoMom on the cover of the always elegant Steppin' Out Magazine. In the interview with Steppin' Out, Octo continues to talk about how her vagina only opens for baby heads and she isn't interested in anything sex related. Octo was married for a while and couldn't even tell you if her husband's dick situation was curved, cut or mushroom-headed. Octo has no idea, because she barely spent time with his peen. Octo would rather get intimate with an IVF needle than with a peen and she's alright with that.

"I can tell you that I never touched him physically. It was a different type of marriage.

That's all I want to say about it. I'm the kind of person who can be with a man for years and never touch him. My mind is not wired that way. I don't need that kind of thing. People need sex, but I don't .. I have zero sexual interest.

And in the spirit of sharing more than you'd probably ever want to know. I've never even touched myself in that way. Maybe if I had touched myself things would be different. It's like a trigger food. I never tried it so I don't know what I'm missing.

I couldn't even imagine kissing something. I'll be your friend but it would take at least five years for me to even consider having sex with you."
If you're with me, then I guess your response to Octo never having an O is just....oh.
via Daily Mail
Monday, July 18th 2011
Rachel Uchitel's whore mouth is what got her $10 million from Tiger Woods in the first place, and now that same whore mouth has cost her most of that money. Tiger Woods reportedly stuffed a $10 million hush money check between Rachel Uchitel's overstuffed dolphin dick lips after she signed a confidentiality agreement promising to keep his name off of her tongue for the rest of her life. Any smart gold digger would've immediately glamored Tiger Woods' name from her brain, because $10 million can buy a lot of lip injections and horse mane weaves. Rachel Uchitel is not a smart gold digger. Bitch is as dumb as she is Equus faced.
Rachel broke the agreement when she went on Celebrity Rehab for a "love addiction" and vaguely talked about Tiger to TMZ. Tiger's lawyer Jay Lavely accused Rachel of breaking the agreement and ordered her to give all of the money back.
TMZ reports that Rachel's lawyer Gloria Allred advised her to give whatever is left of the $10 million back to Tiger, because they'd lose in court. Rachel agreed, but one thing Cuchitel didn't know is that Gloria made a deal with Jay that she would still collect all of her attorney fees from the $10 million. If they went to arbitration and lost, Rachel would not have to pay Gloria a cent. So Rachel thinks that Gloria forced her to give back the money so the bitch could get paid. Rachel has now hired a malpractice lawyer to get those fees back from Gloria. Gloria issued this statement to TMZ:

"Our law firm no longer represents Ms. Uchitel and we have no comment on this story at this time. However, we are confident that we have always acted appropriately and in her best interests."
Gloria fucked that $10 million out of Rachel just like Rachel fucked that $10 million out of Tiger. I should laugh, but I'm too busy being disgusted and disappointed at Rachel. Rachel is a shit-skinned, anus-mouthed, piss-brained piece of Mr. Ed's caca who gives all conniving gold digging sluts a bad name! What kind of gold digger screws with the $10 million in her pocket by breaking an agreement? What kind of gold digger puts that $10 million in a domestic checking account instead of hiding it in a shoe box far, far away? What kind of gold digger tells Tiger's lawyer that she still has the money instead of saying the words I said when my third grade teacher asked me what I did with the candy I took from my classmate's desk: "I ATE IT, BITCH!"
If I had any respect for Rachel to begin with, she would've lost it over this dumb dumb move.
Saturday, July 16th 2011
In a move that even Alison the Slycic's e-cig could've predicted, The Real Housewives of Beverly Hills' Taylor Armstrong has dropped divorce papers in the lap of her cunt-hearted creeper husband Russell Armstrong after 6 years of marriage. Russell is going broke and it's obvious to everyone that Taylor only married him for his cash, so she's doing what every gold digger should do when her shovel comes up empty: bitch is packing up her pool noodle lips and getting out of there.
Out of fear that the gallons of collagen in her lips will burn off from all the quivering it does while she cries about how empty her husband's checking account is, Taylor Lipstrong tells People that she has decided to leave his ass for good.

"It was a difficult decision but I have decided to file for divorce from Russell. Although we have tried our best to work out our differences, I have come to the conclusion that it is in the best interest of our family that we separate. Together we are the proud parents of a sweet and wonderful little girl and she remains my number one priority. I am sad for my marriage to come to an end, but am confident that this is the right choice for all involved."
Taylor is a superficial, puppy-hating, annoying gnat that looks like she just crawled out of a vat of acid in Gotham City, but Russell is just ugh. I don't know how she boned that shit. Russell probably prints out a really complex Excel spreadsheet, tapes it to the headboard and licks it as he does Taylor missionary style. I just... No. But at least, Taylor will soon be free to marry her real love: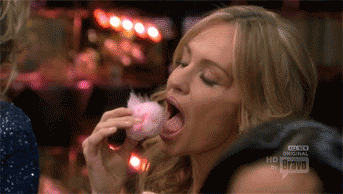 COTTON CANDY!
Friday, July 8th 2011
Megan Fox uploaded 4 pictures to her Facebook page yesterday and titled the album "THINGS YOU CAN'T DO WITH YOUR FACE WHEN YOU HAVE BOTOX" when she really should've titled it "4 FACIAL EXPRESSIONS YOU CAN ORDER FOR YOUR CUSTOM MADE REAL DOLL."
I believe Megan Fox when burps out about how she doesn't fuck her forehead with a Botox needle. There's no need for her to frown and make her WTF forehead wrinkles look like a creepy skin rainbow of skinny labias. That is what the whirlpool into nightmares look like. There's no need for her to do that. There's also no need for Megan to post a bunch of head shots that make her look like Adrien Brody created her by splicing the DNA of Amanda Lepore, a hairless cat and alien blow-up doll. Megan is Botox free. If she had a list of ingredients printed on her ass cheek, collagen, silicone, alien cartilage and various feline parts would be on that list, but Botox wouldn't! We get it. No Botox. You win.
The CliffsNotes version of this post is: Bitch fucked up her face (without the help of Botox)!
Sunday, July 3rd 2011
25 years ago yesterday, White Oprah was sprawled out in the passenger seat of a Chrysler Laser, parked in the alley way of a Long Island bar, with a pink frosted lipstick-stained Belair cigarette hanging out of the side of her mouth when she pushed out the precious child that she'd later pimp out so she'd never have to get a damn job. As White Oprah held her future ATM machine in her arms, the alley cats howled in heat and three neighborhood drunks brought her a half pack of Camel Lights, a wine cooler and pacifier found in a dumpster as gifts. "This is just like the birth of Jesus," said White Oprah as she did a line of crushed Opiates off her newborn daughter's leg. Well, Lindsay Lohan celebrated that beloved event last night by having dinner with friends at Geoffrey's restaurant in Malibu and it looks like she didn't completely drink her face off! It's a July 2nd miracle all over again.
Here's more of Blohan looking like a middle-aged Daytona Beach stripper on the wrong kind of homemade meth celebrating her 25 years on the pole!
Friday, July 1st 2011
When Lindsay Lohan came stumbling out of a Hollywood club early yesterday morning like a dozen booze bottles just ran a train on her mouth, we all knew she would put the blame on everything and everybody but herself. LiLo is not one to let us down, so she just done just that! Last night, Delusion gently cradled LiLo in its arms and softly padded her back so that she could burp this out on her Twatter:

Of course me going to my best friends going away dinner is a headline- especially on my first day out of my house in 35 days. That does not give anyone the right to have a field day and manifest stories. IT WAS A GOING AWAY DINNER, THAT WAS IT. Nothing exciting happened aside from the very yummy hummus and pita. If anyone caused me to nearly fall it was the pyschotic paparazzi.... off to the gym now- have a lovely day xo
LiLo also posted the picture above of her shoe, so just to recap, this drunk bitch is blaming: THE SHOES! THE PAPARAZZI! THE HUMMUS! THE PLANET for spinning to fast causing 5 hours to feel like 5 minutes! THE EVERYTHING!
Unless someone secretly switched bitch's shoes with a pair of flask heels with a syringe in the inset that injected booze directly into her foot veins (someone should invent this) or the chickpeas in the hummus came from Colombia, bitch just got drunk! But I guess saying the opposite of the truth earns her ass more time under the attention whore spotlight. Let's try it: I absolutely did not just fap to ginge-on-ginge porn in between nibbling on a breakfast Hot Pocket. My psychotic dog is manifesting stories again!
Nope, didn't work for me.