James Franco
Thursday, April 14th 2011
The coke-laced delusions of grandeur that constantly hard fuck the frontal lobes of Lindsay Lohan's brain worked up a serious sweat last night at Beauty & Essex in NYC! LiLo held court at a table of her trained head nodders and went on about how she's best friends with James Franco and will consider playing Glinda in the new Oz movie if her "best friend" is involved. HAHAHA. The shit that comes out of that crazy ho's mouth. Some ignis fatuus shit to the tenth degree.
It's sort of like if I held court at a table of no one at the Olive Garden and mouth farted about how I'm going to decorate the guest room in the charming Cape Cod beach house Anderson Cooper is going to buy for us after our wedding. I mean, I'm nuts, but I've never done that. (Note to the Olive Garden waiter side-eye-ing that sentence: You don't know what you saw! You lie! Shut your eyes! Shut your fingers! Just shut it!)
Page Six says that LiLo talked about playing Victoria Gotti even though it's not a done deal yet. LiLo then said she wants the female role in Oliver Stone's Savages and will consider playing Glinda in Oz: The Great and Powerful. LiLo kept the laughs going when she went on to say, "I'll only do the movie if I can work with [James Franco]. We're like best friends. We're hanging out later." FYI: Blake NotSoLively is in talks for both of the roles LiLo has her good eye on.
A source tells Page Six that the producers of Oz have never and will never consider LiLo for Glinda.
I would feel sorry for LiLo, but my emotions are currently occupied with other things: namely, laughing. I can totally picture White Oprah cold calling up the casting directors of high-profile projects to politely thank them for considering LiLo for the lead role, but unfortunately she's got too much on her plate at the moment: namely, coke.
Thursday, March 31st 2011
James Franco continues to turn the art and cinema worlds upside down and on their faces (not really) with the avant garde creativity that pours out of his orifices and here's a still from another project that I'm sure historians will discuss at great length for years to come! James Franco Tweeted (Franco has since put his Twitter in a coffin) this picture from his short movie with Harmony Korine of him pushing out an "eh...whatever" while a group of nekkid ass nekkid bloodettes jump him in their gang, or something. You probably need a masters in art to understand this shit, so I'm not even going to try. If you want to see James Franco unimpressed by silver dollar pancake nipples, (NSFW) click here for the full shit.
Franco should've given us this kind of mess during the Oscars. It would've perked things up in more ways than one. Speaking of the Oscars, James talked to David Letterman in a show airing tomorrow about how both of them bombed harder than Jessica Simpson's ass after a Mexican buffet as Oscar hosts. Letterman admitted that he sucked and James responded with:

"They didn't say you were stoned. People said I was under the influence."

I love her (Anne Hathaway), but ... I think the Tasmanian Devil would look stoned standing next to Anne Hathaway. haven't watched it back. Maybe I had low energy. I honestly played those lines as well as I could."

I never dreamed of being, like, the best Oscar host ever. It was never on my list of things to do. It doesn't mean I didn't care and it doesn't mean I didn't try, right?"
When you throw a "but" after "I love you," that's not love!
You know, if James wasn't stoned as hell, he should just say he was as stoned as all hell so that we don't think his suckiness was natural. When all else fails, blame it on the bong! I'm just going to choose to believe he was smoking the good shit out of a hallowed Oscar statue backstage. James should've given Anne a hit too.
Here's the performance artist and worst Oscar host ever struttin' through the airport in DC today.
Tuesday, March 22nd 2011
After hearing about Bruce Vilanch and James Franco's MS Paint ball fight last night, I'm sure you wore out the steel in your bed springs from tossing and turning like you've got a circle of hemorrhoids around your hips. Well, kiss the bags under your eyes goodbye, because James and Bruce have made up! You can finally sleep now that you no longer have troubles in your world!
In case you accidentally filed this story into the back of the "don't care" bin, it all started when Bruce told a reporter at Vulture that he felt James Franco' "didn't get there" as co-host of the Oscars. James responded by Tweeting an MS Paint masterpiece portrait of him and Bruce Vilanch with some joke bubbles over and under their heads.
Well, it looks like Bruce made his key strokes pucker and blew an e-kiss at James. Bruce wrote an e-mail to James saying that the Vulture dude buried his comments in the shade and watched as they grew into a cuntshroom. Basically, Bruce claims he didn't mean it like that.
James took Bruce's e-mail and ejaculated out his apology using the last drops in his MS Paint tubes. It's love again!
And I'm not calling James Franco's artistic merits into question, but if he insists on using MS Paint, can he please stop using red and pank together! It's destroying me. The only time red and pank belong together is when one is a lip liner and the other is frosted lip gloss. That's it.
via HuffPo
Monday, March 21st 2011
Bruce Vilanch, who has been an Oscar writer since the beginning of time, had a few things to say about James Franco's hosting skills when Vulture asked him about this at the opening of Priscilla Queen of the Desert last night. Bruce said that even though they exchanged jokes and ideas via e-mail for a few weeks, James didn't show up for rehearsal until 3 days before the Oscars. Bruce blames James' flaccid performance on the fact that he's got a lot of balls in the air. I see what Bruce did there and I thank him for the image of James with a tea bag orgy over his head. But what Bruce really means is that James is busier than a top at a Scientology sauna.
The beautiful lesbian love child of Sally Jesse Raphael and Trash Heap went on:

"He has so many balls in the air, he didn't get to town till Thursday before the show on Sunday. And so we e-mailed a lot. But we had a lot of meetings. He had a bunch of people who were writing for him, and if it had been him alone, it would have been different. But it was him and Anne Hathaway, and they both had to be serviced. So there was a lot of communication beforehand. But he didn't get there.

I don't think he realized how big a deal it is to do it until he was actually confronted with it. I think he thought he would kind of ... I don't know what he thought. I thought maybe it was a performance-art prank, and then I realized he sincerely wanted to do it. But it's outside of those guys' comfort zones. The only people who know how to host those shows are people who get up onstage every night and say, 'Good evening, ladies and gentlemen. A funny thing happened ... ' Or people like Bette [Midler] who get up and sing all night and tell stories.

No, he wasn't high. I was with him, and he wasn't high. And I asked him, 'Are you high, and can I have some?' And he said no to both."
James Franco responded by Tweeting the message, "Bruce, he let me down," followed by a link to this MS Paint mess above. So when you hurt James Franco's feelings, he pulls out his MS Paint palette and jizzes out a masterpiece! I'm sure the Whitney has already picked it up.
Friday, March 18th 2011
Julia Roberts isn't the only one who can successfully pair lipstick with an armpit full of fur pie! James Franco can play that game too and HOW! On the cover of Vogue Hommes International, James' lips say "Princess Leia" but his pits scream "Chewbacca." Don't act like you wouldn't fuck your nostrils with his hairy arm stems. Or at least prune a piece off, stick it in your bong and smoke it up since you know it can easily double as the good shit. Weed pits, James Franco's got 'em.
And here's a few more pictures of Franco posing like a male hustler in the back pages of the Village Voice circa 1989. My favorite has to be the one of him washing the crushed tomatoes and boo saliva off of his Oscar tux.
Tuesday, March 1st 2011
UsWeekly has a source telling them that forever theater nerd Anne Hathaway and forever grouch stoner James Franco developed a newfound hate for each other while co-hosting the Oscars together. Anne smiled her four layers of teeth on the outside, but on the inside she wanted to cut off the 170lb stoned artist that she had to drag around on stage. Meanwhile, James Franco was permanently trapped in a cloud of green smoke and cared more about what the ingredients in Hot Fries are than hosting the Oscars with Anne. From UsWeekly:

A source tells Us Weekly that Anne Hathaway, 28, and James Franco grew to "hate each other" as they rehearsed to host the Oscars Feb. 27.

She had to provide all the energy -- he was just phoning it in," says a second insider. ("James seemed in his own little world," during the Oscar telecast, says another source. "Producers were pissed.") Franco, 32, skipped his own party at L.A.'s The Writer's Room. "He went immediately back to NYC because he was pissed about how the show went," adds a third source.
James Franco's rep says this whole thing is a lie and Anne's rep said the same thing.
Let's just say this is true.. I'm guessing that about 99% of the people who watched the Oscars developed a newfound hate for both Anne and James, so the two of them can get together in a corner of the cafeteria and bond over that. See, our HATE heals wounds and brings bitches together. Don't let anybody tell you that being a hateful cunt serves no purpose, because it really does! Love is in need of HATE today!
Monday, February 28th 2011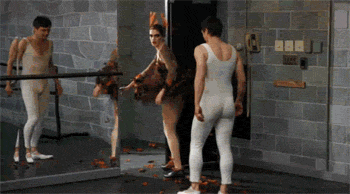 Most of us can agree that last night's Oscars made us loooooong looong loong for the days of David Letterman and his stupid dog tricks. A Golden Retriever twirling around the stage on two feet while wearing a Black Swan costume would've been a million times more entertaining than the rusty bubble of shit that Oscar farted out last night. Don't get me wrong, it had its moments including: Kirk Douglas' glorious verbal crash into a wall of WTF (get it here), James Franco's nalgas waving "goodbye to us" in the stupid Black Swan sketch (fap at the GIF above), Melissa Leo's F-bomb (more on that later) and the children of the 80s freaking out over Corey Haim getting shut out of the In Memoriam. Corey probably sent a white dove down with the message "I'm good" after he found out the greatest singuh in daaaa world would be singing "Smile" during it.
But about the hosts... Anne Hathaway is that annoying girl in drama class who takes the "invisible ball" exercise way too seriously, calls the theater teacher by their first name, chants "UN-IQUE NEW YORK" in the hallways and cries when you say that you thought Mary Poppins was dumb and boring. Anne is like Lea Michele's Glee character on Dexatrim and uppers that give you a manufactured form of peppiness. Annoying as fuck, but at least the ho tried. James Franco on the other hand....
James punched out his invisible time card about 20 minutes after the show began. I understand that James was beyond over it. But he could've freebased some of that Charlie Sheen drug backstage, jumped off the script and blurted out his own shit. James is this generation's (fill in the name of every literary legend here) so he has it in him (or not). But instead, James mumbled out whatever was written on the teleprompter while his sad eyes stayed sad. Bitch was like a junkie reading out the rules of rehab on his first day of treatment. James can't always rely on his ass cheeks to entertain. Did I just type that out loud?
Basically, what I'm trying to say is that the "Bring Back Rob Lowe & Snow White" campaign starts now.
As for James Franco's flat-chested Marilyn Monroe drag, I give it 5 out of 5 Sashay Aways.
Sunday, February 27th 2011
Here's Melissa Leo at yesterday's Independent Spirit Awards in Santa Monica dressed like a track home madam who is about to flee through the sliding back door of her DIY brothel in Palmdale after authorities received an anonymous tip that she's housing imported whores in her garage. Tell me that isn't a look that screams "You've got a $20, I've got a hand job ho for you!"
You know, I'm so sick of dumb asses declaring that Natalie Portman "is the girl to watch" at the Oscars tonight. Yeah, I've been watching the fashion moves of that Ivy League al dente noodle for months and it's about as exciting as taking the SATs with a No.2 pencil on a Saturday morning while completely sober. Bitch is fashion Ambien. But Melissa Leo on the other hand, that ho knows that the best accessory is always a giant coat of CRAZY. Melissa's look tells a damn story. Yes, that story airs on truTV several nights a week, but a story it still is! Natalie's basic ass looks like it was attacked by an exploding lemon danish. Next.
Click here to see the ISA winners if that's what you need and below is a bunch of pictures of everybody who gave pose on the grey carpet yesterday. In order: the best dressed of the night Melissa Leo, Prince Von A-Hole, Chuckie Finster with Warren Beatty, Rosario Dawson, Taye Diggs, Illeana Douglas, James Franco, Thierry Guetta, Saint Crazy's daughter, Baron Baby Wipes, Vera Farmiga, Dana Delany, Nicole Kidman, Diego Luna with Camila Sodi, Ewan McGregor about to take a pee pee, Eva Mendes, Natalie Portman, Aron Ralston, a drunk Jeremy Renner, Mark Ruffalo with a hand full of Sunrise, Zoe Saldana, Lea Thompson, Kerry Washington and Naomi Watts with Liev Schreiber.
Tuesday, February 22nd 2011
While rehearsing his Oscar host debut, James Franco recorded his version of Cher's "You Haven't Seen the Last of Me" from Burlesque and uploaded it to his Twatter as a joke. James claims they pulled this mess from the show out of fear that it'll make Cher's latest face throw itself in an open urn.
James is the greatest performance artist since Angelyne, the literary mind of every generation, a master at the art of memorizing lines and now he can add "homeless drunk hobo chanteuse" to his ever growing list of talents. Warning: This goes on forever and it's the audio equivalent of that picture above. Your ear drums will gnash themselves as much as your retinas are:
Personally, if James is going to do Cher, I'd rather he put his vocal cords to bed and pay homage to her by slipping on her "If I Could Turn Back Time" crotch-suffocating bodysuit.
Tuesday, February 1st 2011
Vanity Fair's (emphasis on the "Fair") annual Hollywood Issue is a gallery of "clutch your Tampax pearls" surprises! There's ACTUALLY one and a half black people on the cover (Hey, it's better than VF's "Hungry White Girls Cover" of last year)! There's Rashida Jones randomly bottle feeding a baby tiger! There's a Robert Duvall photo bomb! And there's the TV Megan Fox, Olivia Wilde, who'd be half-nekkid if it wasn't for those extra thick suspenders.
Did the baby tiger eat most of her dress? Did Jesse Eisenberg's sexyface rip half of that ho's dress right off? Olivia is a position switch away from giving Anthony Mackie an eye full of Tron nipple. Screw the Hollywood Issue, thanks to Olivia's "sneeze and my titty pokes out" dress, this is the ELEGANCE ISSUE!
Vanity Fair says this cover was inspired by 1930s Shanghai. You know, 1930s Shanghai without Asians. We must've been hung over and dozed off in history class when the teacher said that Chinese people didn't move to Shanghai until AT LEAST the 1940s. But really, how the hell can you do 1930s Shanghai without the mascots of 1930s Shanghai. Let me fix that for Vanity Fair:
Much better.
Anyway, here's the full cover along with a few behind-the-scenes pictures. Hos on the cover from left to right: Ryan Reynolds, Jakey, Anne Hathaway, James Franco, Ivanka Trump Jennifer Lawrence, Anthony Mackie, Olivia Wilde, Jesse Eisenberg, Mila Kunis, Robert Duvall, Joseph Gordon-Levitt, Andrew Garfield, Rashida Jones, Garrett GimmeHedlund and Noomi Rapace.