Peen
Friday, November 18th 2011
Michael Fassbender (the "F" is silent) plays a fuck addict of Gerard Butler proportions in Shame and one of the opening scenes features him sprawled on top of a bed with a clear shot of his sleeping peen in a post-cum state. That scene earned the movie an NC-17 rating and Michael thinks the whole thing is ridiculous, because who hasn't seen a dick before? Put down your hand, Justin Bieber, you don't count, girl!
Michael explained his thoughts on the rating system's anti-cock policy to Huffington Post (via Towleroad) like this:

"Half of us have a penis and the other half have probably seen one, and so why should it be more normal to, like, chop people's heads off and shoot people? Does that mean that that's more acceptable or closer to us as human beings?"
Assbender is nothing but right. What humanity really needs from the world of cinema is less cut heads and more cut AND uncut heads if you know what I mean.
And I'm guessing that Michael Fassbender doesn't have a problem with putting his dick situation in front of the cameras, because he's a brave thespian and is attracted to emotionally damaged characters who have built walls around themselves and must expose their raw vulnerability to the audience by stripping away the layers that hide their pain. Or bitch just has a big dick.
Here's Assbender with Eli Roth and Rose McGowan at the GQ Men of the Year Awards last night.
Friday, September 16th 2011
The FBI is currently looking at those hacked pictures of ScarJo's nips and ass, and as soon as they come out of that locked room with the silk tie over the door knob, they're going to start investigating the hacking of Mila Kunis' phone too. Oh, I bet they are. There's your tax dollars jacking at work!
TMZ reported a few days ago that the same hacker who snatched ScarJo's 250 pixel titty off of her cell phone also pulled some 21st century Hackers shit on Mila's phone. But unlike ScarJo, Mila was not ready to make her nekkid cell phone picture debut and kept all of her goods off of her phone. The only semi-scandalous pictures on her phone were of Justin Timberlake and another picture of a mysterious peen. At the time, amateur detectives and hos thirsty for Timberpeen assumed he pulled his dick out of the box and made it smile for Mila Kunis. And you know me...
There are many peens that I want to meet in person and/or through a picture, but Justin's has never been one of them. If you rolled around in my laptop's cache, the words "Justin Timberlake penis picture" would not stick to your body. Surprisingly. But after I read that a Justin Timberlake dick pic is somewhere out there, dickmatization took over my body and I searched everywhere for it. I traveled through the forums of Sean Cody cum shot videos and down through the dungeons of old Jack Wrangler pictures. I came up with a lot of future fapping material (thank you, internet), but I did not come up with Justin Timberlake's dick. And now TMZ tells me it was all for nothing!
The peen portrait on Mila's phone does not belong to Justin and his down low stuff has never posed for a camera. Justin really knows that the dick on Mila's phone doesn't belong to him, because there's no scar on it from the time Brit Brit mistook it for a white cheddar Cheeto.
So if it isn't Justin's dick. Whose is it? Don't even tell me it's Macaulay Culkin's, because I'm not ready to find out where searching for "Macaulay Culkin penis" on Google will take me. (SPOILER ALERT: It took me here. And I'm done.)
Friday, September 9th 2011
Because John Travolta is just like me and sees fries as uncut potato penises, here he is swallowing some whole while taking a break from shooting Savages in Redondo Beach, CA yesterday afternoon. It's a for real shame that you couldn't see the shit John did with that milkshake on the table. The paparazzo didn't capture that shit, because he had to take a baby wipe to the lens that John greased up with his fry eatin' skills.
The reason why John was feeling extra free yesterday probably had something to do with the fact that his scalp pores weren't getting suffocated by the fried moose's ass he usually wears on top of his head. We should all remember this special day, because John Travolta airing out his natural hairline happens about as often as the dudes at the bath house don't see his weekend wig hanging in the coat check closet on a Saturday night.
Wednesday, July 13th 2011
Last season on The Real Housewives of Orange County, Tamra's rape-eyed douchefart of a son Ryan had to get a huge growth in his tit removed because he tapped his ass cheek with the roid needle way too much. When Ryan said that he ejaculated Canseco syrup into his butt veins to get as big as a He-Man doll but ended up with a pair of titties milanese, I wondered if roids also made his peen shrink and shrivel down into the size of Alexis Bellino's brain?
(NSFW) Isayoneup has the answer to that question! Maybe. They posted a picture of someone who is supposedly Ryan doing the dick pic pose equivalent of sucking the gut in. Dude is choking his shit so hard that it's swelling up and the head looks like Lego Lady hair. But it doesn't look like roids ate a chunk out of his dick situation. Or maybe they took the growth that they removed from his tit and shoved it into his dick to meat it up a bit? Possible. Anyway, (NSFW) click here or here to see Ryan asphyxiating his peen.
Tamra could not be reached for comment since she was hiding out in Gretchen's front yard bushes and the service there sucks, so we'll have to settle for the latter's response instead.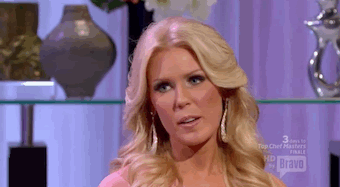 Oh, Gretchen! Don't stress your frozen eyelid from trying to roll your eyes at this. You know Slade Smiley's got an overcooked penne noodle for a peen and has to splint it with a broken off Popsicle stick just to get it in (Copyright: AH).
Wednesday, June 8th 2011
The media has been hitting us over the head with Anthony Weiner's peen for over a week and now we can finally look up to see what's been fucking with our brains. The guest of honor that got Anthony Weiner into this mess finally took its place at the head of the Internet table. Blogger Andrew Breitbart, who had been holding onto Wiener's dick picture as insurance, let the dick slip on Opie & Anthony's Sirius show today.
The picture lets you know what it would be like if you were drunk and were about to lick on Weiner's huge donkey nuts during an earthquake. Meaning: it's blurry and taken from the beej giver's point of view.
You know it's Weiner's because it leans to the left. But shit is so out of focus that if you told me it was CoCo frolicking into the white foamy waves, I'd probably believe you.
(Not safe for anyone planning on not ordering the Jewish chorizo for lunch) Click here to see it. And now I can say with complete confidence that I've done my part for my country.
via Buzzfeed
Thursday, June 2nd 2011
You can finally change your screensaver from that picture of Not Blake Lively's nipples to a naked picture of a true superstar! Tito Ortiz (aka Baby Huey) is crying HACKED after a picture of his goods mysteriously ended up on his Twitter page. Bitch got Weinered!
At least the hacker was nice enough to run the picture through Photoshop and make his "look at all the shiny lights" smile extra purdy. I'm sure you're screaming at me to get to the good shit already, so if you want to see the peen that causes an extra loud echo in Jenna Jameson's chocha, (NSFW, duh) click here or here!
And you know what, I wouldn't shoo that dick away with a stick. It gets 4 out of 5 Jenna moantones.
Monday, May 9th 2011
That lovely visual is brought to you by Guns 'N Roses drummer Steven Adler who invited TMZ's camera into his tour bus for a little talk and somehow the conversation nose dived straight into Steven Tyler's crotch. Steven Tyler may look like Ruth Bader Ginsburg after a bad trip, but his gavel is way bigger than hers.
When TMZ asked Steven Adler if he's ever tried to inflate his dick situation with ExtenZe pills, he said this: "I've tried 'em. They don't work. After seeing Steven Tyler's rig with five different girls hands wrapped around it, I'm lucky if I take my clothes off after that. I was devastated."
Either the LSD Steven Adler was on at the time gave him fun house mirror eyes or those five girls had Kristen Wiig baby doll hands, because in this NSFW picture I don't see a dick so large that it can share skinny jeans with Steven Tyler. But then again, his peen tip is staring directly at his face so maybe it shrinks when it feels threatened? National Geographic should investigate.
Friday, March 4th 2011
It's Friday night, so how about some lady beating dick courtesy of Chris Brown. The video is over at World Star Hip Hop (in case the bukkake of tags didn't make it obvious), but you'll need the patience of a designated driver in a car full of drunks to watch it. It keeps panning and panning and panning like Robert Altman himself directed this mess. It goes so long that I thought it was one of those prank pop-up videos and a demon was going to jump out of his crotch to scare the nipples off my chest. But it did finally get to the dick and surprise, it's like a churro without the sugar. Or like one of those jumbo pencils complete with pink eraserhead. Big dick on a big dick!
But based on that hair, I'm not entirely convinced that this isn't Sisquo or Amber Rose wearing Kanye's favorite strap-on. Hmm.
And just (NSFW) click here if you can't sit through the longest dick pic video ever made.
Monday, February 7th 2011
Up until a few faps, I mean, a few minutes ago, I knew nothing about this Jeff Brazier dude, but nothing will make me Google Image a ho with one hand while plastic wrapping my chair with the other like reading the words: "I can lick my own dick!" The quickest way to a slut's hole is to utter those words.
Torso of the week award winner Jeff Brazier is a British reality whore who used to be a footballer and dated the late Jade Goody for a couple of years. And apparently, Jeff is so hung that his dick can knock the nuggets off your tonsils while he fucks you. So it's really no surprise that Jeff can make out with his peen's mouth. While doing an interview for Dancing on Ice, Jeff said that his self-fellatio act has quickly become his go-to party trick.

"I do! I've not performed it for some time, but it originated from when I was an apprentice at Leyton Orient. The older pros had noticed that I had a talent, and one night, when I was on reserves, one of them said to me, 'I bet you could probably suck your own thingy, couldn't you?' And then another one went, 'Go on, try it!'

I did, yeah. I was young and pretty impressionable. I managed to touch myself with my tongue. I didn't spend too long down there, I have to say. It was just making the contact that was the impressive part. But I think it was just to do with being young and flexible. I've not tried recently. I did it for everyone when I was on Shipwrecked. We were all a bit down 'cos it had been raining, and the cameras were off, so I was like, 'Hey everyone, have a look at this!'... It's legendary! I feel lucky that I've been given a good few inches above average."
This declaration from Jeff falls directly under the PICTURES OR IT DIDN'T HAPPEN category. I really don't know if I believe Jeff at all. If I could do that, the only sounds you'd get from me after asking a question would be: kljklajdfkladddseesjfkjdjd..... slurp.... jljkladmmsfjkljfeee... gargle... gulp... zzjljlkjkljkl. Actually, that'd be one of the most articulate answers I've ever given, so maybe I should start stretching, praying, pumping and training.
And because you want to see, here's a picture of Jeff's Big Ben bulge:
I don't know whether I want to strap that thing around a steering wheel for security or spoon with it on a sofa.
Tuesday, January 4th 2011
Let out a cougar yelp and toast to 2010's Mrs. Robinson, because 46-year-old Vivica Fox has announced to Page Six that her 27-year-old club promoter boyfriend of a year, Omar "Slimm" White, put an 8-karat diamond ring on her hitchin' finger at the Ritz Carlton in Miami during the holidays. Viv recently bragged that her baby marking parts are of the Duggar variety, so put on your catchers mitt, because she'll be popping BABIES!!!!! out of her seasoned chocha any day now.
In case you need an answer to the question, "Why would the star of Three Can Play At That Game marry a 27-year-old club promoter?", visit Sandra Rose to see a picture of Slimm with his best part out (you have to log-in over there to play). Dick so large that it'll make your hairline jump back to praise the lord. No wonder the sight of Viv's face is making you snap your fingers and patiently wait for her twin to show up so that they entertain you with song. Slimm's gut busting peen gave her that cat scratch fever and it's written all over her face.