A-Rod
Thursday, April 26th 2012
A-Rod, the Christina Hendricks of major league baseball, has moved on from Cameron Diaz to another naranja-skinned blonde with a torso like the Hulk's muscled shaft, but she'll forever hold a special place deep within the six-pack on his roided-up heart. The Insider's Kevin Frazier interviewed A-Rod for some reason and asked him about his past pieces. A-Rod lit up like a trick just stuck a roid needle in his ass and the nipples on his magnificent MVCs (most valuable chichis) puckered when he started talking about Cameron Diaz. via Page Six:
"I don't like talking about my relationships, but I will tell you about CD: She's probably one of the greatest human beings I've ever met, and just an amazing light."
I typed out that shade throwing headline before I really thought about this. A-Rod is a simple bitch, so my ass is assuming that he considers Cameron the greatest human being alive, because she never flinched while massaging Lubriderm into his under titty crevices and she's always got a Ziploc bag full of the good shit in her pocket. And when he said she's "just an amazing light" he meant that she's an experienced stoner who can steadily hold a lighter over a bowl while doing bong hits in the back of a pick-up truck driving on a bumpy dirt road during a windy night. So if that's what A-Rod means, I won't say that the roids must've crept up into his brain and ate the part that stores all the memories of most of the human beings he's met. No, I won't.
Here's the greatest human being A-Rod has ever met at CinemaCon in Las Vegas yesterday.
Friday, November 18th 2011
If you can crush a beer can from 20 feet away just by squeezing your ripped butt cheeks really fast and if you can crack a dude's pelvic bone just by bumping into him while he's hitting it from the back, then put down that Hummer you're bench pressing and cartwheel toward A-Rod's Miami mansion.
Cameron Diaz's former lift partner had a party at his house the other day and dude must've spiked the roid punch with angel dust, because bitches were going wild. Hos, who are more ripped than a plate of ropa vieja, jumped out of trees and tried to touch the sun with their rock hard crotches. If they were that Tarzan wild during the day imagine how they were later on when the lights went out and A-Rod fluffed his titties for "private" time.
I bet A-Rod isn't even trying to sit today. One of those crazy buff beauties probably ate the feeling right out of his ass right before she bashed in his coccyx (wink wink) by spanking him too hard. A-Rod probably doesn't even mind that he has to squeeze a friend's hand hard when he shits today. FREAK!
And when is somebody going to finally introduce that muscle-worshiping queen A-Rod to England's Finest Rose?! That is a match made in HGH heaven.
Sunday, February 6th 2011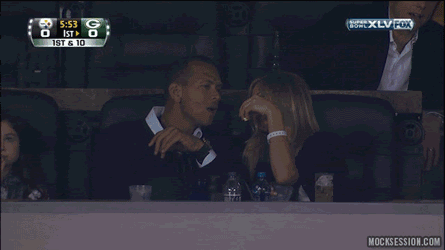 via Mocksession (Thanks to Ray for giving me the heaves and singeing my taste buds )
Friday, January 21st 2011
But that could also be his "ACK! I always pull A-Rod's key out of the bowl" face.
The definition of random paid a visit to Miami Beach last night when former President Bill Clinton had dinner with a group of people including A-Rod and Cameron Diaz. Bill got the chosen seat facing the wall of paps, so naturally we received the gift of a glorious gallery of expressions from Bill. Facial expressions like:
"Your mouth sure is purdy. I am so hypnotized by it that I have no idea that I'm about to eat a pancake lettuce wrap."
"If I rub faster, will your chest grow?"
"Your mouth sure is purdy (Yes, I'm still on that). How about you, me and a cigar get a room together somewhere?"
"Ha! The cigar shop is all closed up. Good thing I've got this thumb. It'll do the trick!"
A-Rod and Cameron's date with Bill comes just one day after she admitted to George Lopez that she loves that sticky icky feeling, so that sort of explains why these these three are together. It would also explain why Bill's got Willie Nelson eyes....and why he ate a pancake lettuce wrap. Damn. I have to try this "not inhaling" shit, because Bill looks like he's having the time of times!
Monday, December 20th 2010
Cameron Diaz and A-Roidy supposedly have one of those fuck-by relationships. You know, she flies into town, jumps on his dick, rides it until her face pimples bust a nut and his titties get dizzy, hops off and then goes on to the next. CASUAL, right. Well, shit is so casual that Cameron is now hanging around with A-Roid's kids in Mexico for the week. What is Cameron doing?! Get in, get on, get off, get out... Don't ask how their day is, don't ask who those cute kids in the picture on their nightstand is, don't ask anything! I thought Cameron knew that shit, but yet here she is entering into "auntie" territory. Confiscate her ho shit credentials now!
And not only that, but now A-Roid's daughter is traumatized beyond repair because she's seen Pennywise in the flesh and without his make-up on.
Monday, December 13th 2010
Meanwhile in Miami.... I guess A-Rod cut his salmon jerky rendezvous short, because here's Cameron Diaz holding on to him the same way the baddest butch in the cell block holds on to her latest prison bitch. Keep your bitch close, Cam!
Here's more of A-Rod and Cam looking as if Ponch and Larry from CHiPs found real love after the latter got gender reassignment surgery.
Tuesday, December 7th 2010
The Real Housewives of Bellevue's Kelly Bensimon is built like a Clan of the Cave Bear extra, and getting hit over the head with a club makes A-Rod's nipples howl, so it was only a matter of time before these two got together. While A-Rod's usual piece Cameron Diaz was off promoting that Green Hornet shit, he was rubbing his satchels of gold all over Kelly Bensimon's hide. This is according to Page Six.
At a party for Art Basel in Miami the other night, Kelly was all ready to hunt and gather A-Rod's nuts and berries. A witness type said, "He had his arm 'round Kelly and they were flirting. "While Alex was recently seen with Cameron Diaz again, they're not back together. He is single."
Cameron has nothing to worry about. I'm sure this Kelly and A-Rod thing was only a one-night party. You know, they went back to A-Rod's hotel room where they huffed, gruffed, growled and blew all over each other. A guest in the room next door called the front desk thinking two bears broke in and were fighting over the last bag of jelly beans in the mini-bar. Animal Control arrived, tasered A-Rod's peen out of Kelly, dropped a net on them and then threw them into the back of a truck where they continued to hump on each other. When their cage doors were opened in the morning, they went their separate ways. And that's that!
Monday, November 29th 2010
This is why the world will never make sense. A-Rod can casually flaunt his ripe and juicy mango slices out in the open while Cameron Diaz has to keep hers clothed or face LIFE IN A MEXICAN PRISON!!!!!1!!!1! (I type that like it's a bad thing). Cameron's chichis obviously want to be seen, because look how they are slowing inching towards her back knowing that's where the damn sun shines! Not right.
Anyway, here's Cameron and her sometimes piece A-Rod hosing each other down in Mexico over the weekend. Cameron is killing me softly with her array of facial expressions. Bitch looks like the Joker channeling Greer Childers.
Wednesday, November 24th 2010
Yeah, I know that could be Calista Flockhart and Khloe Kardashian in the pic above for all you know, but the "these two" I'm talking about are Cameron Diaz and A-Rod. Here's Cameron Deeznuts and A-Roidy sunning their chichis on a boat in Miami yesterday afternoon. The last time I checked, Cameron was off that roid dick and was running her nipples through Matthew Morrison's hair. But I guess she must've missed raspberrying A-Rod's succulent chesticles and came back for more.
We've all got those fall-back pieces we sometimes call up for a quick pick me up (or a peen me up in most cases). Although, for some reason mine only text back with: go eff something else i hate u diaf. Texting hard to get, I know!
Tuesday, October 12th 2010
Here's Adam Sandler on the set of his new movie So What? Who Cares?: The Joy Behar Story. No, he's really on the set of Plastic Sunflowers Never Wilt: The Untold Story of Blossom. No again, he's really REALLY on the set of STILL UNCOOL: The Latter Years in the Life of Jennifer Aniston.
But seriously now, he's really on the set of a movie called Jack & Jill. Adam plays both Jack and Jill. And the only thing I have to say about this is that the Mexican flag hanging on the rear view mirror sure is pretty.
(Picture via INFDaily.com)