The Mind Is Boggled
Thursday, May 5th 2011
If you told me that Michael Jackson, Elizabeth Taylor and Marlon Brando fled New York City in a rental car after 9/11 and made several pilgrimages to KFC, I'd beg you to stop hoarding the acid tabs and please put one on my tongue like Eucharist time at a rave so that I can see this vision for myself. And this is exactly what I'm saying to Sam Kashner, the Vanity Fair writer who told this story in an article for the magazine on Elizabeth Taylor's life. The geniuses at Next Media have already turned into a Taiwanese CGI short film for you to get high on.
On September 10th, 2011, Michael Jackson performed in a sold-out concert at Madison Square Garden. MJ originally wanted his friends Elizabeth Taylor and Marlon Brando to sit on opposite sides of the stage like two Easter Island idols, but they decided against it. They sat in the audience instead. Cut to the next morning. After the attacks, MJ's friends from Saudi Arabia told him to get the fuck out of NYC because there would be more assaults in America. MJ grabbed Marlon and Elizabeth and the three tried to get a private plane to take them back to California, but the air space above the country was closed for business. Instead of taking a bus or a train or a solid gold chariot led by white Persian horses, the three got into a rental car and drove far away from NYC! The Hertz agent who rented them the car is still trembling under the counter wondering what the fuck just happened.
I'll let Sam Kashner lead you through the rest of this fuckery-laced acid trip:

A former employee of Michael Jackson's says that Michael, like General Washington, led his entourage to a temporary safe haven in New Jersey, before the three superstars took to the open road. "They actually got as far as Ohio—all three of them, in a car they drove themselves!" he recalls. Brando allegedly annoyed his traveling companions by insisting on stopping at nearly every KFC and Burger King they passed along the highway. One can only imagine the shock their appearance caused at gas stations and rest stops across America.

But one of Elizabeth's close friends and assistants, who asks to remain anonymous, insists that Elizabeth did not flee New York with her two companions. "Elizabeth stayed behind," he insists, "where she went to a church to pray, and she went to an armory where people were who couldn't get home or who'd stayed behind to look for the missing. She also went down to Ground Zero, where she met with first responders. Eventually, the airports opened and she flew home." She may well have done some of those things, though no reports surfaced in the media of sightings of Elizabeth Taylor ministering to the frightened and wounded or showing up at Ground Zero.
The image of Marlon Brando NOM NOM NOM-ing on fried chicken skin in the passenger seat while Elizabeth Taylor pumps gas and Michael Jackson hovers over a Thomas Guide spread on the hood is one that I will bring up in my head whenever I need to flee from reality and fall into a fucked up hallucination. THE FUCK doesn't even begin... Even though this is most likely a work of fiction, it still needs to be made into a road trip comedy. Tyler Perry or Eddie Murphy can play all the roles.
Tuesday, May 3rd 2011
Once you get past homegirl's chichis that look like two baby elephants lying in a hammock on a hot August day, 29-year-old Stanley Thornton will tell you all about how he lives half of his life as a diaper-wearing, bottle-sucking man baby. National Geographic's "Taboo" spent some time with Baby Stanley and learned that due to a fucked up childhood filled with abuse he started craving a normal baby life that he never had. So Stanley built a crib that can hold a 400lb baby, used his disability check to buy Legos and doesn't feel at home unless Mother Elephant Tits is wiping his butt with baby wipes (insert terrencehowardperkingup.gif here). I know you're probably thinking that is just some kinky diaper sex shit, but Stanley says that he de-stresses from baby role playing.
We all have our thing that keeps us from going crazy and tying a weight to our ankles before we jump off a bridge. For instance, I sit on the toilet and pretend that Diane Sawyer is asking me about my life problems for a very special edition of 20/20. Some might label this as "weird." So how can I judge a grown ass man who willingly cacas into an adult diaper and feels complete when wet poop leaks up his back (copyright: Tina Fey) as he lays next to Mother Elephant Tits? I cannot judge him for this, but I can judge him for talking about it on National Geographic! The mothers in his play date group who bought Mama Elephant Tits' "oh, he's just a fast grower" excuse aren't going to invite them over anymore!
And if Suri doesn't put down the bottle, this might be her future.
via HuffPo
Monday, April 11th 2011
I've had many hallucinations and have been on several bizarre mind trips brought on by legal and illegal drugs, but I've never once in my wildest acid dreams every imagined that one day Rod Stewart's daughter and Paris Hilton's former partner in fuckery would be pregnant with Benicio Del Toro's baby. I feel like I've just been slapped in the head with Cisco Adler's slinky nuts and the only thing I'm see are stars with WTF written on them in bold letters. But apparently, it's true. I'll let Life & Style blow your minds, because I just can't....

Life & Style can confirm exclusively that Kimberly Stewart, the daughter of rocker Rod Stewart, is pregnant with actor Benicio del Toro's baby, a rep for Benicio confirms.

"Kimberly is pregnant. Benicio is the father and is very supportive," Benicio's rep, Robin Baum, tells Life & Style exclusively. "Although they are not a couple, they are looking forward to the arrival of the baby."

Benicio, 44, is best known for winning an Academy Award for his role in Traffic in 2001. Kimberly was most recently linked to actors Jude Law and Rhys Ifans, and in 2005 Kimberly was engaged to then-Laguna Beach star Talan Torriero, who was seven years younger than her.
So, Rod Stewart and Benicio Del Toro are now forever bound together because of a baby that will most likely look like an extra furry anime horse. Even if I do see pictures of Kimbo Stewart looking like she just deep-throated Cisco's extra long nuts, I don't think I'll ever believe this.
The whole baby making craze of Hollywood has gone too far. It's all fun and games until Kimberly Stewart gets knocked up with Benicio Del Toro's baby.
However, if you drop a 1 from today's date it would be April 1st, so let's just hope Life & Style is really tardy to the April Fool's party.
Friday, April 8th 2011
For the past couple of days, there's been a rumor going around that the role of Meredith Vieira will most likely be played by Ann "Three Times A Good Morning Lady" Curry and the role of Matt Lauer will soon be up for grabs when the both of them leave The Today Show. Meredith wants to spend more time with her family and no reason was given as to why Matt is looking to take his glib act elsewhere. But TMZ says Matt is just batting his eyes and playing hard to get. Matt isn't looking to leave Today, but he is looking to get a fatter wad of cash stuffed into the waistband of his chonies. Matt wants NBC to make it rain millions all over his bald head. $25 million to be exact.
A source type says that Matt currently makes $17 million a year, but thinks he should make more due to the fact that he's been on the show for so long and it's been #1 in the mornings for 15 years straight.
The only bitch on morning television who deserves $25 million a year is whoever has to take the notes during The View's brainstorming (more like brainkilling) meetings. And the brave soul who has to wrestle the wine bottle out of Kathie Lee Gifford's arms when she passes out on the futon in her dressing room. Matt is crazy. How many more millions does Matt need? Does he have a child who can only eat diamonds due to a condition? Is Matt being blackmailed by someone who will expose his past as a 19-year-old heroin dealing fugitive (Yes, I watched that Oprah shit yesterday) unless he gives them $8 million a year? Thanks to Matt Lauer's greedy ass ways, NBC will have to fire the NBC peacock and replace it with an NBC pigeon instead. Actually, that sounds like a hot idea.
Tuesday, November 9th 2010
This is a trailer for Uwe Boll's (I can't #1) newest cinematic work of foolery, which is a Hitler comedy (I can't #2) about a super-sized superhero named Blubberella (I can't #3) who kills Nazis for their Quiznos foot longs (I can't #4). It co-stars Ron Howard's brother Clint Howard (I can't #5).
Basically, there's not enough I CAN'Ts in the world for this shit. We're going to need an I CAN'T bailout!
via EW.com
Sunday, October 24th 2010
You can spend the next 35 minutes of your life doing all sorts of things. You can spend it trying to get a first-hand account of the saying "like watching paint dry." You can watch this clip of a cat eating an apple 68 and a half times in a row. You can shave your crotch bush into the shape of a Christine O'Donnell witch for Halloween. Or you can watch the 35-minute long moving Stereogram Kanye West is calling a short film titled Runaway. A short film that is best viewed with a fully stocked bong shoved down your froat.
Runaway co-stars Selita Ebanks as some kind of fallen Victoria's Secret phoenix who Gay Fish takes around and shows what his world has to offer. Examples of what Gay Fish's world has to offer: woodland creatures, a gigantic Michael Jackson head float, kids in red KKK hats and ballerinas. Basically, this is what it looks like when someone spikes the punch with liquid LSD at an Illuminati pot luck. This is also the visions Kanye sees when he busts out a self-produced orgasm.
One thing that Kanye's latest work of art taught me is to never serve a phoenix a gay turkey that looks like something out of one of Sandra Lee's Thanksgiving tablescapes. Seriously, the phoenix will freak the hell out and ruin dinner for everybody!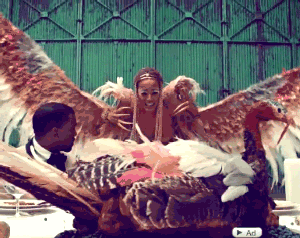 Wait. That craft project turkey totally represents Taylor Swift, right?
Sunday, October 10th 2010
In case you missed it, here's a purdy girl using her mastery make-up skills to transform herself into the purdiest girl of all: JARED LETO! For those of you who regularly lick your fingers and twerk your nipples to pictures of Jordan Catalano, this might throw your genitals for a loop. Or for the straight dudes out there who regularly pinch your peens to pictures of Jordan Catalano because he's THAT pretty, this might make you feel better. I don't know!
But I do know that if I was her I would be in Jared Leto drag all the time. I mean, you'd get 50% off at the Urban Decay counter, Claire Danes would hug you in public and Emo boys and girls would constantly buy you shots of Red Bull-infused beer (or whatever the fuck Emo kids drink). Wait, or maybe this girl has been Jared Leto the entire time. That would make a lot of sense, strangely enough.
via TDW
Tuesday, October 5th 2010
50 Cent took a quick break from trying to wrassle up Twitter twat with his gentle words of romance (example: "I'm feeling down now. If u bitches on twitter really love me send me a sexy pictures take it with ur phone right quick") and telling dudes to eat a bullet if they don't eat pussy to get a little closer to Chelsea Handler at the Blue Nile jazz bar in New Orleans the other night. Vivica Fox's hairline just jumped back a few steps like a baptist preacher trying to rebuke the evil spirit.
A witness-type tells TMZ that 50 Pennies and Chelsea "were getting hot and heavy" with each other throughout the night. You know, I think my eyeballs just jumped back like a baptist preacher thinking about the face Chelsea made when Two Quarters poured Svedka on her pikachu before gobbling on that shit like a starved bull dog nibbling a paper plate covered in pork gravy. I rebuke thee!
But you know, this picture doesn't prove shit. The only thing it proves is that in a dark New Orleans club, 50 Cent sort of looks Simpsonized.
Tuesday, September 28th 2010
Australia's Next Top Model SPOILER ALERT, so move your eyes elsewhere if you don't want to know shit. All the tricks and foolery Ty Ty Banks has pulled out of her lacefront cannot compare with the amazing (and possibly staged) disaster that hit the live finale of Australia's Next Top Model tonight. This is every reality contestant's worst nightmare. This is even worse than the doctor mixing up the test results and telling the wrong bitch that they have a flesh eating skin disease and it won't be long before their face looks like one of Iggy Pop's anal lips. This is worse than that.
On Australia's Next Top Model, the final winner is chosen by the viewers and a live audience of 2000. They vote via text message and Interactive Red Button. Well, at the end of tonight's live finale, host Sarah Murdoch announced that the winner was 19-year-old Kelsey Martinovich. CHEERS! ORGASMS! SPARKLES! DREAMS! MADE! And just when Kelsey was starting to imagine her new glamorous life as a premiere catalog poser and mall fashion show model, Sarah hit the stop button on the celebrations. Sarah stomped on Kelsey's bright dreams by telling everyone that she announced the wrong name! The stage manager gave her the wrong fucking name! Way to pull the dick out of a bitch before she cums! Damn. Damn. Damn.
The true winner was the other girl Amanda. The most shocking part is that Kelsey didn't yank out earrings, punch mouths or go on a massacre by stabbing everybody in the eye with her heel. Kelsey just kept saying, "It's okay...it's okay...mistakes happen." KELSEY! This kind of mistake does not happen! Babies getting switched? That's a mistake that happens. Accidentally pouring NAIR into your roommate's bottle of leave-in conditioner. That's a mistake that happen! Marriage. That's a mistake that happens! But declaring the wrong winner on a dumb reality show? This does not happen!
Foxtel apologized to Kelsey in a statement and said they are giving her $25,000 and a trip to NYC to meet with Elite:

"Sarah handled what was a difficult situation with utmost professionalism and grace. Amanda and Kelsey were neck and neck in the voting all night.

We apologise to Kelsey for the error, and Foxtel will be sending her to New York as well as awarding her $25,000 as a prize."
The clip of this hilarious wreck is below:
You know Ty Ty is re-shooting the finale of America's Next Top Model right now. She will not be outdone! Expect her to say at the finale: "And the winner of America's Next Top Model who gets a spread in VOGUE ITALIA VOGUE ITALIA VOGUE ITALIA is.....ME!!!" Actually, you were expecting that anyway, right?
(Thanks Aaron)
Friday, September 24th 2010
Someone at UsWeekly must be smoking that shake and bake meth while writing about The Chosen Ones with Natalie's "Dearest Mommie" episode of Facts of Life playing in the background, because this is the epitome (or "ep-eh-toem" if your name is Shia LaBeouf) of RANDOM. UsWeekly says that contrary to what the Bible says, Mary Mother is not Vivienne and Knox's godmother. MINDY COHN IS!
When I really think about it (Why am I thinking about this?), this makes sense. St. Angie didn't ask Blair Warner, because: a) She's not one of Blair's "cyber prayer warriors" and b) She knows she can never compete with Blair's natural beauty and pedigree. Brad didn't ask Jo, because he knows very well that she could munch the holy spirit out of St. Angie and he doesn't want the competition. Tootie and Mrs. Garrett are serious members of Team Aniston, so they would never work. So the obvious choice was Natalie Green! And a source tells Us, "Mindy is good friends with them."
And I wonder if Brangelina kept the same theme for their other kids. Please tell me Maddox's godfather is Monroe Ficus from Too Close For Comfort.