Another One Bites The Dust
Monday, August 15th 2011
After weeks of rumors that TLC would become the less one cunt network (so that's what TLC really stands for) by dropping Kate Gosselin completely, they have officially announced that Kate Plus 8's current season will be its last and it will soon disappear like the rabid possum who used to feed on the dandruff balls on top of her head. The sound that was made when TLC brought down the ax sounded like this:

"TLC has decided not to renew another season of Kate Plus 8," a network rep said in a statement. "By the end of this season Kate Plus 8 will have hit the 150 episode mark (including Jon & Kate Plus 8); an exceptional milestone. TLC hopes to check in with Kate and the family periodically with specials in the future."
Well, those ten million children have been living the high life for way too long, anyway. It's about time they live like normal people by only surviving on garden hose water from the neighbor's yard and popcorn kernels. They'll have to get jobs selling dirt pies off the interstate and make all their clothes from FedEx sacks. Sure, they have millions upon millions of dollars from being whored out by their mother, but Kate needs that money to stretch so she can still maintain her $2000 a month weave and get her carcass sprayed with liquid copper every week. But on the bright side, now that the cameras will no longer be crawling all over their house, the kids won't to see their lens-fucking mom as much.
We might think that this is the end of a nightmare, but it's the only beginning. Now that Kate doesn't have an outlet for her famewhoreness, she's going to hit the ho stroll even harder. There is no God.
via E! Online
Friday, August 5th 2011
The show that is partially responsible for planting the demon seed that created the collagen vine of crazy called the Real Housewives will be thrown into the TV graveyard in May after 8 seasons. Deadline says that Teri Snatcher will have to find a new show to live out her stripper fantasies and Marc Cherry will have to find new actresses to bitch slap in the face, because ABC is killing that shit the same way Marcia Cross killed all the feeling in her face with Botox. 51 million people to still watch that mess worldwide and it still makes money, so who knows why they are dumping it.
I still watch every single episode of Desperate Housewives and I still don't know why. After I watch an episode I get that same feeling I get whenever I wash my hands before fapping: WHY? What's the point? Maybe I keep Desperate Housewives in my Tivo, because it's there and sometimes it has hot man nipples. Basically, those are the same reasons why some of you still read this site.
The only way for DH to end is for us to find out that Bree Van de Kamp is actually Dr. Kimberly Shaw in the Witness Protection Program and bitch goes crazy again which causes her to blow up Wisteria Lane. The last shot should be of Kimberly Shaw ripping off her ginger wig while those hos burns alive in one of the houses. It's the only right way for it to end.
And since it's Friday, let me help you out. "That fucking shit is still on?" There, just copy and paste that into the comments instead of straining your fingers by typing it out letter by letter. I love you, too!
Wednesday, July 27th 2011
The sun is shining, and coochie and ass lips alike are clapping together now that ASkars and the splintery broom who didn't turn back into her human form when Belle declared her love for the Beast are no longer humping on each other! Today, the sound of an angel's orgasmic queef comes form UsWeekly who is pleased to announce that ASkars' Swedish meatballs are back on the Ikea buffet line after two long years. Grab your trays!
"It was very mutual," a source tells the new issue of Us. "And it happened a while ago."

During a July 21 Film District bash at Comic-Con in San Diego, the actor, 34, flirted with a brunette -- and left the party with her.

"He's single," confirms a source, "and he is loving the attention!"
YES! Now all of us can finally twist our nipples to ASkars' half nekkid ass nekkid body without worrying about Kate Bosworth crawling out from under our beds like an oatmeal version of that crazy little bitch from The Grudge. This is not only good news for our fap fantasies, but it's also good news for Kate's stomach. Now that she's no longer only slurping on ASkars' pickled gherkin, she can put some actual food in her mouth. But really, I can't blame Kate for not taking her mouth off of ASkars' pickled gherkin, but I can blame her for letting go. If I was Kate Bosworth, I'd immediately shampoo my hair since her mop looks like a plate of onion straws marinating in pit sweat. Then I'd get on his peen and never let go. ASkars' dick would be Jack and I'd be Rose. But unlike Rose's dumb ass, I'd NEVER let go.
(Image via Superhero Fan)
Tuesday, July 26th 2011
Hazmat vans are patrolling the streets and the CDC has warned everyone to keep their genitals inside, because when Vanilla Gorilla and Kat Von D break up, the diseased trash is no longer contained and will spread. Cherubs have retired their arrows forever and seagulls are having a sad since their favorite couple to pick trash off of have ended their engagement after only humping the scab-covered smugness out of each other for less than a year. What I'm trying to say here is, HAPPY BIRTHDAY, SANDRA!
Kat Von D was supposed to start the journey in becoming Vanilla Gorilla's fourth ex-wife in a pre-divorce ceremony this summer, but he says it's not going to happen. Kat Von D will not become the fourth ho who VG fucks over by fucking anything with a tattooed labia. With VG living in Austin and Kat Von D living in L.A., their TRUE LOVE just couldn't withstand the distance. VG tells People:
"I'm so sad because I really love her. The distance between us was just too much."
And Kat Von D who collects a check for vomiting out her private shit on basic cable, asked everyone to respect her privacy.

"I am no longer w Jesse, and out of respect for him, his family and myself, thats all the info I'd like to share. Thanks for respecting that."
"That's all the info I'd like to share"? Why didn't this busted wig-wearing skeezer make that vow a couple of months ago before she started going on about how Vanilla Gorilla is THE ONE and her TRUE SOULMATE who will be with her forever? Now the bitch wants to shut her mouth?
It's sort of poetic that Kat Von D and Vanilla Gorilla are coincidentally announcing this shit just a couple of days before the new season of L.A. Ink premieres. And in all the previews, Kat Von D goes on about how it's true love this time and she doesn't care what anybody thinks. I hope the producers have enough time to add a laugh track to that episode.
Saturday, July 16th 2011
In a move that even Alison the Slycic's e-cig could've predicted, The Real Housewives of Beverly Hills' Taylor Armstrong has dropped divorce papers in the lap of her cunt-hearted creeper husband Russell Armstrong after 6 years of marriage. Russell is going broke and it's obvious to everyone that Taylor only married him for his cash, so she's doing what every gold digger should do when her shovel comes up empty: bitch is packing up her pool noodle lips and getting out of there.
Out of fear that the gallons of collagen in her lips will burn off from all the quivering it does while she cries about how empty her husband's checking account is, Taylor Lipstrong tells People that she has decided to leave his ass for good.

"It was a difficult decision but I have decided to file for divorce from Russell. Although we have tried our best to work out our differences, I have come to the conclusion that it is in the best interest of our family that we separate. Together we are the proud parents of a sweet and wonderful little girl and she remains my number one priority. I am sad for my marriage to come to an end, but am confident that this is the right choice for all involved."
Taylor is a superficial, puppy-hating, annoying gnat that looks like she just crawled out of a vat of acid in Gotham City, but Russell is just ugh. I don't know how she boned that shit. Russell probably prints out a really complex Excel spreadsheet, tapes it to the headboard and licks it as he does Taylor missionary style. I just... No. But at least, Taylor will soon be free to marry her real love: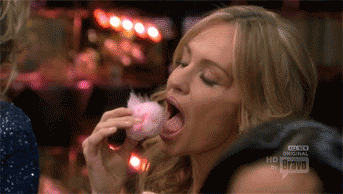 COTTON CANDY!
Friday, July 15th 2011
Elizabeth Taylor will throw a mean side-eye from heaven that will throw shade over most of L.A. today, because JLo is scooting up to her record by making Skeletor her third ex-husband after 7 years of marriage. Yes, Castle Greyskull will be filled with sacrificial virgins a fucking plenty tonight, because Skeletor is back on the prowl for good. JLo and Skeletor announced to People that they are legally quitting each other and breaking their vows the same way he breaks a brittle hip bone when he tries to thrust too hard during a show.

"We have decided to end our marriage. This was a very difficult decision. We have come to an amicable conclusion on all matters.

It is a painful time for all involved and we appreciate the respect of our privacy at this time."
Skeletor has a face like a zombie's ass and living with JLo is probably as pleasant as getting a rim job from a shark, but I thought these two would love forever or until Jason Stackhouse shoots Skeletor in front of Tara. They were acting all happy like with The Dragon Tales Twins just a month or two ago. Some ESCANDALOSO shit must've been the stake in the heart of their marriage. Now I'm not saying that the blind item about a singer allegedly Ike Turner-ing and cheating on his singer/actress wife is true, but I'm still going to light a Santa Guadalupe candle and pray one of his side whores doesn't sell a picture of his dick bone to The National Enquirer.
And, well, at least JLo can go back to her first love. No, not attention. I'm talking about Diddy! Ugh. My fingers barfed from typing that out.
Thursday, July 7th 2011
Where oh where am I supposed to feed my craving for sensationalized trash headlines about British reality stars, stoner royals and well aged placentas?!!!!! Evil media mogul Rupert Murdoch and his son James, who runs the company that publishes News of the World, announced today that the earth version of News of the World will be buried this weekend. Oh, at least The Sun is STILL there.
Rupert and James decided to lay off around 200 NotW employees, because readers and advertisers dropped like flies after we all found out that the tabloid allegedly hacked into the cell phone of a murdered teenage girl. Earlier this month, NotW apologized to Sienna Miller and handed over $164,000 in damages to her after they admitted to hacking her phone. They have also been accused of hacking the cell phones of dozens of other celebrities. If that's not enough, police are also investigating claims that their officers were paid by the tabloid for information.
Rupert pet his fluffy white cat and cackled out this statement:

Recent allegations of phone hacking and making payments to police with respect to the News of the World are deplorable and unacceptable.

I have made clear that our company must fully and proactively cooperate with the police in all investigations and that is exactly what News International has been doing and will continue to do under Rebekah Brooks' leadership.

We are committed to addressing these issues fully and have taken a number of important steps to prevent them from happening again.
Translation: "We won't get caught again! Pinky swear!"
But fear not, minions of hell! Rupert Murdoch's News of the Underworld will continue on without an interruption in service. In fact, the cover of this weekend's edition will feature EXCLUSIVE and SCANDALOUS pictures of the devil giving free lap dances over the headline: "Our Girl Nancy Is Always Right!"
Friday, July 1st 2011
SO. Even Miss Cleo saw this coming. TMZ reports that Maria Shriver has officially filed for divorce papers against AHNOLT. Details are that Maria is citing irreconcilable differences (pretty nice of her, I think), there is no pre-nup, and she wants custody of the two minor children they have together, 17 year old Patrick Arnold Shriver Shwarzenneger and 13 year old Christopher Sargent Shriver Shwarzenneger. No word yet on who gets custody of Arnold Shwarzenneger's leventy-billion other children.
Ahnolt will not be back this time. You go Maria, get that 50 percent from that last 13 years. I hope the state of California paid Arnold first with their broke ass.
In totally unrelated yet so related quit-this-bitch news, it's been quite a ride. I wanna say how grateful I am that so many of you piled into my 1995 Ford Escort while Michael K's Bentley was parked at Times Square (okay they totally took the subway but work with me people). Whether my posts made you giggle or groan longingly for MK, I'm proud to have been given this opportunity to help out the hardest working ho on the blog stroll in his hour of need. Michael, it was such an honor to walk a mile in your stilettos and be the tofurkey to your delicious surf and turf, you brilliant slut. *bows deeply*
That being said, THANK GOD MK IS BACK and I can go back to busting celeb balls (without a condom, as is the custom in HoWood) in the relative anonymity of the threads!!! Watch for my upcoming book "In Love With A Gay Man: The Life And Times Of Sweetas". Till then, I'll see you all in the comments section.
Much love (you know where), Sweetas
Wednesday, June 29th 2011
Remember back in 2008 when David Duchovny and Tea Leoni put their marriage on pause, because he had to check into rehab for sex and porn addiction? Remember when he got out of rehab you spent most of your days trolling fuck cam rooms and posting Craigslist "casual encounters" ads with a picture of you holding a "The Truth is Right Here, Mulder" sign over your punane? And then remember when David and Tea got back together a few months later, you had to retire both that sign and the dream of being David Duchovny's mug?
Well, break out the sign and do the "I'm a little Mulder mug" dance, because David Duchovny's vagina-addicted dick (Do we call it a coochhead?) is back on the prowl! David and Tea's rep announced last night to UsWeekly that after 14 years of marriage, the parents of two are going their separate ways for the second time.
David and Tea didn't use the "divorce" word and they also didn't say if his peen's addiction to random chochas or the fact that she was tired of catching him jacking it to Excel spreadsheets (the click and hide trick doesn't fool anybody) had anything to do with their split.
Sadly, this shit was bound to happen. I don't know anybody who could ever get used to their husband always reeking of burnt foreskin, shaft scabs and bloody penis tears. Oh, Mulder, why couldn't you keep it in your pants! Or at least put your pants over my head and kept it in there. That doesn't count as cheating. I looked it up.
Wednesday, June 22nd 2011
Robot call girl Sarah Larson will finally get a roommate at the halfway house for George Clooney's ex-pieces, because he has kindly pink-slipped his girlfriend of 2 years Elisabetta Canalis. Cocktail waitress and Italian models/coke whores who know how to keep their mouth shuts to the media can form a line to the left for Elisabetta's replacement. George and Elisabetta issued this open goodbye letter to Entertainment Tonight about their break-up:

"We are not together anymore. It's very difficult and very personal and we hope everyone can respect our privacy."
If you looked into Elisabetta's eyes as she said the "respect our privacy" you'd see her blinking in Morse code: "Please respect my privacy since I obviously won't and will be giving interviews about this to anybody who waves a tape recorder at my mouth."
This is sad news, actually. Did I ever think that George Clooney would break his streak as an unmarried ho and actually make that stick of Cindy Crawford jerky his next wife? No. This is sad news, because a camera crew wasn't there to capture the priceless moment of George firing Elisabetta. There she was, standing outside of his villa and telling a reporter "I will be married one day and all my haters are just jealous that I will be walking down the aisle towards their screensaver and they won't!" as George Clooney's bodyguards carry her belongings out the front door and onto the back of a pick-up truck driven by her uncle.
Elisabetta signed her own walking papers as soon as she said the word "marriage." Whatever the opposite of a safe word is, George's is: MARRIAGE. Study up, whores, and learn from Elisabetta's mistake.
And here's George and Elisabetta having dinner near his villa just last week. Add a few swear words, a couple of security guards, a bag full of stolen office supplies and that's pretty much what it looked like when I get fired from my last job.