Lady GaGa
Wednesday, September 7th 2011
Madge has already burned the petals off of a Hydrangea with her manufactured British accent and her claws which she sharpens on the crotch bones of impoverished third world orphans, and now she's using her tongue to subtlety stab at Lady Caca's tuck. During an interview with the French site LeSoir (via Radar) for Madge's piece of shit movie W.E. (stands for WHAT EVER), the interviewer said some shit about how that cinematic dingle is seen through the eyes of some young chick admiring some other chick from the past. The interview then said that many hos admire Madge including Lady Kinko's. With the terrifying image of a HYDRANGEA still causing nightmares in her brain, Madge turned Lady Caca into Caca Brulee by singeing that copy cat ho with this quote:

In French

: De mes fans ? Disons que ce qui m'intéresse avec le regard de Wally, c'est d'arriver à percer la vérité sur Wallis Simpson. Et s'apercevoir que rien n'est jamais tout blanc ou tout noir. Vrai ou faux. La vie est de couleur grise. Et on ne peut enfermer personne dans une case. Quant à Lady Gaga, je n'ai pas de commentaire à faire sur ses obsessions ayant trait à moi, parce que je ne sais pas si ça repose sur quelque chose de profond ou de superficiel.

In English courtesy of the accurate translation program known as Google: Of my fans? Say what interests me with the eyes of Wally, is to arrive at the truth about drilling Wallis Simpson. And realize that nothing is all white or all black. True or False. Life is gray. And you can not lock someone in a box. As for Lady Gaga, I have no comment on his obsessions related to me, because I do not know if it is based on something profound or superficial.
YES!!!!! If this was an episode of Survivor, Jeff Probst would put out Lady Caca's torch after saying, "The cunt has spoken!"
Yes, this quote could've been completely mangled the same way a boy toy's nutsack gets mangled when Madge's snatch serpent bites at it, but I'm going to believe it to be true. Why? Because above everything, Madge is a BITCH with a capital everything. Even if she didn't say it out loud, I'm sure that quote was in her head, right next to a mental note that she needs to Skype her dark lord Satan to ask him to destroy that hydrangea giver for her.
More of this, Madge! More of this. Less movie making, less crotch thrusting and more cunting!
Sunday, August 28th 2011
Looking like a young Ray Romano's failed audition for the Dustin Hoffman role in Midnight Cowboy, Lady CaCa busted into a way too long high school drama class monologue at the beginning of the MTV VMAs tonight. This shit made me wish that the MTV censors mistook Caca for Andrew Dice Clay and banned him all over again. How are you going to untuck your tuck and not bring any bulge to the stage? For once, Brit Brit's heavily medicated face said it all so I didn't have to: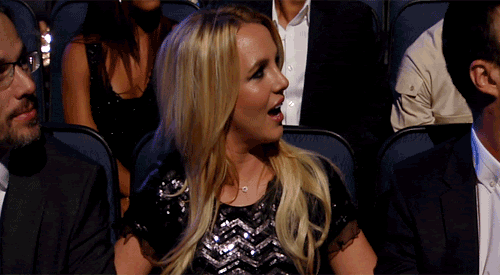 Brit Brit is either wondering why she's the one with a conservator and can't even wipe her possum poon without a handler standing over her to hand her a court-appointed piece of toilet paper, or she's wondering why the Middle Eastern mechanic she huffed freon with during her gas station hopping days is on stage at the VMAs.
And here's Brit Brit with her piece Jason Trawick. Nothing takes a dude from Sam Merlotte Lite to Willard like a middle part.
Saturday, August 6th 2011
Lady Copy Paste gave her other alter egos (see: Madge, Dale Bozzio, Grace Jones, Bette Midler, Roisin Murphy, etc...) the day off and instead she pushed out her tuck by bringing out her dude alter ego Jo Calderone for the cover of her next single You And I (which really should be called I And I).
This mess looks like if Prince washed the sexy out of his hair and gave himself constipated face by eating a bowl of anti-diarrhea pills to play Bob Dylan in I'm Not There. It also looks like a strung out Scarface in the middle of making a fart (on the left) and then smelling said fart after it wafted up into his nostrils (on the right). Or like a methadone clinic Danny Zuko.
What I'm getting at is that I'm seeing EVERYTHING but the self-appointed master of high art and her original ideas, so at least bitch is still consistent in ripping hos off.
Source: LC Twitter via ONTD
Friday, July 29th 2011
Vegan, animal activist and noted cuntatarian Morrissey puked out a quarter pounder of shit with an extra slice of inappropriateness the other night when he compared the massacre in Norway to the slaughter of cows for McDonald's "meat." Hold that thought, Morrissey, because Lady Caca's slaves delivered bags upon bags of McDonald's to all of the fans that waited outside of the Chateau Marmont for hours to meet her. Why wait for hours to meet Caca when they could've been at home fucking themselves with a Breathless Mahoney doll since it's practically the same thing? But that's a question for another day.
Along with the bags full of screaming cow patties, Caca attached this little love note:

"Dear little monsters. Thank you for singing to me all day and night. I love you with all my heart. You make everyday worth living. Kisses to the cops for keeping you safe. Love Lady GaGa"
Do you want to wrap the map to Caca's meat Nazi (Meatzi?) bunker in lettuce leaves and pass it to Morrissey or shall I? Wait. Or are we supposed to bolt the theater doors and hold Caca down while Morrissey writes "MEATZI" on that bitch's forehead in tahini sauce? I forget how the movie goes.
And here's Lady Hitler leaving her hotel last night while looking like a lazy-eyed, coked-up trans bunny in a Donatella Versace wig and one of Morticia's old dresses. Or if you want the short version: looking like Elvira Aguilera.
Sunday, July 17th 2011
Lady Gaga took a break from sucking the queef bubbles out of Madge's vadge and claiming it as her own, and instead Xerox copied some shtick from Bette Midler's act. Bette Midler has long done the mermaid in a wheelchair thing, and at a concert in Australia the other night Caca rolled onto the stage in a mermaid body bag. Caca's entourage got egged by a bunch of people who weren't happy about her glamorizing disabilities. (Sidenote: Bette Midler would never get egged, because it's obvious that she's sympathizing with disabled merpeople through her art.)
Caca also got egged again on Twitter by Bette Midler herself who was not happy about the blatant thievery. Don't screw with Delores Delago! I'll let Bette take it from here:

I'm not sure

@

ladygaga

knows that I've performed my mermaid in a wheelchair for millions of people -- and many of them are still alive.....

Dear

@

ladygaga

if you think a mermaid in a wheelchair seems familiar-it's because it is!You can see it on youtube 24/7-with ME performing it

Dear

@

ladygaga

Ive been doing singing mermaid in a wheelchair since 1980-You can keep the meat dress and the firecracker tits-mermaid's mine
Of course, a few Little Monsters displayed the love and acceptance their Mama Monster preaches by calling Bette a "disrespectful cunt" who needs to "STFU." HA. I love it.
Bette is probably joking, but I still say she should throw a net over that salty rotten kipper Caca and launch her jacking ass onto one of the Deadliest Catch boats. Until Ariel becomes a paraplegic, there can only be one mermaid in a wheelchair!
Here's Lady Xerox in NYC this morning.
Monday, June 27th 2011
Bernie Madoff woke up singing THIS with a little morning wood this morning for the first time since he got little MaryJane Rottencrotch to sink her lemonade stand profits in to a LIFE CHANGING INVESTMENT!!!
Lady Dipshit sold tsunami relief bracelets for $5 stating all proceeds would go to the tsunami victims when in fact $3.99 went towards the shipping and handling (aka - her duct tape tuck fund).
Ari Kresch, some legal type fucker, teamed up with Detective Odafin 'Fin' Tutuola and filed a lawsuit against Caca and her fluffers - Fulfillment House, Bravado International Group Merchandising Services, Universal Music Group, House of Gaga Publishing and Live Nation Merchandising, questioning the legitimacy (<-- SUCK IT STONEY!) of the charity... evidently sales tax being charged on a charitable item is frowned upon and a RED FLAG!!
You know fucking what, I would have been more willing to donate to a STFU bracelet sponsored by Chyna's clit and wouldn't have given two shits where the money went...
(Chyna's clit was not available for comment)
Thursday, June 16th 2011
Here's Lady Gaga and Clarence Clemons of the E Street Band (Try the Jello, Clarence!) in her new video for "Edge of Glory," which is completely free of bible pirates, skin aliens and all other kinds of theatrical fuckery. It's just Caca, Clarence, gothic clown makeup, Nomi Malone's re-purposed Versayce dress, the set of Sesame Street and a whole lot of nothing.
Part of this shit is like a Cher video WITHOUT Cher and the other part is just Caca fucking on the fire escape like Vivian from Pretty Woman on the wrong kind of Ecstasy. I seriously kept waiting for Pearl from 227 to pop her head out of the window and scream at Caca to take her sloppy hussy ass off her stoop!
On a positive note, there's no need for you to take that Universal Studios tour this summer because Caca pretty much gave it to you!
Monday, June 6th 2011
On the left is Lady GaGa at the CFDA Awards in NYC tonight, and on the right is the legendary Ms. Swan easily winning this pose-off without even trying. In the wise words of Ms. Swan: "He look-a like-a man."
If the Carver Killer from Nip/Tuck dressed in costume as Melanie Griffith from Something Wild using one a discarded wig found in Nicki Minaj's back dumpster, he might look like this mess. It took me a few blinks and a couple times saying "Harpo, who dis woman?" to even realize this was the CaCa one herself and not some Asian trick in Cosplay drag. It's like invisible monster hands are pinching her nose and pulling her eyes. Bitch's face does not look like her own.
With all that being said, ho gets a couple of points for an impeccable eyebrow situation that even I can't ignore. It takes several gallons of Clorox and melted down Sharpies to create eyebrows that make a cholita throw up her hands and thank los santos. To a chola, Sharpie brows on a CaCa are like Jesus' face on a piece of toast.
Friday, May 27th 2011
As Lady Gaga performed as both Catra and Octavia in a broke down goth version of She-Ra on Good Morning America today (performances here), Jose Canseco was probably dressed in his night time baseball armor and softly caressing his TV screen like it was his bride on their wedding day. Jose shared his love with Madonna 1.0 many years ago and now he's hoping that Lady Gaga will take her Madge impersonation way too far by riding her unicorn keyboard into the sunset with him.
On Twitter the other night, Jose Tweeted a beautiful love poem dedicated to his queen (via UsWeekly):

I love lady gaga wish I could meet her .would marry her in a second
23 May

Lady gaga is the truth get use to it
23 May

Her song Judas is what we fight with everyday since we are born evil
23 May

I am her night in baseball armor
23 May

She is the queen
23 May

Lady gaga where r u did u get my marriage proposal I am at cocoa casino in yuma Arizona


24 May
"Night in Baseball Armor" is so the title of Gaga's next album.
But I must tell Jose that if he hopes to successfully woo Gaga by publicly whispering sweet Tweets into her retinas, then maybe he should give her the correct name of the fucking casino he's staying at! It's the COCOPAH CASINO! Yes, I've been there. (Now is not the time to judge when love is on the line). The saddest image of the day is Caca standing alone in the parking lot of some cocoa casino in Yuma with a bridal bouquet in her hands, waiting to see baseball armor float through the night.
Sunday, May 22nd 2011
Justin Timberlake on SNL is figuratively easier to swallow than Justin Timberlake NOT on SNL so I found him pretty entertaining last night. The slight shade thrown at Chris Kirkpatrick? The Liquorville sketch (which was a win for me since it starred giant bottles of booze)? That shit worked for me. And then Justin and Andy Samberg brought out their Color Me Vanilli characters to have a threesome with Lady Caca in the Digital Short.
They kept cooing out some shit like "It's not gay, if it's in a three-way," but I holehardonly disagree. I've been in some three-ways that were pretty damn gay. (FYI: I'm talking about the time my friends J.R., Scott and I played pastel Twister while getting drunk on Strawberry Hill daiquiris and listening to the Romy & Michele soundtrack. Okay, mom!)
In this shit, Caca sort of looks like a young Grandma Addams in a late night commercial for a 1980s singles chat line, so obviously I feel like this is her hottest look yet and she should definitely keep it. But she didn't and she won't. For her performance of Born This Way, bitch was back to her old HIGH-ART tricks. Caca strapped a Hefty bag ball to her body before breaking glitter all over an S&M delivery table. This is pretty much shot-for-shot what it looked like when John Travolta birthed out Baby Benjamin.
And here's Skunkdonna waving to her fans at the SNL after-party.