Anderson Cooper
Tuesday, February 21st 2012
I regularly pray that my inbox will one day be graced with a picture of Anderson Cooper, Cox and a huge load of white stuff, but this isn't what my loins had in mind. I'll still take it, because Mah Boo's giggle and OMG faces are like a Snuggie for my soul.
Just like 85% of this country, Courteney Cox has a not-so-strange addiction to drinking gallons upon gallons of ranch dressing and she can't start her day without hooking her arm vein up to an IV drip full of ranch. Courteney's idea of heaven is frolicking through the Hidden Valley Ranch. Since Anderson is a serious journalist and his talk show brings us nothing but highly important hard-hitting stories, he brought out a bowl full of America's nectar and asked Courteney to guzzle it down. Here's a preview of the episode that airs today:
I am disgusted with that clip, because ranch dressing and mayo are enemies and I can't live without the latter. I wish they made mayo-flavored lube. I am also disgusted with that clip, because again, this is not the moment between a Cox and a Mah Boo I want to see. I was so disgusted with all of this that I almost forget to mention that Courteney really needs to back away from the Botox needle before her face looks exactly like that of a Good Luck Cat.
Thursday, February 16th 2012
If one of Brit Brit's Cheetolings was a girl, this would be them right now.
Most of you have already laughed, weeped and come up with a plan to spike the water system with birth control pills after watching the glorious mess that is Honey Boo-Boo Chile and her creator June the Hutt on Toddlers & Tiaras and every single talk show on television. Part of me wants a daughter just like Honey Boo-Boo Chile, because she's always crunked out of her mind (Like me!), loves money more than people (Like me!) and is a drag queen Jackee Harry trapped in a little girl's body (Like I wish to be!). The other part of me thinks that Honey Boo-Boo Chile and her mom June are a product of the government to promote human sterilization. What ever their deal is, they shared it on The Silver Fox Show (in an episode that airs tomorrow) and I don't think my nightmares will ever be the same again.
Mah Boo gave the moms of Toddlers & Tiaras a child beauty pageant queen makeover, so they know what their daughters feel like. Most of the moms look like any random trick on Slutoween, but June the Hutt took the cake and ate it. Just like June's parenting skills are lost somewhere in the crack of that sideways butt on her neck, my thoughts on this are completely lost too. It's just too much of a beautiful mess. I'd scream at Honey Boo-Boo Chile to turn around and stare into her future, but homegirl is too high to understand. But I do love that she's posing like my chola friend throwing a gang sign in her 7th grade yearbook picture.
Speaking of getting high, here's a clip of Mah Boo trying the "Go-Go Juice" that June the Hutt gives Honey Boo-Boo Chile to give her energy. It's basically the nectar of the white trash gods (Red Bull and Mountain Dew).
You can try Honey Boo-Boo Chile's Go-Go Juice for yourself in a few weeks when Walmart inevitably sells it in their baby section next to Toddler's First Eye Waxing Kit and strawberry-scented wig glue for kids.
Tuesday, January 10th 2012
Talking gay Siamese Cat Andy Cohen made an "I see what you did there" on Watch What Happens Live! last night when he handed Anderson Cooper an electric handjob trainer that most of us know as the Shake Weight. I'm sort of on a semi-mahboobatical, because my fucked-up obsession reached the top levels of insanity and I realized that he was keeping Carrot Top from making more appearances in my fap dreams. So when Andy handed him that Shake Weight, I stuffed a Valium in my peen hole to keep it from exploding off of my crotch while knocking my dormant Mah Boo obsession (mahboobsession?) back into me, but I didn't need to do that! Because Anderson's Shake Weighting skills barely registered a 0.00001 on the fap scale. Watch and be prepared to know what it feels like when your genitals frown:
We all know that Anderson can shake a weight with the best of them, because it's etched into the tiles in the bathroom at Eastern Bloc, but the ho held back. I'm surprised that green Shake Weight didn't turn blue from the sexual frustration The Silver Fox put it through. I'm sure Horny Bear would say that he's seen actual silver foxes in the forest handle a Shake Weight better than Anderson did. But you know, I put all the blame on Andy Cohen. Andy should've given Anderson a Shake Weight that was olive-colored, covered in throbbing veins and had at least two biceps on it. Give Anderson something to work with!
via Buzzfeed (Thanks to everybody who sent this in)
Monday, January 2nd 2012
Just like a freeze dried In-N-Out Double Double, I don't travel well (Airplane riding is hard! #firstworldproblems) so my ass is every degree of jet lagged and my brain is more fucked than usual today, but this clip from Anderson Cooper and Kathy Griffin's New Year's Eve show has taken my soul in its arms and rocked me raw. There is finally a good reason for why Kathy Griffin is always struttin' around with her disappearing belly button out. Kathy brought the PG-rated ho shit out on New Year's Eve by stripping down to her best Maidenform bra, which caused Mah Boo to ejaculate out a steady stream of giggles. It's like Mah Boo has never seen a ginger in her bra before! It's like Mah Boo is really trying to act like he doesn't remember that time I streaked by his firehouse with my heart crossed in lace and a Tina Louise wig on my head. But whatever brings a giggle out of Mah Boo is good by me. Because when Mah Boo giggles, a no-no puckers for the very first time. And speaking of puckering...
I'd like to thank my spirit animals Lahoma, Sweetas and J. Harvey for spreading foolery all over Dlisted while I was DRANKING my way through Italy with my family. If it wasn't for them, I wouldn't have been able to learn the valuable lessons of Italy. Like did you know the Italians put a special ingredient in their pasta that covers your liver with a protective coating and allows you to swallow whole bottles of wine at one time without your internal organs running out of your asshole for dear life? An Italian doctor told me this. Or maybe it was an Italian waiter. Same thing.
And another thanks to J. Harvey for putting the extra fancy word "cuntafasse" into my dictionary and to Sweetas making me feel better about my completely unhealthy obsession with Mah Boo by making Charlize Theron reach for a restraining order form. Sweetas and J. Harvey did Dlisted good and they did it with less grammatical errors than me. Although, a blind, illiterate kindergarten drop out has better grammar skills than me, so I guess that's not saying much.
Tuesday, November 1st 2011
When the avalanche of HAHAHAHAHAHAHAs out of my mouth crashed straight into the Kardassalanche yesterday, my priorities got knocked out of order and I completely missed posting these pictures of The Silver Fox as the original Silver Fox (according to Connie Chung). I know, what kind of self-respecting crazed obsessive stalker am I? It's not enough that I'm currently reading The Hongray Games and picturing that Foxface girl as Silverfoxface girl, I should've paused everything and used my bandwidth on posting these priceless visible giggles instead. Well, as my slutty high school friend used to say about her period (aka a bloody sigh of relief), better late than never!
So here's Mah Boo dressed up as his personal hero Phil Donahue for the Halloween episode of his talk show yesterday. The fact that Mah Boo as Phil Donahue looks more like a young Leslie Nielsen as Sophia Petrillo in a Schoolhouse Rock cartoon should wrap my badly dented soul with a hug of warm giggles, but I'm disappointed that his hero is Phil Donahue. Not because I think Phil Donahue isn't hero-material, but because Phil Donahue is always wearing clothes! It was Slutoween and Anderson completely covered up his whitecap chest and double white moon nalgas. Why oh why couldn't his hero be a trick whose torso is allergic to cloth and whose nipples enter a room before they do? You know, a trick like Courtney Stodden (who is obviously Mah Boo's REAL hero, let's be real). Boo at Mah Boo's Slutoween costume!
But a special thanks to the lady soldier with the honey hair flip in the front for shooting airy hearts at him with her eyes for the both of us.
Friday, October 28th 2011
Two animal kingdoms became one on Mah Boo 369me last night when Anderson Cooper's obsession with Courtney Stodden reached a fever pitch, and yes, it's making me dip a thermometer in Vaseline. Coopertney (just pretend that worked) attempted to replicate Courtney's signature "sedated Komodo Dragon having a face seizure while choking on a heave ball" facial expression and well....Mah Boo tried.
Trying to recreate Courtney's sexy/snarl/idontevenfuckingknow face is like trying to recreate a Picasso using only a soaked piece of cardboard and a palette of wet fart splashes. It cannot be done and it is impossible. The original is a masterpiece. Actually, if you recreated a Picasso with wet fart splashes on a soaked piece of cardboard it would look a lot more like Courtney's sexyface than whatever came out of Mah Boo's face does.
Courtney's facial expression makes it look like her brain is trying to escape through her face and it can't find any open hole, and it takes a special (see: drugged up) kind of person to pull that off. But if there's ever a contest to find the best impersonation of Mr. Burns licking on an invisible pussy, Mah Boo would be crowned the queen of that shit!
And yes, Google Bots, start stretching, because I will be searching for "how to embed an animated GIF into the back of a pair of chonies" as soon as I publish this bitch.
Thursday, September 8th 2011
Since I've been on PST I've been rising from my dead coma a little after 5 every morning and I really don't know how some of you opposite vampires do it. You must have an alarm clock that sprays out meth mist and if you do, please give me the SkyMall catalog number for it. 5am was invented so that sluts could do the walk of shame from their one night trick's apartment to their apartment while it's still sort of dark outside. It was not invented as a waking up hour. It's just hurtful. But I'm going to stop about that before one of you e-mails me with: "Michael, suck on your mouse, because the children in Ethiopia get up at 4am!" Yes, I know! I also know that Ethiopian children have to make their morning coffee by banging coffee beans on a rock down by the river instead of pressing Mr. Coffee's G-spot like I do. I know! Anyway....
So my brain is on 5am and I'm going through e-mails and there I see it.... A subject line that reads: NEW PICTURES ANDERSON COOPER SUNBATHING SHIRTLESS!!!!! The sleep crust melted from my eyeballs, the fapping nodule in my brain stood up and my finger pores started pre-cumming as I clicked the link. A lukewarm second after I did that, my eyeballs turned blue and my fapping nodule went back to bed. In what world is this considered shirtless?! Unless, Mah Boo's torso is nipple deficient and naturally made from a cotton blend only found in a Calvin Klein store (very possible), this is not shirtless! This is SHIRTMORE not shirtless.
Curse the bitch who screwed with my emotions at a time when I'm most sensitive (aka the pre-caffeine hour). That is a low blow and not the kind I pulled down my chonies for.
FURTHERMORE, Mah Boo posted these pictures on his site to promote his talk show. Mah Boo is obviously new to the talk show promo game, because you do not promote a talk show with pictures of some shit we've seen a million times. I mean, Kathy Griffin in a bikini? Ever since she sold her belly button to Satan for her new body, bitch hasn't been out of a bikini. I've already etched the image of Kathy Griffin in a bikini into the metal memory file cabinet in my brain with an old key. We've all seen it! But you know what we haven't seen? Kathy Griffin in a grey t-shirt and Mah Boo in a black 'kini. There's still time for them to do this promo picture thing right! Do it for my 5am brain, Mah Boo!
Thursday, August 18th 2011
At the end of every day, I throw myself on top of my bed and stare at the water spot on my ceiling while trying to exorcise all the KardashianLohanStoddenFishsticks foolishness from my head so it doesn't follow me from my daymares into my nightmares. While I was in the middle of doing this last night, I felt a tingling on my lobes travel up to my ear holes like a feather fairy wearing glitter skates was doing figure eights across them. I just figured that my neighbor a few doors down was listening to Clay Gayken's first album again, but now I know the real reason why!
During The Silver Fox's Ridiculist segment on Mah Boo 369me, he gave all little girls an inferiority complex when he busted into a giggle tornado while talking about Gérard Depardoodoo's mile high golden showers. War bullets and Pro-Mubarak crazies are no match for Mah Boo Anderson Cooper, but put a bunch of piss puns in his mouth and he melts into a puddle of giggles. A puddle I just want to pour into a silver decanter and charge hos $5 to listen to it. I never thought that I'd want the sound of a baby pink dolphin getting tickled in the blowhole by a pair of rainbow hands as my funeral song.
Sunshine on my shoulders don't do shit for me, but watching a Mah Boo giggle meltdown makes my happy place open franchises all over my body. Kittens in baskets can take the day off, because nothing will top this.
If scientists can come up with a way to hypnotize all tween girls into devoting their lives to Justin Bieber (that definitely is the work of some evil ass scientists), then they can come up with a way to embed this GIF on the inside of my eyelids: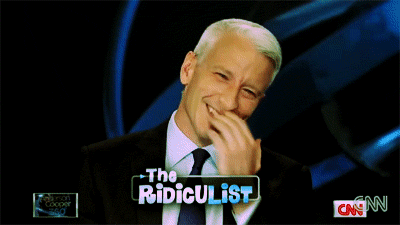 Dear Tyco, all I want for Christmas is a Tickle Mah Boo Doll complete with it saying, "This has never happened to me before...."
Good. Night.
via ONTD (Thanks to everybody who sent this in)
Tuesday, July 19th 2011
Civil wars, Real Housewives foolery and all breaking news are on pause for the next few days while CNN's sessiest messenger recharges his giggle in an unknown location somewhere. Mah Boo became Mud Boo for this picture he Tweeted last night from his current resting spot. Anderson Pooper says he's not at a spa or anywhere near the Dead Sea. What the hell kind of clues are those? Mah Boo is being all coy and shit, so I'll have to make do (doo) with what he's given us. My official guesses:
1. Scatapalooza?
2. Jessica Simpson's septic tank?
3. The backyard trough where all the Kardashians scrub off the layers of make-up every week?
4. The Redneck Games?
5. The Poltergeist pool?
6. The set of Australia's Hey Hey It's Saturday?
7. In a campground after winning a game of "Who Am I?" with his impersonation of John Travolta's XXXL suppository?
8. Outside of my apartment window where he's using a fake backdrop and wearing a disguise to throw me off? YES! YES! YES!
I don't know! Mah Boo also said that if you're a world traveler, you should know this. I am a world traveler (I've seen at least 10 episodes of Where in the World is Carmen Sandiego, okay?) and I don't know this. Mah Boo needs to Tweet a full body follow-up photo. And I mean FULL BODY. Because as a world traveler, I know that certain native muds dry differently on a peen (just go with it).
And speaking of that mud, is it too late to ask who ever is with Mah Boo to carefully scrape that mud off of his body and pour it into an air-tight Ziploc bag? Then, can they FedEx it to me overnight so I can use Mah Boo's dirty mud to make an extra special dild...I mean, flower pot. Shit. That just got me an extra 6 months on the restraining order, right?
via Mah Boo's Twitter (Thanks to everybody who sent this in)
Tuesday, May 10th 2011
On Mah Boo 369me last night, Isha Sesay started talking about the non-feud between superstar brat Justin Bieber and Marg Helgenberger when the producers snuck in a picture of a 9-year-old Anderson Cooper dressed like Ruta Lee on To Tell The Truth?. Andy said that he was supposed to be the youngest bear trainer and he got a vote from both Nipsey Russell and Kitty Carlisle Hart. (Note: The new bar has been set for the gayest sentence I've every typed.)
Mah Boo threw a few cut eyes at his 360 staff and said that heads will roll for this, but you know he still puts Barney's pube bush on his head and parades around his firehouse on a Sunday morning. Andy can't fool me!
Click here to see the clip of Mah Boo giggling at his 9-year-old self in Phyllis Diller drag and below is a clip of him further explaining the purple puff on his head. No comment on Young Anderson Cooper saying that he's no longer afraid of bears.
And when Mah Boo giggles, a platinum unicorn feels a twitch in its anus for the first time. So keep the giggling coming, Mah Boo!