Hogans
Tuesday, October 9th 2012
That dog and I have something in common. Terrified is the look that fills that dog's eyes when it sees an open jar of peanut butter sitting on the kitchen table. And I have that same look when I see the words "Hulk Hogan sex tape." Every single time.
When Gawker scraped our retinas off by giving us something more horrifying than Mr. Nanny, they said that Hulk Hogan put his polenta log dick (Side note: I had polenta for dinner last night and now it's creeping up my throat, so I only felt it was fitting to reference that mess here.) into the chocha of Heather Clem, the then wife of Florida radio host Bubba the Love Sponge. Hulk told Howard Stern (via TMZ) this morning that his sex tape co-star is Heather Clem and Bubba was okay with him boning her in a canopy bed. Hulk was married to Linda Hogan at the time, but he says she was such a mega bitch that she forced him to stick it in any trick who wanted some Hulkamania all up in her guts. Hulk is looking for who ever gave that tape to Gawker, because he had no idea he was being filmed.
Okay, so when Heather Clem (short for Clemidia) wasn't the liquid love sucked up by Bubba's Sponge, she was being passed around to his friends like Hulk Hogan and she did all of this willingly and for free? I don't know whether I should worship at Heather's exquisite heels for her dedication to being a brazen hussy whore or if I should shake my head at her for being gross. I swear, Florida is a HELLUVA drug.
Friday, October 5th 2012
Nick Hogan's dumbassery behind the wheel left a man with permanent brain damage, so you'd think that Linda Hogan would know that speeding after taking antibiotics with a champagne chaser isn't a good idea. But well, extreme exposure to UV rays from a tanning bed caused Linda's brain to melt and drip out of her ears, so she sucks at making good decisions. TMZ says that Linda was pulled over in Malibu yesterday for speeding and after she blew an 0.084 (0.08 is the legal limit in CA), she was arrested. This is Linda's mug shot of glamour and those matchstick brows are as tragic as that halter top from Rainbow.
53-year-old Linda sat in a cell for a few hours before she was released on $5,000 bail. Linda's rep (yeah, she has one of those) says that she only had one glass of champagne, but since she's on antibiotics and didn't eat anything, it made her hazier than usual if you can imagine that.
Linda's rep should've just kept it simple and said, "Stupid scrag is a Hogan. What do you expect?"
This week, the Hogans really are reminding us that the Lohans are amateurs, because they're America's first family of trash, always and forever. First, Hulk Hogan made my b-hole poot out a question mark by waving his Hickory Farms dick around in a sex tape. Then Linda Hogan's dumb ass goes and does this. What's next? Brooke Hogan is going to put out another album? Oh shit. I shouldn't have said thing. I think I've awoken the beast of Castle Grayskull.
Monday, June 4th 2012
RPattz, whose scalp makes a cameo as the enchanted forest in Snow White & The Huntsman, was too busy doing more important things (like deep conditioning his taint hair or whatever) to show up to last night's MTV Movie Awards, so Kristen Stewart had to accept their award for Best Kiss by herself. KStew tried to make a joke out it by begging Charlize Theron, Thor, Taylor Lautner or ANYBODY to get up there and put their lips on hers. Charlize couldn't do it, because she was backstage putting her lips on a bong she made out of one of those popcorn trophies. Taylor Lautner couldn't do it, because he's not one to put his mouth on lady lips for free. So KStew asked herself, WWJAD (What would Jennifer Aniston do?) and the answer was: make out with herself!
You know, what KStew lacks in acting skills, she makes up for in awkwardness. She is beyond awkward. This one time when I was 8 or 9, I walked in on my one-legged stepmother changing her tampon over the toilet in my dad's guest bathroom. Afterward, she sat down next to me at the breakfast table (No, we weren't having tomato omelets, thank God!) and we ate in silence. If I could take the awkwardness I felt in that moment and mold it into a human person, that human person would be a lot like Kristen Stewart. Just awkwardness running through her veins...
Anyway, here's a few pictures from last night. In order: Jennifer Aniston, Jodie Foster (throwing either a "Where's a strap-on when you really need one?" or "This bitch better not ask me to make out with her!" side-eye), Johnny Depp, Ciara, Christina Ricci, Charlize, Wiz Khaliafaawhatever with Amber Rose, KStew, Emma Stone, Jessica Biel, Chris Hemsworth, Ryan Seacrest with Julianne Hough, Brooke Hogan, Ick & Nast, Jean-Claude Van Damme with guest, Emma Watson, two Fraggle Rock refugees, Marky Mark, Andrew Garfield and Russell Brand.
Tuesday, May 15th 2012
The pile of ground horse meat that is the sanctity of marriage is slightly twitching with life today, because Tan Mom's complexion idol Linda Hogan has decided to slip off the engagement ring given to her by her boy toy look-alike of four years Charlie Hill. After whoring themselves out for some spotlight time and a quick check on Vh1's "Couples Therapy," the ghost of Lindsay Lohan's future looks and Nick Hogan's ex-best friend decided to stop bumping jerkyfied genitals for good. Linda's lawyer issued this statement to Fox 411's PopTarts that completely shoots down the theory that a couple that peroxides together, stays together.
"There was a lot of therapy involved, and the couple realized they needed to do their own thing. The realization came this weekend. But it was a mutual decision, and a whole new chapter for both of them."
Every chapter in Linda Hogan's life was written by Stephen King and the next one will be no exception and that's the only reason why I'm posting this shit. Linda Hogan will terrorize again! So if you're the parent of a bleached blond teenage son whose favorite meal is an overcooked Hillshire Farms kielbasa with fried hash browns on top, then immediately chain one of his arms to the water heater. If the police find out and try to arrest you for false imprisonment, just look them in the eye and simply say, "Linda Hogan is single again." The next sound you'll hear is the police handcuffing your son's other arm to the water heater. It's that serious!
Sunday, August 14th 2011
Skeletor's arch rival and the true power holder of Greyskull, Brooke Hogan, let out a Twatter cry yesterday over SUCIO whores (like this SUCIO whore right here) saying that her relationship with her daddy is as gross as watching Marcus Bachmann try to keep his puckering no-no in control while nibbling on a long stick of hot meat.
Brooke was talking about hos heaving with their eyes over those pictures of her kissing on Hulk Hogan's salmon jerky face at the unveiling of her nekkid portrait for Peta. Brooke's "LEAVE ME ALOOONE" roar went like this:

Im SO sick of people saying me and my dad are in some perverted relationship! Go home and do your own thing! Stop picking on me!


13 Aug
You dumb bitch, I am home.
"Go home and do your own thing" is probably the same shit she says to Hulk when he comes over and tries to do her thing. NO! I'm joking. That's just me needing to go home (?). Brooke is right. There's nothing gross about bringing your daddy to a gallery to stare at a picture of your CGI-ed nekkid body in a dog cage. It's not like Hulk hasn't seen Brooke's naked body in a dog cage before. Did you think she was wearing a sweater when he adopted her from Petco those many years ago?
There's nothing gross about Brooke and Hulk's relationship. However, being a Hogan is all kinds of gross.
via People
Wednesday, December 15th 2010
The meaning of true love is slowly crusting over, but it had one last outbreak yesterday in the form of Hulk Hogan's wedding to his girlfriend of two years Jennifer McDaniel. As 57-year-old Hulk said "I Do" to 35-year-old Jennifer in a beachfront ceremony outside of his home in Clearwater, Florida, a brawl broke out between one of his security guards and a paparazzo who was trying to document the blessed event (Note to pap: You could've taken a picture of a seagull pecking at a picked off anal wart on the sandy sidewalk and we wouldn't have known the difference).
Radar reports the police were called after the pap complained Hulk's security dudes wrecked his camera and roughed him up a bit. A source said, "Hulk's security team was in the background throwing around the paparazzi who was standing 200 feet away in the shoreline water. Hulk's snappy wedding clip just might be subpoenaed since they are in the background punching it out! The paparazzo wants charges filed and plans to sue for physical, financial and emotional distress."
Hulk's wedding guests barely noticed the brawl since they were too distracted by the sound of Marriage hitting itself over the head with a metal chair while wailing out "WHAT THE FUCK HAVE I BECOME?!" over and over again. It sucks that the fight didn't spill over into the wedding ceremony, because then Hulk might have accidentally married his daughter Brooke (it's an honest mistake) in the chaos. Then the two of them would've been arrested and jailed for committing incest. Wait, is that shit even illegal in Florida?
Sunday, December 5th 2010
(I'm talking about the potty-trained bitch all the way to the left who is wondering what she did in a past life to deserve this shit!) This is Nick Hogan in a wig Brooke Hogan and her mother Linda looking like a pack of neon markers covered in a melted Butterfinger left in a child's backpack while posing for the paps in Miami, FL yesterday afternoon.
If Hatchet Face and a Brit Brit impersonator were the inspiration for a claymation remake of White Chicks, this is what it would look like. I guess somebody has to keep the fashions of 2002 alive.
You know the "Where is the exit?" side-eye Robert DeNiro threw after introducing Diddy Dirty Money on SNL last night?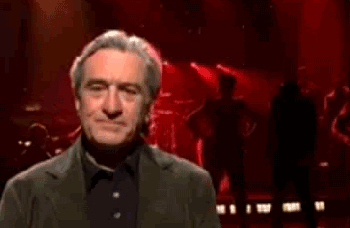 That same side-eye also applies here.
Wednesday, November 3rd 2010
Yeah, this isn't disturbing at all. In this promo video for Def Jam Rapstar shot in a mid-level hotel room off the highway (it's totally off the highway), Hulk Hogan and his daughter Brooke cover Notorious B.I.G. together. Believe it or not, that's not the disturbing part I was talking about. Things goes from disturbing to disturbing-er when Hulk eyes up Brooke's ass as she backs her shit up and then whips out his boiled Slim Jim (that gigantic black box is LYING) in front of her.
For most of us, if our dad pulled out his dick like it's something we want to see, we'd immediately call adult protective services and then tell our therapist to clear their schedule because we're going to need them the whole week! But for Brooke and Hulk, it's just normal father/daughter bonding time. This mess looks more like a clip from a promo video for Billy Ray and Miley's Daddy & Me camp.
I think I speak for all of us when I say, WE ALL CAN'T.
via Kotaku (Thanks Jeremiah)
Tuesday, July 27th 2010
If Hulk Hogan cracked open his fortune cookie chichi (or is that a bloated Pac-Man with a wart on his chin?), he would find these words of wisdom: "CONFUCIUS SAYS, DON'T EVEN TRY IT, ASSHOLE!" It's safe to say that we all co-sign that shit. Radar is saying that Hulk Hogan is working with infomercial king Kevin Harrington on a new hand cleanser made from pumice.
Hulk's lawyer says that he believes the product will turn Hulk Hogan into the new Billy Mays. Hulk's lawyer said:

"Billy's unfortunate passing kind of left a hole. We all agree that he certainly has some big shoes to fill as far as Billy Mays is concerned, but I don't think that any of us doubt that he has the ability to do it. We hope this is the beginning of a very long and good relationship between him and Kevin and the various products that Kevin may bring to the market. Terry brings decades' worth of charisma and credibility to the marketplace."
Just because Hulk looks like he uses Orange-Glo as a body lotion doesn't mean he's got the same powers Billy had. Besides, the world doesn't need a stupid hand cleanser made from pumice. If we want to get the skank off our hands, we just need to hold our palms up to one of Billy's old infomercials and let his "Miley Cyrus after gargling sand" voice scrub that shit clean. Hulk Hogan is not needed.
And will somebody please switch Hulk Hogan and White Oprah's peroxide with NAIR, because obviously the stuff they use causes extreme delusion in the brains.
Monday, July 26th 2010
Proving that eating Hulk Hogan's ass for 25 years causes irreparable brain damage, 50-year-old Linda Hogan is planning to marry her 21-year-old boy toy Charlie Hill. Charlie went to high school with Linda's son Nick and is one year younger than Brooke. Nick is already a dumb fuck of the highest order, so seeing his mother freak on his friend's leg at his high school reunion will hopefully take him over the edge. I can't wait.
Lime Life reports that Linda and Charlie will promise to love each other until death does them part (or until Linda divorces Charlie for using the last bottle of peroxide) next summer. The plan is to get married on Linda's appropriately named yacht, ALIMONY. Brooke has made it clear that the thought of her mother with Charlie makes her want to vom on her assless chaps, so I doubt she'll hold her mother's bouquet at the wedding.
I know Linda looks like a luau pig dressed in drag as Hatchet Face, but she's got plenty of cash stuffed into the middle of her chest hogs thanks to Hulk Hogan so she could probably get herself a hotter paid piece. You know, one that doesn't look like he names all his skid marks and doesn't regularly huff gas out of cars. Actually, maybe she can't. They're perfect for each other.