Kanye West
Friday, November 12th 2010
Pick up your lawn chair and give up your place in line at Rockefeller Plaza, because Kanye West and Matt Lauer are not going to settle their differences with a bikini brawl in a plastic kiddie pool filled with baby oil after all. Kanye was supposed to perform in a Today show concert on the day after Thanksgiving, but he has pulled out after he feels the producers tried to manipulate his emotions in an interview that aired yesterday. Those plotting bitches are going to have to get their leftover turkey elsewhere.
Kanye's full BASIC BITCHES sermon is below, but in case the only nerve in your system capable of handling his root tooty fresh and foolery has already checked out for the weekend, here's his shit in a nutshell: 1) Ye feels vindicated that Today aired the footage that proves he was set up!!!!!!! 2) Ye doesn't hate Matt Lauer because he only bleeds love. 3) Ye quit the Today concert via Twitter, doesn't understand why the producers don't read every single syllable that falls out of his Tweet hole. 4) Ye is off that.

I'm not performing on the Today Show for obvious reasons. I'm so happy the world got to see just a small piece of "the set up". I blatantly said I'm not performing on a tweet and to everyone around me and the next day they still announced a performance. Do you guys see what I'm saying now... this is just a small slice of the day to day bullshit that goes on that helps to precipitate the idea that I such an asshole.... cause when I don't perform oh noooow I'm the one that's crazy or a jerk!

If I hadn't tweeted about how they set me up at the show they would have never played the extra footage that displayed how disrespectful.... I want you guys to look at that footage and start to put everything together now. It's very simple to call someone angry or spoiled or the one thousand names I've been called but it's harder to try to take a look at what's really behind the curtain.

I'm so happy that my real fans are not as "basic" as the media makes them out to be. Did you see them try to justify playing the audio under my interview. Yo sometimes you're just wrong and it ain't nothing you can say to justify it believe me I know!

Right now I'm not complaining. I'm tweeting because I'm so happy you guys got to see this shit really go down!!!!! : ))))))!!!! FINALLY!!! And I don't hate Matt Lauer... We don't promote hate. That's the whole point!!! I promote love and truth! ... we're all products or our environments ... reflections of our surroundings...

You know what ....WE OFF THAT!!!... They made a mistake... they thought they could pull it but they couldn't! That was just a small representation of a bigger media play that's been going on since the beginning of time.

All positive energy ... all smiles. Much love to Matt and the whole Today Show. I accept ya'll future apology in advance LOL!
Why did I even bother copying and pasting that mess? You probably didn't even read a word of that since you're too busy staring at that giant string of glowing anal beads dangling out of Kanye's asshole in the picture above. Kanye's anal beads WOULD glow. So fancy.
Thursday, November 11th 2010
The BABY!!!! theme continues. Kanye West pounded on the floor of his Twitter page and shook his binky at the Today show producers yesterday after he says they SET HIM UP by showing several video clips during his interview with Matt Lauer. You can read the whole overdramatic aria from a high chair here if you have no idea what I'm talking about.
On Today this morning, they showed Kanye's interview including the parts where he threw a mini tantrum over Matt asking him to look into the video face of Dubya, AND over people talking loudly off camera, AND about the producers showing the infamous VMAs clip. It gets awkwardly good at the 2:45 mark.
It's totally funny watching Kanye huff and puff under his bref. Put a bib on that bitch. It's like witnessing a mother trying to feed her 5-year-old brat a bowl of oatmeal and peaches in the morning. The 5-year-old is like, "NO! Put on cartoons first!" So the mother puts on cartoons. "NO! I don't like that cartoon!" So the mother turns off the cartoon. "NO! I don't like peaches!" So the mom takes out the peaches. "NO! Make the choo choo noise first!"
Matt's time with Kanye would've went much easier if he simply made the CHOO CHOO noise before spoon feeding a question into Gay Fish's mouth. Matt, next time you better make the choo choo noise first.
Wednesday, November 10th 2010
Guess nobody told Kanye West that the NOISE!!!! is from his MAC BOOK AIR keys wailing in pain as he punches them over and over again with his finger tips during his latest nervous breakdown via a Twatter rant. And I hope nobody tells him, because I love it when Gay Fish gets a case of violent Twitterhea.
This time, Kanye exploded over an interview with Matt Lauer he taped yesterday morning in NYC. Kanye was there to talk about his new album and of course Matt asked him about the George W. Bush thing. As Kanye tried to explain that he believes Dubya is the Shug Avery to his Miss Celie, the Today show producers played the clip of him stomping all over Taylor Swift's dream bubble at the VMAs a couple of years ago.
This twisted Gay Fish's ass lips into a bunch and he vomited out his frustrations in a melodramatic monologue that reads like it came out of the mouth of Norma Desmond as she lay on her velvet fainting couch waiting for Butler Max to bring her smelling salts. The stunt queen extraordinaire never disappoints. Take a walk towards Kanye's "tantrum corner" and read what he blurted out in a series of Tweets:

Man I'm heading to Abu Dhabi finna go to Ferrari Land YESSSS!!! ....But before I take off let me tell you how they did me at the Today show. I went up there to express how I was empathetic to Bush because I labeled him a racist and years later I got labeled as a racist. While I was trying to give the interview they started playing the "MTV" under me with audio!!!!!!! I don't mess with Matt Lauer or the Today Show ... and that's a very nice way for me to put it! HE TRIED TO FORCE MY ANSWERS. IT WAS VERY BRUTAL AND I CAME THERE WITH ONLY POSITIVE INTENT.

I feel very alone very used very tortured very forced very misunderstood very hollow very very misused. I don't trust anyone but myself! Everyone has an agenda. I don't do press anymore. I can't be everything to everybody anymore. I can't be everybody's hero and villain savior and sinner Christian and anti Christ! I can't take anymore advice!!! I create, I'm creative, I have a good heart, everyone will see and understand one day.

Everything sounds like noise!!!!!!!!!!!!!!!!!!!!!!!!! EVERYTHING SOUNDS LIKE NOISE!!!!!!! I don't trust anyone! Very judged very scrutinized very criticized! I want everyone to know I have lows all the time but I make it through them!

Yo I really wonder if Matt Lauer thought that shit was cool to play the "MTV" clip while I was speaking about Bush? He played clips of Bush and asked me to look at his face while I was trying to talk to him. I wish Michael Jackson had Twitter!!!!!! Maybe Mike could have explained how the media tried to set him up!!! It's all a fucking set up!!!! This is rock and roll life my people... you can't stop the truth you can't stop the music and I have to be strong or "they" win!!!! Sometimes it's not simple, some days it's not easy... I just want to create. I love you guys, thanks for the support!
John Harper was right. Kanye's Twitter voice is based on the life of Tracy Jordan.
Tuesday, November 9th 2010
Steven Hirsch of Vivid Entertainment tells Hollywood Life that they are toying with the idea of making a porn parody out of Kanye West and Taylor Swift's "Imma let you finish" moment at the VMAs a million years ago. Timely! Steven didn't ejaculate up any details but he did say this:

"Vivid is definitely considering the situation between Taylor and Kanye for a movie. Of course, our take would be in parody form and could heat up the relationship between the two."
This has to be fetish porn if it's between a gay fish who can't cum unless he's looking in the mirror and innocent nymph who was birthed from a lotus flower and will burst into a tornado of giggles if she stares at a real-life peen. You know the Moon Man's silver wang is somehow going to be involved. And you also know they're going to call this "Imma Let You Finish....On My Face."
Monday, November 8th 2010
Kanye West is hustling hard to sell more boxes of songs than his Girl Scouts arch rival Taylor Swift, because he recently gave a surprise 2-song concert on a Delta flight from Minneapolis to NYC. Hollywood Life says that about 30 minutes into the flight, the ears of every passenger were invaded by Gay Fish when he busted out G-rated versions of Gold Digger and The Good Life from the cockpit (wink wink). Surprisingly, Gay Fish wasn't tackled by a Federal Air Marshal (or CITIZEN'S ARRESTED by a Taylor Swift fan) and handcuffed to the toilet. And even more surprisingly, nobody on the flight put on their coat, grabbed two Heinekens, hit the emergency exit and jumped to safety. Safety being anywhere but there!
Sunday, November 7th 2010
Gay Fish did all of us wrong when he gave a gracious and thoughtful response to George W. Bush's "Bitch gave me the grodies!!!" comment and I still haven't forgiven him for this. But it seems like he's trying to earn back some much-needed fuckery points he lost.
In an interview with Mojo in the Morning (via Celebuzz), the egotesticle cuntmonster we all love peeked out a bit. When Kanye West was asked what he thinks about Taylor Swift selling a million copies of her new album in one week, he queefed all modesty away when he said this:

"I feel like when Taylor was getting all those magazine covers, she was all good then. I feel completely empathetic and sympathize with that moment of her feeling bad, that spawned her to have one million magazine covers and be the most popular artist in the world, but in that moment of her feeling bad, I do feel bad about being the cause of that."
We already know that everything Kanye touches turns to platinum (delivered with a thick coating of sarcasm glaze), but not we know that everything Kanye slaps at turns to platinum too! As always, Gay Fish is right, though (pour the leftover sarcasm glaze on that shit). And when our modern day Pollyanna is giving another "GOLLY GOSH GEE, ME?!" acceptance speech at the VMAs next year, she better thank Gay Fish for pushing a baby named SUCCESS out of his twat and giving it to her! Some FULL CIRCLE shit!
And Kanye still hasn't earned back his spot at the delusional cunts table, but we'll let him nibble at his mayonnaise sandwich from the table next to us.
Wednesday, November 3rd 2010
Gay Fish has finally swam out of his solid gold coral kingdom to address the court about his Katrina-era "George W. Bush doesn't care about black people" comment making the former president feel all grody on the inside. Kanye West didn't launch one of his signature BITCH BOGUS responses. Nope, Gay Fish let his silky panties droop as he calmly sashayed up ye high road. I prefer my Gay Fish with an extra drizzle of CRAZY CUNT BITCH on top, so I'm not exactly devouring what he's serving.
In an interview with a radio station in Houston today, Kanye had this to say about Dubya calling Gay Fish's comments one of the most disgusting moments in his entire presidency:

"I definitely can understand the way he feels, to be accused of being a racist in any way, because the same thing happened to me, where I got accused of being a racist," West replied, referring to the aftermath of his run-in with Taylor Swift last fall. For both situations, it was basically a lack of compassion that America felt in that situation. With him, it was a lack of compassion of him not rushing, him not taking the time to rush down to New Orleans. For me, it was a lack of compassion of cutting someone off in their moment. But nonetheless, I think we're all quick to pull a race card in America. And now I'm more open, and the poetic justice that I feel, to have went through the same thing that he went [through] — and now I really more connect with him on just a humanitarian level."
I even transcribed his response in all CAPS to see if it'll butt fuck me in the eyes the way Kanye's rants usually do and nothing! No bleeding. No soreness. Is Kanye actually growing out of pre-adolescence and passing his thoughts through an internal filter before they jump out of the air duct called his mouth. I mean, "connect with him on just a humanitarian level"? KANYE! I don't know who you are anymore, and because of that I don't know anything anymore. Will somebody please hug me, or at least scream into my eyes in ALL CAPS! You know, like the old days.
Here's the clip of new and not improved Kanye being all adult-like and shit:
via EW
Wednesday, November 3rd 2010
George W. Bush's memoir isn't a picture book filled with doodles and scratch 'n sniff pages. I wish. If it was I'd be the first bottom (Definition of "bottom" - My kindergarten teacher's nickname for ass cheeks. Not the other thing, you dirty fuck!) on the carpet to watch Bush show us experts from his book at Barnes & Noble. No, Bush's memoir is filled with words, a lot of them. And in his book he gives a shout out to GAY FISH! Bush says that one of my favorite moments in television history was also one of the most disgusting moments in his entire presidency. Almost as disgusting as the time Laura snuck spinach into his brownies to trick him into eating more green veggies. DAMN THAT LAURA!
In an interview with Matt Lauer airing on NBC next week, Bush explains why he wasn't laughing with the rest of us when he watched Kanye West's random punchline followed by Mike Myers' "IS THIS REAL LIFE?" face and Chris Tucker's "What in the..." bulging eyes. EW reports:

"He called me a racist," Bush tells Lauer. "And I didn't appreciate it then. I don't appreciate it now. It's one thing to say, 'I don't appreciate the way he's handled his business.' It's another thing to say, 'This man's a racist.' I resent it, it's not true."

Lauer quotes from Bush's new book: "Five years later I can barely write those words without feeling disgust." Lauer adds, "You go on: 'I faced a lot of criticism as President. I didn't like hearing people claim that I lied about Iraq's weapons of mass destruction or cut taxes to benefit the rich. But the suggestion that I was racist because of the response to Katrina represented an all-time low.'

President Bush responds: "Yeah. I still feel that way as you read those words. I felt 'em when I heard 'em, felt 'em when I wrote 'em and I felt 'em when I'm listening to 'em.

Lauer: "You say you told Laura at the time it was the worst moment of your Presidency?"

Bush: "Yes. My record was strong I felt when it came to race relations and giving people a chance. And it was a disgusting moment."
Oh, George, you're just saying that so Taylor Swift will invite you to her Thanksgiving dinner. Well played.
And I've been refreshing Kanye West's SHRINE TO GAY FISH (aka his Twitter page) to see if he's dropped any CAPS LOCK-sponsored prolific words about this and he hasn't so far. But he did type this:

I always misspell genius SMH! The irony!


about 3 hours ago via web
No comment.
Sunday, October 24th 2010
You can spend the next 35 minutes of your life doing all sorts of things. You can spend it trying to get a first-hand account of the saying "like watching paint dry." You can watch this clip of a cat eating an apple 68 and a half times in a row. You can shave your crotch bush into the shape of a Christine O'Donnell witch for Halloween. Or you can watch the 35-minute long moving Stereogram Kanye West is calling a short film titled Runaway. A short film that is best viewed with a fully stocked bong shoved down your froat.
Runaway co-stars Selita Ebanks as some kind of fallen Victoria's Secret phoenix who Gay Fish takes around and shows what his world has to offer. Examples of what Gay Fish's world has to offer: woodland creatures, a gigantic Michael Jackson head float, kids in red KKK hats and ballerinas. Basically, this is what it looks like when someone spikes the punch with liquid LSD at an Illuminati pot luck. This is also the visions Kanye sees when he busts out a self-produced orgasm.
One thing that Kanye's latest work of art taught me is to never serve a phoenix a gay turkey that looks like something out of one of Sandra Lee's Thanksgiving tablescapes. Seriously, the phoenix will freak the hell out and ruin dinner for everybody!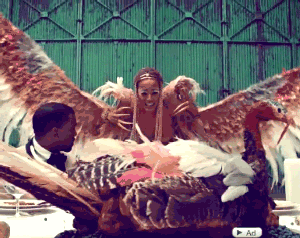 Wait. That craft project turkey totally represents Taylor Swift, right?
Friday, October 22nd 2010
I was worried that INTERNATIONAL CAPS LOCK DAY would come to a close without a parade of CAPS LOCKED fuckery led by our permanent grand marshal Kanye West, but the bitch came through! Finger kiss your CAPS LOCK key extra hard today.
And today is really not the day for you to point out to our CAPS LOCK MONARCH that pressing the CAPS LOCK key uses up more energy than not pressing it at all. Save it for international lower case day.