Beyonce
Tuesday, March 20th 2012
On the left is Gloria Carter, a woman who is letting nature happen to her face. In the middle is Beyonce, a woman who officially owns the trademark for the color blue (which is why if you're wearing blue™, you should find a lawsuit from her team of lawyers in your lap in 3..2..it's there) and a woman who looks absolutely beautiful for someone who carried a temper-pedic baby pillow for 9 WHOLE months! And on the right is the latest eliminated Mogwai from Gizmo's Drag Race. The hell kind of gremlin trickery did Mama Tina do to her face? I know your instinct is to throw water at her, but don't or she'll multiply!
Mama Tina's cheeks look like they're pregnant with two throbbing demon seeds. Mama Tina's eyebrows look like the hairy horns of Satan that were thrown on her face to terrorize us on earth. Mama Tina's whole face looks like it's possessed by the blood (aka Botox) of Jocelyn Wildenstein.
Mama Tina slithered out of her Lair of Dereon last night to join Gloria Carter, Beyonce and Basement Baby at an Obama re-election fundraiser in NYC last night. Inviting Mama Tina to a re-election fundraiser is the smartest move Michelle Obama has ever made.
As soon as Mama Tina appeared at the entrance to the party in a cloud of smoke, every bitch dropped their purse on the floor and ran for their lives! With just the lift of one brow, Mama Tina can steal your voice, poison your food and give you the feeling that her minions are snatching your children out of their beds to put them to work in the House of Dereon sweat shop. Drop all your worldly possessions and save your children!
After Basement Baby tallied up all the dropped wallets, purses, wigs, jewelry and watches she picked up off the floor, she declared that they set a new fundraising record. You're a mean (and genius) one, Mama Tina.
Saturday, March 10th 2012
The ten millionth remake of A Star is Born is turning out to be an idea as good as butt fucking a popsicle in the middle of August. It's going to have the same outcome too. Clint Eastwood has already signed on to direct and Beyonce is going to take the Judy Garland/Barbra Streisand role, and now Tommy Girl is in talks to play the has-been rock star. Yup, this is going to be a puddle of shit, sugar water and ice cold regrets.
Deadline says that Tommy and Clint have had several conversations about him taking the lead opposite Beyonce. Once the pillow baby-inflected velcro burns on Beyonce's belly heal, she'll be ready to start making Razzie history. Beyonce could be ready as soon as June, but Tommy's plate is full with two other movies. Clint has also considered Will Smith, Christian Bale, Leonardo DiCatchaHo, Russell Crowe and Eminem (???).
Tommy and Beyonce has to be the weirdest pairing since toothpaste and blowjobs. Beyonce's lacefront emotes more raw emotion on a movie screen than she does and Tommy as her lovah is just a whole new level of awkward. I bet Tommy only wants to do this shit, because he really wants Beyonce to teach him the Single Ladies dance. Tommy, it ain't worth it. Sashay away from this mess and take your black catsuit with you.
Thursday, March 1st 2012
Maybe it's because the coffee I injected directly into my eyeball veins took a detour and hasn't hit my brain yet, but that picture of Beyonce played a trick on me for a second. I thought Beyonce forgot to take off her Tempur-Pedic baby pillow and accidentally wore it underneath a fugly-print silk blouse from Cache. But nope, that's Blue Ivy Carter under there and I'm surprised she's not glowing like she's just suckled on the holy liquid of the sun, because that picture was taken just a day after Beyonce breastfed her in the middle of Sant Ambroeus Restaurant in NYC. A witness tells UsWeekly that they felt the world stop underneath their feets when Beyonce fed the chosen one in the middle of the restaurant. The roof blew off, the halo around Beyonce's nipple plate blinded everyone and lives were changed!
Yeah, this story is about as exciting as watching a spit ball dry on a bib, but here it is from UsWeekly:

Count Beyonce Knowles among the millions of mothers worldwide who are proud to breastfeed their children out in the open.

Escorted by husband Jay-Z, the "Girls (Run the World)" singer, 30, took along daughter Blue Ivy, seven weeks, for a casual lunch at Sant Ambroeus in NYC's West Village last Saturday. And Beyonce nursed her little girl at her the table, an observer tells Us Weekly. Two additional sources confirm to Us that the first-time mom has been breastfeeding her daughter.
It was very gracious and heart-giving of Beyonce to bless a dozen eyes with the spiritually maternal image of her sticking her nipple in Blue Ivy's mouth and I'm sure the La Leche League has already crowned her as the new Patron Saint of Titty Feeding, but there's something very un-Beyonce like about all of this. Beyonce breastfed B.I.C. in front of all those mere mortals?! For free?!
You'd think Beyonce would order her bodyguards to clear the restaurant and then a team of set decorators would be brought in to transform the restaurant from peon eatin' place into a breastfeeding heaven complete with a sparkling milk waterfall and a duo of back-up dancers (Michelle Williams and Kelly Rowland since they ain't got shit to do) singing "If you're hungry then you should put your mouth on it" around B.I.C. That's how B.I.C. feeds! Something in the titty leche ain't clean.
Sunday, February 26th 2012
The next time you get a case of blue balls or a blue waffle infection, prepare yourself to get a letter from Beyonce and Jay-Z's team of lawyers, because they pretty much own the color blue now. NO BLUE FOR YOU! With blue skid marks in her weave, blue polish on her nails, a blue jacket on her back and Blue Ivy Carter (or maybe that's a blue sack of blue potatoes) cocooned into blue blankets, Beyonce went to lunch at Sant Ambroeus Restaurant in NYC yesterday with Jay-Z. BLUE! BLUE! BLUE BLUE! EVERYWHERE! It's a bluesplosion! Who in blue hell does Blueonce think she is? A Crip? Somebody jump her in.
Friday, February 10th 2012
Because making your first public appearance in the pages of a magazine is so average (see: Suri in Vanity Fair), Blue Ivy Carter has graced the eyes of the masses for the first time on her own Tumblr page and she's already a genius since she scribbled this handwritten note out:

We welcome you to share in our joy. Thank you for respecting our privacy at this time in our lives.
-The Carter Family.
I think we can all exhale now that we know that Beyonce's genes won the battle. I see a whole lot of Mama Tina and even a drop of Ashanti (that's for all you pillow baby conspiracy theorists). I also see a little bit of my Salvadoran tia after she got all her hair chopped off at Supercuts, but that's a story for another day. Speaking of hair, that baby has so much of it! That baby's hair is laid like Jesus. Or she could already be fooling us all by having the best lace front in the game.
But seriously, I'm a little disappointed by these pictures of our new messiah. I mean, where's her halo halo?
Thursday, February 9th 2012
Beyonce and Jay-Z are making it clear that if anybody's going to make money off of their chosen one, it's going to be their asses. A few days after Blue Ivy Carter became the only baby born on earth (It's true. All our birth certificates are now null and void since B.I.C. is the only human that matters.), several hos tried to trademark her full name to use on a line of baby products. Those trademarks were stamped with a giant red DENIED and the trademark office said that the name already belonged to the most famous human on the planet. According to The Washington Post, Beyonce and Jay-Z are trying to stop future trademark filings by reserving the name Blue Ivy Carter for a future line of baby cosmetics (the fuck?), diaper bags, strollers and all sorts of other tacky baby shit.
One expert thinks Beyonce and Jay-Z's application will be approved right away since parents have the right to trademark the names of their underage kids. Another expert is side-eyeing all of this, because he thinks Beyonce and Jay-Z are getting special treatment since their application has been fast-tracked.
Two things: Welcome to Planet Bey-Z, second expert. Of course, Beyonce and Jay-Z are getting special treatment. The line always forms behind them and the phrase "take a number" is as foreign to them as natural sunlight is to Basement Baby. Second, I love how Beyonce and Jay-Z are really trying to act like they're just doing this to stop shady whores from making $$$ off their baby and they have no interest in putting out a line of baby product products. We all know that the shelves of Babies 'R Us will be soon covered with B.I.C. baby lace fronts and B.I.C. baby bodysuits with the words "Suri Who?" bedazzled on them.
In other Jay-Z news, if you're in the mood for an eye seizure, try to sit through Jay-Z and Kanye's video for N*ggas in Paris. WARNING: You might want to smoke a bowl of Blue Ivy Kush (no trademark) before entering strobe light fuckery hell.
Tuesday, February 7th 2012
Just a month after the reincarnation of God, Blue Ivy Carter, descended onto earth on the back of a platinum Pegasus, Beyonce stuffed herself into a Spanx cocoon last night to make her first public appearance at Jay-Z's charity concert at Carnegie Hall and the after-party at 40/40. The conspiracy theorists are straightening their tin foil wigs and screaming "DEM HIPS DO LIE!" while holding up their magnifying glasses to find concrete proof that Beyonce recycled her Tempur-Pedic baby into hip padding.
There are clearer pictures here that Dlisted's accountant (aka the receipt from the street ATM machine downstairs) tell me I can't afford and those pictures make me believe that those widened hips definitely made way for something and those titty balls are probably filled with sparkling leche (B.I.C. doesn't drink anything else). What I'm trying to say is that I'm pretty sure B.I.C. came from in there.
But wait. Do your hips still assume the birthin' position if you had a C-section? Cue up the 48 Hours Mystery theme song and hand me a piece of Reynolds Wrap. I'm not ready for a full-on tin foil hat, but I might be ready for a tin foil scrunchie.
Friday, January 27th 2012
Not to be outdone by the monument to Basement Baby made by basement mice using moth balls, shredded cardboard and stuffed animal stuffing, a company called Armdeonce Ventures (aka Mama Tina's cousins) is looking for donations to build an homage to the greatest thing that has happened to Houston since the Beer Can House.
Never mind that Syracuse already has erected a mighty Beyonce monument, why donate to such worthy causes as homelessness, hongray children, abused animals and Basement Baby's "Get Out of the Basement" fund when you can donate to a useless piece of shit cause like building a tribute to Blue Ivy's mother. Every Houstonian who doesn't have the last name Knowles is making the same face Beyonce is making in the picture above over this fucked up news.
Marcus Mitchell and Steve White of Armdeonce Ventures tell MyFox Houston that city has already approved their plans and now they're just trying to scrape up the money so they can build their Beyonce monument by the end of this year. This is what Marcus said when explaining his plans and I'm just going to go ahead and assume this ho has been sniffing a whole lot of wig glue lately.

"Our biggest thing is a lot of people get honored when they die, so our goal is to why not honor people why they're still here? We felt as though it's her time to be honored. We wanted to construct, like, a massive hall so as the doors open, if you donated to the monument, you'll have a separate nameplate. There will be clips of Beyonce with Destiny's Child and wardrobe like a mini museum. We've gotten support from the city of Houston, from the mayor. We're waiting for a very nice letter from the mayor right now."
On a positive note, Houston's Beyonce monument will be the final signal the rapture will need to eat the earth from the outside in.
If Marcus and Steve really want to honor Beyonce, they should "borrow" an obscure monument from a European country and slap her name on it. That is the ultimate tribute.
(Thanks Nikki & Jazzfish)
Thursday, January 19th 2012
Seen here getting a serious whiff of a lucky piece of his ego that escaped out of his butthole and slipped up to freedom through his legs, Jay-Z left Blue Ivy Carter at home with Beyonce (and a team of nannies, and a chef who specializes in gourmet-flavored tit leche, and a choreographer who specializes in teaching newborns how to kick with the beat, and a voice teacher who specializes in teaching newborns how to burp with vibrato, and a gold miner who specializes in sifting through the caca lumps of a chosen one to find D-class diamonds) to hold court at the grand re-opening of his club 40/40 in NYC last night.
Had I known that Jay-Z was coming outside, I would've staged a pro-bitch rally and thrown proud bitches (like my friend Jesse, my friend Dr. Jennifer, every Dlisted commenter, a couple of my neighbors and a few my relatives) at him as he walked the carpet. LONG LIVE BITCHES! But there was no need for that, because Jay-Z told reporters that he did not write the anti-bitch poem and "bitch" will still make an appearance on his tongue (insert your own Kanye's booty hole joke here).
That whole anti-bitch poem seemed suspect to me from the very beginning and I knew it had to be as fake as the smile Beyonce makes when she congratulates Michelle Williams for having the #10 single in Uzbekistan. "Bitch" has made Jay-Z a whole lot of gold bars and if there's something he respects above EVERYTHING it's MONAAAY HONEY BOO-BOO CHILD.
Here's a few pictures of all the A-listers who set 40/40 on fire with their bright shining star power last night: Jay-Z, me in drag, Ashatni, Spike Lee, the Staten Island Peg Bundy and Selita Ebanks.
Tuesday, January 17th 2012
A natural reaction to this new promo picture for Beyonce's last album is: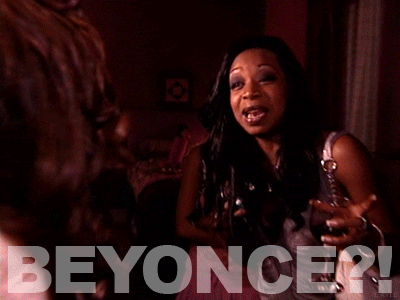 Because that looks like Beyonce as much as this pasty fat blob of depressing feelings over my stomach looks like Serena Williams' 10-pack. But some bitches aren't mad because the "Harpo, who dis woman?" Photoshop tool was abused during the making of this picture. They're mad because they say Beyonce was whitewashed AGAIN. Over three years ago, L'Oreal was accused of giving Beyonce whiteface filipinoface and now the #1 newspaper in Fuckeryville, The Daily Mail, says she might be at it again. They brought out some comments from 2008 that a writer for the Daily Mail made about how Beyonce is bad for Black and Asian girls:

"Too many black and Asian children grow up understanding the sad truth that to have dark skin is to be somehow inferior. Of course, black and Asian parents work hard to give their children a positive self-image and confidence in their appearance, despite the cultural forces stacked against them. But when black celebrities appear to deny their heritage by trying to make themselves look white, I despair for the youngsters who see those images."
But the DM also spoke to some "expert" who said that Beyonce's lighter skin color in the picture above could be from bright lights on her face and shit. To me, that's exactly what's going on here. It's just a light! Specifically, it's just Beyonce glowing inside from the illuminated seed of infinite light that Jay-Z jizzed into her. Either that or Beyonce was too busy shopping for South American baby ovens at the time of this photo shoot and so she asked my Cuban friend Armando to do his best Kylie Minogue drag for this picture.
(New York GIF via RealityTVGifs)