Award Shows
Tuesday, June 7th 2011
When I first read that the tingle in my loins Anderson Cooper was hosting the CFDA Fashion Awards, my first brain fart was that it makes sense why he checked "HELL NO NEVER NO" on the eVite I sent to the CNN general e-mail address asking him to attend my own CFDA (stands for: Come Fuck Dis Ass) event. I forgive him for that. My second thought was that it makes all the sense in the world that The Silver Fox would host the Oscars of fashion (that's what it is, right?).
Mah Boo comes from the Vanderbilt fashion dynasty AND he was a tween Ford model. Yeah, Ford, I know. We shouldn't hold that against him. It's not his fault that he didn't grow up near the esteemed Barbizon Model Academy in Anaheim, CA, the third modeling capital of Orange County (after Santa Ana and Fountain Valley, of course). Mah Boo can't help it that he only knows how to pose in front of a camera and never learned secret Barbizon tips like how to remove a suede bomber jacket while struttin' down the runway and how to keep your back to the door while leaving a casting director's office. (Fuck to me, I just gave away those secrets. There goes my right to use the "Looks Like a Model" tagline on my business card.)
Here's more of Mah Boo showing the fashion world how it's done last night. A little fact, though. That pillar behind Mah Boo was just ordinary until his butt burped and BAM! Crystallized.
I also threw in some pictures of Gerard Butler and Kanye West, because after getting burn marks on your nipples from Anderson Cooper's hotness, you'll need to treat them with douche water (provided by Kanye) and Scottish grease (provided by G. But).
Sunday, June 5th 2011
Sean Penn and ScarJo are supposed to be broken up! The Internet told us so. But here they are together at last night's Spike TV Awards in L.A. One of two things is happening. Either People Magazine was talking about the OTHER ScarJo & Sean Penn breaking up and this ScarJo & Sean Penn are still doing it. Or ScarJo is only posing with Keith Richard's nutsack so hos won't say that they threw each other shade backstage. ScarJo might be saying to herself: "UGH! ScarJo! Thanks to your poor decisions, you have to stand here with this wrinkled old testicle face like everything's good and pretty! The next time you want to suck on an over-microwaved shriveled hot dog, suck on an over-microwaved shrivel hot dog instead of Sean Penn's dick. ARGH!" ScarJo says "ARGH" and "UGH" a lot, so I'm going to say that the latter is the true story behind this picture.
Here's a few more pictures from the awards show that gave awards to bitches for absolutely no reason. Sean Penn won something. So did Keith Richards and Jennifer Aniston. Aniston was pretty excited about winning that trophy. And not because she won something, but because she finally had something to hang her Cabbage Patch Kids' winter coats on!
In order: Aniston, Sean Penn, ScarJo, the hot sisters from The Fighter, Rosie Huntington-Whatever, Eva Mendes, Justin Timberlake, Minka Kelly, Ben Affleck, Jim Carrey, Cameron Diaz, Keef Richards & Marky Mark.
Sunday, March 20th 2011
And either the excitement of winning an award fermented and bubbled over putting him in a drunk euphoric coma, or the camera caught the moment his butt finally exhaled out a fart that had been stuck in there all day. Either way, Ricky Martin is relaxed. So yeah, Ricky won a trophy at the GLAAD Media Awards last night for being GAY!, OUT! and a CELEBRITY! Ricky told reporters that declaring his love for the peen was welcomed with open arms (and other body parts). Ricky thanked his partner Carlos and then gave a shout to Mexico, Brazil, Argentina, etc... Sadly, Ricky didn't give a special thanks to his shiny red Menudo jeggings. Here's Ricky's speech:

"I just want to be free. I can say today I'm free. And for that I definitely need to thank my parents for being so supportive, my mother and my dad for their unconditional love, and my friends, my family, my fans. And my partner in crime and my boyfriend Carlos.

And GLAAD let's go to Latin America, let's share the love! Let's go to Mexico! Let's go to Columbia! Let's go to Argentina! Let's go to Chile! Let's go to Brazil! We need you GLAAD -- we need you down there, we need to spread the love in Latin America. Let's do it in Spanish. I can help, I can do it! I'll be part of it. I want to be part of it."
"Let's do it in Spanish" has just become my new favorite fuck partner pick-up line. And besides Ricky, other hos who found a trophy in their hands last night included Tina Fey and True Blood (full winners list here).
And here's some pictures! In order: Ricky Martin, Andy Cohen with warriors from the Ke$ha tribe, Tina Fey, Manila Luzon with Sahara Davenport, Drunk Ass Sandra Lee, Jane Velezzie-Mitchell with a chick who is giving me the dizzies and Rollerina.
Monday, February 28th 2011
After watching Melissa Leo's acceptance speech at the Oscars last night for the third time, it seems like she practiced it for hours beforehand in front of the bathroom mirror in her hotel suite and made her assistant shine a flashlight at her in lieu of a spotlight. When Melissa looked up at the "little people" in the balcony with the same wide-eyed look I throw when there's a 9-inch peen in front of me (in my dreams), I thought Toto was going to scamper out on stage and she'd break into an acoustic version of "Somewhere Over the Rainbow." If those kids didn't claim that song for the finale, she would've. Laying it on thick! Seriously, Melissa is like the mobile park version of Mindy Grayson.
Before snatching the walking apparatus from a fragile and precious invalid (aka Kirk Douglas), Melissa shot the fuck word at the audience. ABC hit the 'THINK OF THE CHILDREN" button and so it was bleeped out for TV, but here's the uncensored clip below:
Kathie Lee Gifford, who is forever the epitome of grace and class, couldn't believe that Melissa would spit out such filth during her big moment. To which I say, why the fuck not! a) Sometimes our internal emotions are percolating so much that the only way to get them out is through the letters F-U-C-K. b) A fuck gets more attention than a no fuck.
Melissa apologized later backstage saying that she was so overcome with emotion: "I apologize from the bottom of my heart. Just slipped out. I was a little excited."
Fun fact: That little quote is the exact same thing Kevin Spacey said after pulling down his fly in front of Jake Gyllenhaal backstage.
But Melissa should really apologize for wearing your memaw's favorite Easter doily table runner under your old Christmas wrapping.
Here's more of Melissa Leo's crazy ass as well as the other acting winners from last night (click here for the full list if you haven't already memorized it).
Monday, February 28th 2011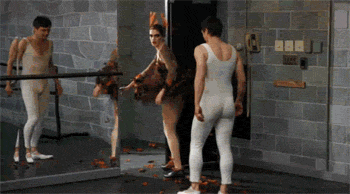 Most of us can agree that last night's Oscars made us loooooong looong loong for the days of David Letterman and his stupid dog tricks. A Golden Retriever twirling around the stage on two feet while wearing a Black Swan costume would've been a million times more entertaining than the rusty bubble of shit that Oscar farted out last night. Don't get me wrong, it had its moments including: Kirk Douglas' glorious verbal crash into a wall of WTF (get it here), James Franco's nalgas waving "goodbye to us" in the stupid Black Swan sketch (fap at the GIF above), Melissa Leo's F-bomb (more on that later) and the children of the 80s freaking out over Corey Haim getting shut out of the In Memoriam. Corey probably sent a white dove down with the message "I'm good" after he found out the greatest singuh in daaaa world would be singing "Smile" during it.
But about the hosts... Anne Hathaway is that annoying girl in drama class who takes the "invisible ball" exercise way too seriously, calls the theater teacher by their first name, chants "UN-IQUE NEW YORK" in the hallways and cries when you say that you thought Mary Poppins was dumb and boring. Anne is like Lea Michele's Glee character on Dexatrim and uppers that give you a manufactured form of peppiness. Annoying as fuck, but at least the ho tried. James Franco on the other hand....
James punched out his invisible time card about 20 minutes after the show began. I understand that James was beyond over it. But he could've freebased some of that Charlie Sheen drug backstage, jumped off the script and blurted out his own shit. James is this generation's (fill in the name of every literary legend here) so he has it in him (or not). But instead, James mumbled out whatever was written on the teleprompter while his sad eyes stayed sad. Bitch was like a junkie reading out the rules of rehab on his first day of treatment. James can't always rely on his ass cheeks to entertain. Did I just type that out loud?
Basically, what I'm trying to say is that the "Bring Back Rob Lowe & Snow White" campaign starts now.
As for James Franco's flat-chested Marilyn Monroe drag, I give it 5 out of 5 Sashay Aways.
Sunday, February 27th 2011
Here's Melissa Leo at yesterday's Independent Spirit Awards in Santa Monica dressed like a track home madam who is about to flee through the sliding back door of her DIY brothel in Palmdale after authorities received an anonymous tip that she's housing imported whores in her garage. Tell me that isn't a look that screams "You've got a $20, I've got a hand job ho for you!"
You know, I'm so sick of dumb asses declaring that Natalie Portman "is the girl to watch" at the Oscars tonight. Yeah, I've been watching the fashion moves of that Ivy League al dente noodle for months and it's about as exciting as taking the SATs with a No.2 pencil on a Saturday morning while completely sober. Bitch is fashion Ambien. But Melissa Leo on the other hand, that ho knows that the best accessory is always a giant coat of CRAZY. Melissa's look tells a damn story. Yes, that story airs on truTV several nights a week, but a story it still is! Natalie's basic ass looks like it was attacked by an exploding lemon danish. Next.
Click here to see the ISA winners if that's what you need and below is a bunch of pictures of everybody who gave pose on the grey carpet yesterday. In order: the best dressed of the night Melissa Leo, Prince Von A-Hole, Chuckie Finster with Warren Beatty, Rosario Dawson, Taye Diggs, Illeana Douglas, James Franco, Thierry Guetta, Saint Crazy's daughter, Baron Baby Wipes, Vera Farmiga, Dana Delany, Nicole Kidman, Diego Luna with Camila Sodi, Ewan McGregor about to take a pee pee, Eva Mendes, Natalie Portman, Aron Ralston, a drunk Jeremy Renner, Mark Ruffalo with a hand full of Sunrise, Zoe Saldana, Lea Thompson, Kerry Washington and Naomi Watts with Liev Schreiber.
Sunday, February 27th 2011
When I typed "raspberries" into one of the photo agency databases, this picture of the First Lady of New York, Sandra Lee, with a plate of Pissbury (Freudian slip that is staying) Cinnamon Rolls, sweetened Elmer's glue and thawed out frozen raspberries came up first. It seemed like the most fitting image to go with the winners list from this year's Razzie Awards. Because if anybody knows how to sweeten a semi-digested raspberry floating in a toilet, it's Sandra Lee!!!!
Last night in Hollywood, the most-anticipated awards show of the season took place and lo and fucking behold, The Last Airbender and Sex and the City 2 were the big winners (aka losers)! The Last Airbender, a kidney stone that was expelled by the mind of M. Night Shamalamadingdong, won 5 golden dingle trophies including Worst Picture of the Year. SATC2, a menopause rash scraped off of SJP's ass, won three awards including Worst Ensemble.
Normally, I'd whip out my shank at anybody who disrespects Mrs. Rojo Caliente, but she's not innocent in this attack on humanity. Even I can agree on that. Besides, that gold-plated trophy will look extra special next to the gleaming garden of copper wires on Rojo Caliente's head. It's a win! And here's a list of 2010's worst of the worst:

WORST PICTURE


THE LAST AIRBENDER

WORST ACTOR
Ashton Kutcher / KILLERS and VALENTINE'S DAY

WORST ACTRESS
The Four "Gal Pals" / SEX & THE CITY #2
(Sarah Jessica Parker, Kim Cattrall, Kristin Davis & Cynthia Nixon)

WORST SUPPORTING ACTRESS
Jessica Alba / THE KILLER INSIDE ME, LITTLE FOCKERS, MACHETE and VALENTINE'S DAY

WORST SUPPORTING ACTOR
Jackson Rathbone / THE LAST AIRBENDER and TWILIGHT SAGA: ECLIPSE

WORST EYE-GOUGING MIS-USE of 3-D (Special Category for 2010!)
THE LAST AIRBENDER (Released in "Fake 3-D")

WORST SCREEN COUPLE / WORST SCREEN ENSEMBLE
The Entire Cast of SEX & THE CITY #2

WORST DIRECTOR
M. Night Shyamalan / THE LAST AIRBENDER

WORST SCREENPLAY
LAST AIRBENDER Written by M. Night Shyamalan,
Based on the TV series created by Michael Dante DiMartino and Brian Konietzko

WORST PREQUEL, REMAKE, RIP-OFF or SEQUEL (Combined Category for 2010)
SEX & THE CITY #2
And now we know that the true killer inside MiserAlba is her acting skills. Spy Kids 4 starring MiserAlba is coming out soon, so it looks like she's well on her way to topping her 2010 record. I can't wait.
Congrats to all the Razzie recipients! They are the real winners in my bowels.
Monday, February 14th 2011
And I love how Martina McBride isn't even trying to move her head to help a fallen Xtina since it took a million prayers from Texas, 6 cans of pink AquaNet, a high-powered fan and a re-worked Bumpit to get her hair looking Designing Women fresh. But yeah, after Xtina's tonsils touched the spotlights above from hollerin' out a roller coaster of musical notes during the tribute to magnificent chichis, she stumbled a bit and her sourdough cheeks nearly ate floor. This comes after Xtina gave THE RAMPARTS shade at the Super Bowl last week.
IT HAPPENS. It happens when you enjoy everything an open bar has to offer and might be hallucinating from inhaling the toxic lead paint fumes wafting off your eyelashes. And it also happens when each one of your titties tries to head for opposite sides of the stage because they can't take the ringing sound in their nipple holes anymore. Clip below:
Everybody in the pit below probably felt like Indiana Jones when the boulder came rolling at his ass. Crisis averted. The real truth is, Xtina stumbled because Aretha Franklin let out a windy "PFFT" after the performance. Chichi voodoo is a real kind of magic!
Sunday, February 13th 2011
What I mean by that is Helena Bonham Carter always shows up to the opening of WHATEVER looking like a Cyndi Lauper circa 1984 who dropped the wrong kind of acid and ended up in the bad part of Oz where a gang of junked up flying monkeys fucked her up before throwing her into a tornado of rainbow dust heading back home. I mean, HBC usually resembles a mound of taffeta getting butt fucked by a period dress from the Old Globe's costume shop. But yet, she showed up to the BAFTAs in London tonight wearing an ensemble from JcPenney's funeral matron collection. Totally normal!
Pretty sure my abuelita wore the exact same dress to every single funeral she ever went to. But my abuelita was stylish enough to pair it with beige Easy Spirits, a brown veil and a huge purse lined with paper towels (aka "her buffet visitin' purse"). Maybe Helena Bonham Carter held back, because she's saving up her energy for the Oscars in a couple of weeks. That's when she's really going to throw the fuckery down the carpet and put all those bland bitches to bed. Let's hope that's what's brewing up in her head, because I cannot accept this kind of behavior from her anymore!
So yeah, the BAFTAs were tonight and below is some of the winner's list:

Best Film:

The King's Speech

Outstanding British Film: The King's Speech

Best Director: David Fincher, The Social Network

Best Foreign Language Film: The Girl with the Dragon Tattoo

Best Animated Film: Toy Story 3

Best Leading Actor: Colin Firth, The King's Speech

Best Leading Actress: Natalie Portman, Black Swan

Best Supporting Actor: The King's Speech, Geoffrey Rush

Best Supporting Actress: Helena Bonham Carter, The King's Speech
The full list with all the nominees is here. And here's a few pictures from that shit. In order: HBC with Tim Burton, Amy Adams, Sarah Harding, Thandie Newton, Emma Watson, a graceful swan woman, Nicholas Hoult, James McAvoy, Mark Ruffalo with his wife Sunrise, Rupert Grint, Noomi Rapace, J.K. Rowling, Colin Firth with his wife Livia, Tilda Swinton, Minnie Driver, Jane Goldman, Annette Bening, Eva Green, Tom Ford, Julianne Moore, Neve Campbell (making all of us feel OLD), MiserAlba (doing her best impersonation of a knocked up Natalie Portman since knocked up Natalie Portman wasn't there) and Gerard Slutler.
Tuesday, February 8th 2011
Any actress coming out with a movie this year who really wants an Oscar next year needs to pop their dream bubbles and work on another goal, because Meryl Streep's already got this. The production company behind The Iron Lady, the biopic on Margaret Thatcher, released this picture of Meryl in full on Thatcher drag. The movie, directed by Phyllida Lloyd and co-starring Jim Broadbent, is shooting in London right this second.
Meryl's crazy eyes are scaring me. Those eyes are telling me to pick up my stale bread and tin cup of river water and get out of her sight! POOF BE GONE eyes. They're perfect!
via Daily Mail