Thursday, February 17th 2011
And Now With Less Clothes
And with more foamy heaves rising up your throat. Kelsey Grammer and his child bride Kayte Walsh gave an encore performance of their air kiss of non-passion for Miami this afternoon, but they did it with more nipple. Ish. The paparazzi always seem to catch their kisses at the most bizarre and strangely enlightening moments. This one sort of looks like that part in Ghost where Demi Moore kisses ghost Patrick Swayze. Well, it would look like that if Demi Moore was a piece of hairy steak fat who wore red polka dot bikini bottoms under her trunks and loved to NOM NOM NOM the youth out of her gold digging lover. Okay, so this looks nothing like that part in Ghost.
You're going to need something strong to cleanse the film of UGH off your retinas. Let Camille be your Visine.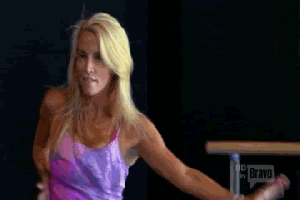 On a serious note: Kelsey Grammer, would or wouldn't? I'd have to circle "would." Well, Kelsey's allergic to prenups, most likely owns a pair of pink crotchless panties and he's Sideshow Bob!