Archives
Wednesday, July 27th 2011
But his Mom only ran into KMart for a few minutes!? - snowpiece
Runners-up:
I think they went a little overboard with the Donald Trump Roast. - Manimal5
As soon as darkness falls, Mantana will shed his speedos and pretend he's a glow stick waiting to be picked up. - Oxygen
Meanwhile, at the Jersey Shore Retirement Home:
Vern, the Silver Situation, was too embarrassed to admit he broke his hip while fist-pumping for Geriatric G-Woww, so he asked his nurse to set him up daily by the pool until he was well enough for the Smooshed Peas room. - Tiddly-Winks
via Poorly Dressed
Wednesday, July 27th 2011
Straight from the land of Phoebe Price comes the newest member of Alabama royalty: Ms. Alabama Nursing Home 2011! Yes, there's such a thing as Ms. Alabama Nursing Home and 100-year-old Felma Schrimshire beat out over 70 fellow beauties for the crown (which is made of Benefiber crystals and can be dissolved in a glass of lukewarm water).
The judges chose Felma over all the other poised and primped memaws because she visits every single one of the residents at her nursing home each week to give them an "encouraging word" and because she can make a brat walk away from a second serving of sheet cake by throwing him a "....the hell do you think you're doing" face.
Felma's duty as Ms. Alabama Nursing Home will be to grace other nursing homes in the state with her royal goodness and to wave at hos in various parades.
Personally, I think Ms. Alabama Nursing Home's duties should be not doing shit. She earned it. Send Felma's runners-up out to do her duties while she nibbles on the butterscotch pudding packs they didn't have time to eat for lunch because they had to go out and do her duties! Oh, well. I'm sure Felma will do a wonderful job while not giving a fuck. All hail our new Ms. 'Bama Nursing Home!
Wednesday, July 27th 2011
Jonathan Rhys-Meyers (34)
Cheyenne Kimball (21)
Nick Hogan (21)
Alex Rodriguez (36)
Pete Yorn (37)
Maya Rudolph (39)
Nikolaj Coster-Waldau Picture (41)
Triple H (42)
Maria Grazia Cucinotta (43)
Julian McMahon (43)
Juliana Hatfield (44)
Bill Engvall (54)
Carol Leifer (55)
Yahoo Serious (58)
Maureen McGovern (62)
Peggy Fleming (63)
Jerry Van Dyke (80)
Norman Lear (89)
Tuesday, July 26th 2011
Crystal Harris continued on her Failed Gold Digging Whore Tour today by talking with Howard Stern about the first time she ever humped the bone dust out of Hugh Hefner's grave worm dick. It was pretty much the kind of romantic shit you'd expect between a 24-year-old lazy gold digger and an 85-year-old grandwhore. Crystal got to bypass Hef's usually conveyer belt line of blonde sluts and go straight to the front for a two-second long ride that made her pussy frown. Crystal spoke the language of true romance when she put it like this to Howard:

"[It lasted] like, two seconds. Then I was just over it. I was like, 'Ahh.' I was over it. I just, like, walked away. I'm not turned on by Hef. Sorry. He doesn't really take off his clothes. I've never seen Hef naked."
Sugar Pie better stick her little paw out, because Anna Nicole Smith is about to shed one single tear from heaven over this hurtful shit. Anna Nicole would've never behaved like that. That bum bitch Crystal Harris is a shame to all gold diggers. Yes, the thought of riding on Hef would make most coochies stiffen up like they've got rigor mortis, but you slap it loose and handle it.
You picture Hef's wrinkly flesh stick as his checking account and you picture your vag as your checking account. With every thrust you make, you picture a "transfer transmitting" bar. Don't hit back, just keep thrusting. Make that transfer, bitch! Seriously, that's how a real gold digger does it. I swear. If I was related to Crystal, I'd erase her name from our family tree on Ancestry.com. A shame.
via UsWeekly
Tuesday, July 26th 2011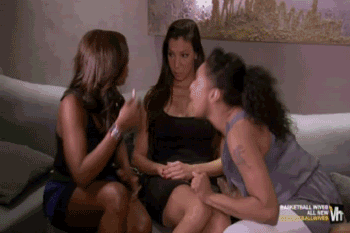 Tami "It Wasn't Not Funny" Roman strikes again. On last night's Basketball Wives, Meeka and Tami both crawled into the ring at a club in Rome to battle it out after the former talked shit about the latter to Slow Suzie (the trick in the middle). Anybody who has seen 10 seconds of Tami in all her reality show glory should know not to turn your eyes away from her during a fight or she will give you a surprise in the form of a palm to the damn face. BITCH GOT PALMED! Tami patty caked Meeka right in the face and let that bitch's nostrils know whether or not she washed her hands after wiping her ass. Tami stop in the name of love-ed that bitch!
Even Suzie, who is always operating on a 10-second delay, closed her eyes real quick and prayed that she also wouldn't be stumbling back to the hotel with Tami's palm print on her face. It's a good thing that greasy ass Meeka's face pores naturally secrete Vaseline or else she would've had Tami's palm print on her face. Meeka's face is always prepared for a brawl.
If you need to see the violent face palm felt around Rome in action, here you go:
What would Bethasaurus say about this mess?
Tuesday, July 26th 2011
This celebrity couple is pregnant, but both parties aren't happy about it.
She is all about the family. She loves children and would happily have whole gaggle of kids. But he is just not that into being a husband and father, and was looking for a way out of the marriage. In fact, he already had one foot out the door. Why? Because an ex of his is going to be back on the market soon, and he was excited about giving that relationship another shot. But with another bun now in the oven, he knows he would look like a total jerk if he left his wife within the next year.
Expect the baby announcement to be made within the next three weeks. And expect him to pretend he's happy about it. After all, his many talents do include acting. (Blind Gossip)
Jennifer Garner, Ben Affleck and JLo? If it is their asses, we should silently gives thanks to that unborn Affleck baby for keeping us from suffering through the second coming of Bennifer 1.0, because their joint interviews are the stuff barf is made of. Thanks for taking one for the team, baby.
When this D List actor dad from a popular, mostly 90′s show couldn't cut the line on the Indiana Jones ride at Disneyland, he shoved the kid attendant and told him to "Fuck off!" He then yelled at the crowd, "What are you looking at? Don't act like you people are anything like me. I've done things. Don't fucking look at me!" He stormed out of the ride even though the staff did their best to console him and were polite. Most people stood in shock, but the crowd actually applauded as he left. (BuzzFoto)
Bob Saget was the name my brain first burped up after reading this shit since he was forced to say G-rated words for so long that nowadays all he does is say fuckofffuckofffuckoff on a loop. Dude has a lot of fucks to off since he couldn't say those words for most of the 90s. But I'm going to guess Alfonso Ribeiro, because it's been way too long since I've typed the name Alfonso Ribeiro.
Jennifer Lopez and Marc Anthony are not the only celebrity couple who have been able to keep their breakup on the DL. This other dual-celebrity couple has also called it quits after several years of marriage. The husband and wife are each very successful in their chosen professions, though she tends to sample other creative outlets. Both are award nominees/winners, but she is the much more high-profile of the two. The breakup happened several months ago, but they are stalling the public announcement until later this year while the finances and custody arrangements are being worked out. We expect that it will be a very intelligent and civilized divorce (Blind Gossip)

SJP

&

Matthew Broderick

or

Fishsticks Paltrow

&

Chris Martin

? If it's the latter, we should've this coming for two reasons: a) Two cunts only work in a lesbian relationship and b) When Fishy talked about how she would rather smoke crack than eat canned cheese, she was obviously making fun of Chris' dick cheese.
This D list actress has not been in anything in forever. Oh, she still has close to A list recognition which is remarkable considering how little she has done in years. It is that child star thing. It sticks with you. Anyway, her boyfriend was overheard commenting the other night that he only stays with her because she is rich, gives great head and has the best supply of coke anywhere in North America. (CDAN)

That's my

Kimmy Gibler

!
Tuesday, July 26th 2011
You know the recession is an international issue when a wax museum in Paris takes the black glasses off of a Colonel Sanders wax statue and calls it a Brad Pitt wax statue - The Superficial
Aubrey O'Day is just queefing BlackBerries now - Hollywood Tuna
Prince Pierced Peen doth protests a lot - Lainey Gossip
Bitch busts into a bush (not a still from a LiLo/SamRo sex tape) - MiserAlba's unborn baby must be set to: elephant - Popoholic
"I wish I had tits like yours" - Cameron Diaz to A-Rod - Popsugar
The holy child army already owns every single toy ever made in the history of toys, so I'm guessing they're just doubling up now - Just Jared
Dear Katie Price, UGGs in costume as Moon Boots are still UGGs. Now burn them, bitch. - (site NSFW) - Drunken Stepfather
Blake Lively takes a break from playing Leonardo DiCaprio's pretend piece to play some other role - Popoholic
The world according to New York - Cityrag
Breaking News: Katherine Heeeeeeeeeiigggl is an annoying bitch - Celebitchy
Kristin Calamari bites the paps that feed her 15-minutes - Hollywood Rag
One of Kirstie Alley's tits is trying to jump into that tacky ass bag and the other is trying to float off toward Xenu - ICYDK
Ben Affleck's wig spat out a baby that crawled onto Jason Alexander's head - SOW
And I'm going to need to know the name of Lauryn Hill's latest baby friend - I'm Not Obsessed
Colin Firth's southern accent sounds like Matthew McConaughey trying to do a Brit doing a southerner - The Berry
Poke at me when the sequel to Britons in Walmarts called Britons in Costco comes out - The Daily What
Your afternoon isn't complete until your eyes have had a cup of Jason Fleming's soft serve dick, so here you go (NSFW) - OMG Blog
Precious from Silence of the Lambs feels left out - Videogum
Tuesday, July 26th 2011
It's German tradition for the schoolchildren of the village to gather together in the middle of the summer to skip down to the local well where they tie a Sharpie to the top of it and hum the melody of "Maria Magdalena" while patiently waiting for a bronzed unicorn to twirl up in a cloud of shooting star dust. As the children throw heidelbeeres soaked in hummingbird juice at the bronzed unicorn, he gives birth to dozens of rainbow-colored uterus sacks and passes them out to the young. Yeah, in America, parents take their kids to Big Lots for school supplies, and in Germany, parents take their kids to the local well. That is the full explanation for these priceless pictures of former Hot Slut of the Week and the most beautiful creature in Germany Harald Glööckler in Berlin the other day.
Before Harald was shot from the earth's core to the surface, the schoolchildren were told to not stare directly at the delicate ebony arches over his onyx ball eyes or his brows would wrap around their soul and leave them stunned. Obviously, this ginge didn't follow that rule:
Don't worry, they shaved the ginge's hair, threw it in a pot full of spider blood and mixed it into a rouge until Harald's star hole (no dirt there, thankyouverymuch) started to whistle like a hot kettle. Then they dabbed a little on Harald's cheeks, and just as he started to smile the spell broke and the ginge woke up. The end. And don't expect me to get into how Harald's lips stay so glossy.
Tuesday, July 26th 2011
These pictures of Kim Kardashian at LAX with marks on her legs are from last week and most figured that the lacquered shell that covers her body was starting to chip and she just needed to be wheeled into the mannequin factory for a touch-up. But nope. Those marks were a preview for the July 24th episode of Krapping Up the Kardashians where Kim breaks down on the set of a commercial and confesses that she has psoriasis. How many takes do you think it took for Kim to try to say "psoriasis" before the crew said fuckit and asked Khloe to do it in post-production? Kim then went on to wah wah wah about how it's so hard being perfect.

"People don't understand the pressure on me to look perfect. When I gain a pound it's in the headlines. Imagine what the tabloids would do to me if they saw all these spots!

I have to wear a sports bra and I have this rash all over my stomach. What will the producers say? In a photoshoot they can just photo-shop it out but this is on video. They can't hide this."
"Kim Kardashian looks perfect," said absolutely fucking no one.
"Imagine what the tabloids would do to me if they saw all these spots!" Bitch, they'd publish those pictures which is exactly what you sold your soul to Lucifer for. Why is Kim really acting like she doesn't use her "imperfections" to extend her time on the prime corner of the ho stroll? This is the ho who is on the cover of a tabloid every other week shouting: "I HAVE CELLULITE. SO WHAT?" So that's why I'm a little surprised that Kim didn't use her disease to get a "This is my psoriasis bikini body!" cover of Life & Style that should've out the same day as that KUWTK episode. Kris Jenner is slipping.
Tuesday, July 26th 2011
26-year-old Aimee Rachlin (aka Dumb Bitch #1) of Huntington, New York was arrested on Friday for leaving her baby in a giant unlocked oven while she shopped for 15 minutes inside of an air conditioned K-Mart. The cops were called, because everybody knows you don't leave a baby baking in a car. You chain their ankle to the rim and give them an ice cube! Well, Aimee didn't do this, so she was taken in for child endangerment.
News reporter Christine Insinga (aka Dumb Bitch #2) was sent to the baby broiler's mother's house, where she's currently living, and knocked on the door. Christine was greeted by an unknown woman (aka Dumb Bitch #3) who said "hello" by giving her a face full of tap water and then turning the hose on her when she refused to leave.
IN THIS HEAT (which is the IN THIS ECONOMY of summer 2011), bitch is bringing the stupid in heavy doses by wasting that water. Where was this bitch with a tub full of water when that overheated baby in the parking lot needed her most?! And if Aimee wore this mask, the police would've just let her go. Stupid ho should've known this. Dumb bitches, all of them.
via Asylum (Thanks Mox)