Archives
Saturday, July 16th 2011
Mila Kunis said the word I long to hear when I propose marriage to my Anderson Cooper paper doll after Sgt. Scott Moore got on YouTube to ask her to be his date to the Marine Corp Ball in North Carolina in November. But then Access Hollywood's Billy Bush, the Howdy Doody wooden puppet that was brought to life by the blue fairy, said that it wasn't going to happen because Mila's schedule won't allow it. During a press conference for No Friends with Attached Benefits (or whatever the hell that shit is called), Mila said Billy is lying and that she will go to the ball with Sgt. Scott in November.
Mila's co-star Justin Timberlake also verbally RSVP'd to the invitation from Corporal Kelsey De Santis to go to the Marine Corp Ball with her in DC. Corporal Kelsey took a page out of Sgt. Scott's book by asking Justin to her ball in November. Justin awkwardly said he'd go if his schedule allows it.
So basically, two of the stars of Friends with Benefits are going to a Marine Corp Ball in November, which is probably around the same time that shit comes out on DVD. An unplanned publicity stunt that Uncle Sam can and will salute to. Don't bother any of the producers of Friends with Benefits this weekend, because they'll be too busy jacking it over this.
But what I want to know is, out of all the Friends with Benefits cast members why did Sgt. Scott and Corporal Kelsey go with Justin and Mila? Patricia Clarkson is in that shit! Patricia Clarkson! Why didn't she get any invites? Fuck to the hell. Unlike Mila and Justin, Patricia will dry freak on the dance floor and let everyone do a bald eagle teardrop shot out of her naval. In the wise of Vivian from Pretty Woman: BIG MISTAKE! HUGE!
And in case you haven't seen it, here's Corporal Kelsey's invitation to Justin.
via HuffPo
Saturday, July 16th 2011
Kris Jenner got her face cut off, lifted and stitched last month just so she can look fresh for her main hooker's wedding on August 20th and she showed off the results while shopping at her store with a camera crew and Lara Spencer yesterday. Kris Jenner before looked like if Joyce DeWitt's mug shot got stuck to the front of Larry from Three's Company head, and she still looks like that but with a facelift and a winking nostril.
Seriously, this is why getting a facelift freaks me out. You go in with normal face and you come out with frozen face and a wonky nostril. Nose looking like it's doing an impersonation of Parasite Hilton and shit. That's not the look. Kris Jenner looked fine before. Instead of getting her face lifted, she should've gotten her brain lifted out of her ass.
Saturday, July 16th 2011
Elin Nordegren thought it was weird that her new billionaire boyfriend's crotch smells like salmon jerky, Ambien and whore. And now she knows why. Elin is currently dating businessman Jamie Dingman who used to live with Tiger Woods' main mistress Rachel Uchitel in Miami. Nothing says "true love" like licking the stank of your ex-husband's ex-side piece off of your new boyfriend's peen.
Rachel tells TMZ that she screwed on Jamie for a while, but left him to become the full-time head of Tiger's harem. Rachel says that Jamie wasn't too upset about it and even joked that he'll just date Elin. Now his joke has become real-life.
Just because Jamie's sexed on Rachel in the past doesn't mean that Elin shouldn't marry him, divorce him and then throw the bag full of half his fortune in the vault where she keeps the gold bars she got from Tiger. If all of used that dating logic, we'd have no one to fuck! Because Rachel's cuchi not only tells all, but it's been on all too.
Saturday, July 16th 2011
In a move that even Alison the Slycic's e-cig could've predicted, The Real Housewives of Beverly Hills' Taylor Armstrong has dropped divorce papers in the lap of her cunt-hearted creeper husband Russell Armstrong after 6 years of marriage. Russell is going broke and it's obvious to everyone that Taylor only married him for his cash, so she's doing what every gold digger should do when her shovel comes up empty: bitch is packing up her pool noodle lips and getting out of there.
Out of fear that the gallons of collagen in her lips will burn off from all the quivering it does while she cries about how empty her husband's checking account is, Taylor Lipstrong tells People that she has decided to leave his ass for good.

"It was a difficult decision but I have decided to file for divorce from Russell. Although we have tried our best to work out our differences, I have come to the conclusion that it is in the best interest of our family that we separate. Together we are the proud parents of a sweet and wonderful little girl and she remains my number one priority. I am sad for my marriage to come to an end, but am confident that this is the right choice for all involved."
Taylor is a superficial, puppy-hating, annoying gnat that looks like she just crawled out of a vat of acid in Gotham City, but Russell is just ugh. I don't know how she boned that shit. Russell probably prints out a really complex Excel spreadsheet, tapes it to the headboard and licks it as he does Taylor missionary style. I just... No. But at least, Taylor will soon be free to marry her real love: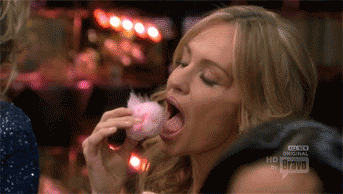 COTTON CANDY!
Saturday, July 16th 2011
The wedding of the year month week day hour took place on a "secret tropical island" (how fucking "Lost" of them) yesterday when the dude with the pork filled empanada titties from 98 Degrees married Vanessa Manilafolders in front of 35 friends and a TLC camera crew. Actually, I think this was the second wedding of the hour, because I'm sure somebody married somebody in a Piggly Wiggly parking lot in the south and that is definitely more interesting. Anyway, the former Mr. Jessica Simpson Nick Lachey said "I dooooooo cherish yoooooooooo" to Vanessa and they blurted out this statement to People just seconds after their extremely private secret wedding:

"For us, this is just a stepping stone to do what we ultimately want and that's to start a family together."
The extremely private secret wedding will air on the not-so-secret and not-so-private cable channel TLC on July 30th. Their wedding special will air directly after a fart fetish episode of Strange Sex since a bowel movement usually follows a fart.
And across the ocean, Jessica Simpson's mouth married an Entenmann's crumb cake as her dumb dumb fiance used her credit card to order a dozen Roombas off of HSN for his foolproof business venture: ROOMBA DERBY! Yeah, you're laughing now....
Saturday, July 16th 2011
Dee Gruenig, the Samantha Jones of arts + crafts since she has a craftgrasm, spongegasm and every other kind of gasm when she starts crafting. Dee (or "Calm Down Dee" as I'm sure most of her friends call her) is a huge bright shining star in the rubber stamp world, but after watching this video I have a feeling that she really spooges for sponges! When Dee isn't begging people going into Michael's to please please please pick up some sponges for her (since Michael's permanently banned her after that infamous "sponge orgy in aisle 6" incident of 2009), you can find homegirl freaking the hell out over rainbow sponges in her craft room. If you need SpongeBob, he'll be in his bunk...with this video.
THE VIRGIN EDGE! OHMYGOSH THE WIGGLES! GASP! THREE SIZES! THE SQUEEZING! PURE SPONGES! YES! ZIG ZAGS! AAAAAAH! IT IS SO HARD TO STOP! If Dee's voice was about 3 octaves higher and there was the sound of the bathroom faucet running in the background (so nobody could hear my ass), that's what my 11-year-old self sounded like when I discovered pillow masturbation for the first time.
Spongeing really is that serious. Dee should add a drop of spermicide to her paints so she doesn't pop out a litter of spongebabies in 9 months. Other than that, get your sponge on, Dee!
via Reddit (Thanks to Michael, Cary and DB for sending this in)
Saturday, July 16th 2011
Phoebe Cates (48)
Mark Indelicato (17)
AnnaLynne McCord (24)
Jesse Jane (31)
Jayma Mays (32)
Jenna Lewis (34)
Chris Pontius (37)
Corey Feldman (40)
Rain Pryor (42)
Barry Sanders (43)
Will Ferrell (44)
Michael Flatley (53)
Tony Kushner (55)
Ruben Blades (63)