Archives
Monday, June 6th 2011
On the left is Lady GaGa at the CFDA Awards in NYC tonight, and on the right is the legendary Ms. Swan easily winning this pose-off without even trying. In the wise words of Ms. Swan: "He look-a like-a man."
If the Carver Killer from Nip/Tuck dressed in costume as Melanie Griffith from Something Wild using one a discarded wig found in Nicki Minaj's back dumpster, he might look like this mess. It took me a few blinks and a couple times saying "Harpo, who dis woman?" to even realize this was the CaCa one herself and not some Asian trick in Cosplay drag. It's like invisible monster hands are pinching her nose and pulling her eyes. Bitch's face does not look like her own.
With all that being said, ho gets a couple of points for an impeccable eyebrow situation that even I can't ignore. It takes several gallons of Clorox and melted down Sharpies to create eyebrows that make a cholita throw up her hands and thank los santos. To a chola, Sharpie brows on a CaCa are like Jesus' face on a piece of toast.
Monday, June 6th 2011
The magical musician who created the musical notes that made the THEME SONG OF OUR LIVES passed away and floated up to heaven where he will hum "Thank You For Being A Friend" while Bea Arthur, Estelle Getty, Rue McClanahan and Jesus (in a Betty White wig) reenact the opening credits of Golden Girls for the angels. People reports that Andrew Gold, who wrote "Thank You For Being A Friend," died in his sleep from a heart attack on Friday at the age of 59.
Andrew also wrote "Lonely Boy," "I Only Have Eyes For You" and "Do Wah Diddy." Andrew is survived by his wife and three children.
Rest in peace, Andrew. Thank you for creating the masterpiece song that I can sing word for word even when I'm lying upside down over a bed with a 230lb dude sitting on my stomach after drinking a full bottle of Sour Apple Schnapps (don't ask). And also thank you for creating the perfect masterpiece song for Blanche to strut her ass to.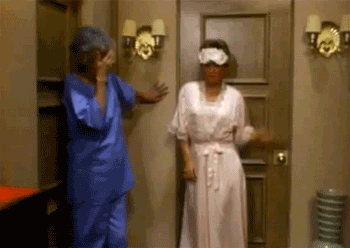 Monday, June 6th 2011
Let me start off by saying that for being exposed to the elements on planet earth for the past 50 years, Dennis Rodman is looking good. Now, we can wipe away that coat of sugar and get to the real shit. Whoever shook their head vertically when Dennis asked if he looked hot should be put on Rodman neck scrubbing duty for the next 10 weeks, because it's wrong to lie to a bitch even on their birthday. A negligee from Joyce Leslie, workout pants and a rejected blouse from the Austin Powers costume closet cannot co-exist on the same body without the word "FUG" coming to mind at first sight. Dennis looks like he got dressed in the inside of a Salvation Army donation bin. How dreadful.
Dennis is trying to sell this look hard by posing with that cigar like he's first runner-up in the Miss Clinton Intern 1996 pageant, but I cannot raise my pedal for this. Pink daisy pasties, pink plastic diaper panties and lucite mary janes paired with that negligee would've made him look like the ruff 'n tumble queen he truly is.
Monday, June 6th 2011
It all makes sense now. When I blacked out yesterday afternoon for a few minutes, it wasn't because I used NyQuil as a mixer. It was because somebody finally heard my prayers and put me in the body of the lucky bitch beast who got a giant serving of YES on its back at some polo match. This is some Freaky Friday shit!
The shock of Prince Hot Ginge's fiery crotch scepter and orbs dry fucking my spine must've erased my memory of this, but this picture is proof that I switched bodies with his horse for a quick second. Because if Prince Hot Ginge was about to smack me in the nalgas while riding me hard, this is the EXACT look I'd make. My eyes would scream "Dear Orgasm, it's me Michael, I'm coming for you!" My nostrils would flare up to the size of my no-no! And I'd definitely bite hard on an imaginary pillow. Yup, that was me.
It also explains why I woke up with straw shit all over my floor and naked Trace Cyrus pictures on my monitor.
Monday, June 6th 2011
It's sort of fitting that Anna Wintour's head is positioned right over Sienna Miller's crotch, because I've always pictured Sienna's vagina as a snarling boil with soul-nibbling eyes who growls at anything that doesn't resemble a stick. No, that dude Sienna Miller is throwing "please pet me" eyes at is not Teen Wolf's dad. It's Sienna's current boyfriend Tom Sturridge who sat with her in Anna Wintour's box (yes, I see what I did there) at the French Open in Paris yesterday.
Where the hell is an extra-strength detangler and an iron brush when you really need them, because this picture is where Scraggly goes when it needs to find itself. They all look like they call Riff Raff their leader. A mess.
And how is Sienna going to go from Jude Law to a dude who uses Rogaine as a face moisturizer? From one extreme to the next. Well, I guess I'd have hearts in my eyes too for a dude who could exfoliate my taint while he licks on my genitals.
Monday, June 6th 2011
And here's another leaked picture of Anthony Weiner. If he continued to deny and said this picture was actually a topless Demi Moore in another one of her bathroom pics, I'd probably believe him. And yes, I'd hit it in a tub of NADS - Towleroad
And Weiner admits the weiner was his - Gawker

Peter Pan and Tinkerbell's secret love child poses with the Ghost Of What Could've Been Lindsay Lohan's Future - Lainey Gossip
JLo Meester at the Spike TV Awards - The Superficial
If there was such a thing at Etsy's Angels, Liv Tyler would be the main one (site NSFW) - Drunken Stepfather
Cameron Diaz is still licking on A-Rod's roid scars - Celebitchy
Ryan Gosling wears leather better than a dyke on a bike - Just Jared
Speaking of dykes on bikes... - Popsugar
Heather Graham's got legs - Hollywood Tuna
If Freddy Krueger built a playground - The Daily What
Bjork is back! - OMG Blog
Candice Swanepoel as you've always seen her - Popoholic
Pardon me while I sit on this picture - I'm Not Obsessed
Marlee Matlin's interpreter is not amused by Lady Caca's latest stunt - The Berry
And you know Sarah Palin herself was like, "DAMN! I look hot there!" - ICYDK
If there's a bitch you can always count on to dress like it's 2001, it's Tara Reid! - Hollywood Rag
My vote is for the name of Katie Couric's new talk show goes to: Couricoscopy- Videogum
SANS FARDS Monday - Cityrag
Monday, June 6th 2011
Today and today only, memaws will give their "NOT THE ONE" title to this unarmed hotel lobby destroyer who wants his shit. My favorite part is when homegirl in the black apron strolls by and wonders if she should cover the counter with banana peels before deciding that she doesn't get paid enough to deal with this mess.
(Thanks Tiffany)
Monday, June 6th 2011
Cheryl Cole was in, then she was out, then she was in and now she's officially out of X-Factor USA. All this talk of Cheryl Cole being in and out is forcing images of her licking animal sauce on a Double Double into my head and I do not appreciate it. But thankfully, our national predicament that you gave zero fucks about is over!!!!
Fox released a statement to TVLine today confirming that Cheryl Cole's American dreams have been crushed by Simon Cowell's titty and the swap meet Apollonia is taking her place at the judge's table.

"Nicole Scherzinger will be replacing Cheryl Cole on the judging panel of The X Factor. Nicole will join Simon Cowell, L.A. Reid and Paula Abdul on their search across America to find the next global superstar or group to win the life-changing $5 million dollar recording deal. Nicole has previously joined Simon Cowell as a guest judge on The X Factor for the UK version of the show in 2010. Steve Jones will act as sole host of The X Factor."
Now that the fate of Cheryl Cole has been sealed for good, we can go back to focusing on more important news stories that are relevant to all of our interests. Like the mystery of twin babies sneezing at the same time:
Monday, June 6th 2011
That thing, that thing, that thiiii-eeee-iiiiing Lauryn Hill keeps doing is called getting knocked the hell up. Lauryn Hill's uterus just checked in a sixth visitor and she announced it at her show in Detroit on Saturday. While most of Lauryn's fans want her to birth out a new album, she said that she's sliding away from music for a while so that she can devote all her time to training her own version of the Jackson 5 called the Marley 6.

"I'm going to be taking time off to give birth. I keep having these children. I don't know if I'm the most fertile woman in America."
Lauryn and her dude Rohan Marley have a 13-year-old son (Zion), a 12-year-old daughter (Selah), a 9-year-old son (Joshua(, a 7-year-old son (John) and a 2-year-old daughter (Sarah). Lauryn isn't hollerin' in a recording studio, because she's too busy hollerin' on a baby making bed. I'm not mad at Lauryn, but I wish I could say the same thing about her uterus. If you put your ear up to Lauryn's body, you'd probably hear her uterus singing out, "She's killing me softly with his cum...."
via Radar
Monday, June 6th 2011
If that isn't a "This Barney Rubble looking motherfucker better not be telling my new piece about the time he walked on in me breastfeeding Beanie Babies", then I don't know what is.
At an MTV Movie Awards after-party at SoHo House last night, Jennifer Aniston found herself in the middle of her current fuck piece (Justin Theroux) and her former fuck piece (Jason Sudeikis). Jennifer usually reserves her side swept shank eyes for when she gets a response to her eHarmony profile from a man who loves long photo-op walks on the beach and knitting dog boleros (the work of Maddox, obviously), so this is totally some rare shit. But sadly, I don't think Jason Sudeikis realized he was on the receiving end of an Aniston side-eye. Jason was too busy wondering why Charles Manson is out of prison and if Anastasia does his eyebrows.