Archives
Friday, March 25th 2011
Let's recap. Sarah Lane, an ABT soloist who was one of two ballet doubles for Natalie Portman in Black Swan, already said that she did most of the twirling and leaping in the movie, but the producers wanted everyone to believe that it was Natalie so they told her to keep her lips shut. Sarah didn't. Benjamin Millepied, the movie's choreographer and half of the reason why Natalie's got a womb full of baby, retaliated by saying that his fiancee worked her toes off to move like a real dancer and that 85% of it was her.
Well, Sarah Lane is back and is hitting back at Benjamin with a giant NOPE. Sarah tells Entertainment Weekly that Benjamin needs to look at his abacus again and recalculate some shit, because Natalie did about 5% of her own dancing. THE PLOT THINS! Sarah went on:

"The shots that are just her face with arms, those shots are definitely Natalie. But that doesn't show the actual dancing. They wanted to create this idea in people's minds that Natalie was some kind of prodigy or so gifted in dance and really worked so hard to make herself a ballerina in a year and a half for the movie, basically because of the Oscar. It is demeaning to the profession and not just to me. I've been doing this for 22 years…. Can you become a concert pianist in a year and a half, even if you're a movie star?

I mean, from a professional dancer's standpoint, she doesn't look like a professional ballet dancer at all and she can't dance in pointe shoes. And she can't move her body; she's very stiff. I do give her a lot of credit because in a year and a half she lost a lot of weight and she really tried to go method and get into a dancers head and really feel like a ballet dancer."
Benjamin answered back with: 85%
Sarah: 5%
Benjamin: 85%
Sarah: 5%
Benjamin: 85%
Sarah: Okay.
Benjamin: Yay.
Sarah: JK.
Benjamin: Damn. ......80%?
Are we really getting into the percentage game?! Sarah wants credit and Benjamin isn't going to give it to her. Or something. This is about as confusing as the damn movie. (SPOILER ALERT) When are we going to get to the part where when one of them stabs the other with broken glass and shoves 'em in a closet? Let's fast forward X10 to that part already. Actually, let's not. Instead let's go back and watch Winona Ryder say "Did you suck his cock? on a loop: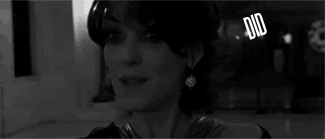 Now this is a game I like!
(GIF via Artistic Bitches)
Friday, March 25th 2011
In today's "assholes who need to sit on a dildo stool made of Valium while sucking off a bong" news, Vince Neil ruined a Hal Sparks show at the Las Vegas Hilton last night when he stormed in and started barking at his ex-girlfriend for whatever reason. Maybe he was pissed at her for wearing his favorite purple sweater without asking. Who knows, but things turned Ike Turner-ey when Vince allegedly got psychical with his ex-girlfriend and one of her friends. Hotel security called the police.
TMZ reports that Vince wasn't arrested (above is his "librarian lady" glamour shot from a DUI arrest last month), but his ex-girlfriend did file a battery report.
And here's another one who needs to sit down and chill the hell out. Can the government please just gather up Vince, Chris Brown, Michael Lohan, Mel Gibson and Charlie Sheen? Throw them into a RAGE plant where they can scream and punch at each other all they want. We can use their rage energy to power our plug-in vibrators, troll lamps, electric menorahs and everything else. Those assholes can use their rage for good for a change. RAGE POWER: it's the new thing! Al Gore needs to get on this!
Friday, March 25th 2011
If you're an unemployed man who wears shorts outside of the tennis court and doesn't lift a hand when a lady takes off her coat, Tom Ford is sneering at you. Tom Ford looks like a well-groomed badger sniffing on a magnolia blossom when he sneers, but don't mistake it as a good thing. Tom Ford is covering you with judgement. Tom tells AnOther magazine what he thinks are 5 tips for today's refined gentleman:

1. You should put on the best version of yourself when you go out in the world because that is a show of respect to the other people around you.

2. A gentleman today has to work. People who do not work are so boring and are usually bored. You have to be passionate, you have to be engaged and you have to be contributing to the world.

3. Manners are very important and actually knowing when things are appropriate. I always open doors for women, I carry their coat, I make sure that they're walking on the inside of the street. Stand up when people arrive at and leave the dinner table.

4. Don't be pretentious or racist or sexist or judge people by their background.

5. A man should never wear shorts in the city. Flip-flops and shorts in the city are never appropriate. Shorts should only be worn on the tennis court or on the beach.
It's a good thing I only surround myself with drunk hos who don't wear coats, because they're always leaving them in coat check or the bathroom of a McDonald's. It's also a good thing I only wear Culottes and shoelace gladiator sandals when I'm in the city. I'm alright by Tom Ford. Yay.
The real truth is, though, #4 cancels most of these out. So stuff your shit into your shortest shorty shorts and twirl your lady friend on the OUTSIDE of the street. All bets are off!
Friday, March 25th 2011
It's "Born This Way" country-fied! But when is Lady Caca going to finally release the Braille version? - Just Jared
Donald Sutherland is not a porn star, okay? - Lainey Gossip
My guess is Bruce Jenner - Boston Barstool Sports
Ashley Greene is making up for lost peen - The Superficial
Just here for the Papa John's - Hollywood Tuna
That's the Wino we all know and love (site NSFW) - Drunken Stepfather
The perils of being a shirtless unicorn charmer - Towleroad
And Sean Penn ordered the veal with a side of public handjob - Celebitchy
Vanessa Hudgens has a cold head and overheated ankles - Popoholic
As Jennifer Aniston's blind date left the restaurant, Maddox emerged from a potted plant and handed him a $20 - ICYDK
What in the name of road kill is that on Kingston's head? - Popsugar
SHEEP DOG! Oh shit. Maybe that's what's on Kingston's head - TDW
Fat Beauty Queen wins her crown back - Jezebel
LAZIES - The Berry
Where the hell are we? - Cityrag
Insert Caesar salad jokes here - I'm Not Obsessed
Katie Price's piece of the moment looks like the last place loser of a Ricky Martin lookalike contest - Hollywood Rag

Friday, March 25th 2011
See how they prune. See how they prune.
You know, they say that the The Metropolitan Opera House is haunted by the booming voices that have scraped along its walls over the years (I have no damn idea if they say that). Well, those haunting voices scattered like crabs after a Hilton queef when the Olsens came floating through the front door last night.
Both of their looks confuse me. From some angles, they both look like E.T. coming home from a Botox party at an after-hours drag club. And from other angles, they look like tiny mice fetus lining up for a Joan Crawford costume contest. Whatever look it is they're going for, it's scaring the shit out of me.
Now I know what visions La Bruja saw on the car ride to NYC.
It's a fact that Death Eaters and Hutts don't get along.
Friday, March 25th 2011
And here's the reboot of Latarian Milton's "I Like To Do Bad Things" adventures starring 10-year-old Zilan Fitch of Woodlands, TX. When Zilan's mom, Christi Sanders, punished him on Wednesday morning, he did what any self-respecting bad little shit would do: he jumped in her SUV and drove away. Christie immediately got in her other car and chased after Speed Zilan through the streets of their neighborhood. Proving that he's a better driver than most, Zilan stayed in his lane and even used his signal before turning.
Christie called the police and they want after Zilan too, but their asses couldn't keep up. Even after another car hit Zilan from behind, he put the bitch to the metal and kept driving as though he could see Mexico ahead and Thelma was screaming "DRIVE! DRIVE! DRIVE!" into his little ears. The chase eventually ended when Zilan pulled into a doughnut shop parking lot. The cops arrested his little ass and took him down to juvie. Zilan was released and charged with unauthorized use of a motor vehicle.
When the local news asked Zilan what he learned from this, he answered, "Sitting in jail, we had to sleep on a metal bed."
That's it?! Zilan could've crashed into that store and murdered dozens of doughnuts and that's all he has to say?! He might as well have said, "I don't give a fudge." (Zilan will lose his sleeveless jersey wearing privileges for a whole week if he says the F word). It's official. The 2011 reincarnation of Latarian Milton has been born. We know what happens next. Hide your CHICKEN WINGS!
via MSNBC (Thanks Stacy)
Friday, March 25th 2011
It's the season of the bouncing ass publicists! Charlie Sheen's was first and now Page Six is saying that Chris Brown's publicist, Tammy Brook, has turned in her Nerd Power membership card. Was it because Tammy was sick of her BlackBerry burning up due to requests from scientists wanting to study the gamma radiation that flows through Chris' veins? Or was it because the Hulk Urkel blames her for the questions Robin Roberts asked him on Good Morning America? Tammy says its neither. Being the good publicist that she is, Tammy says to stop being so dramatic, because it's not like that. In a statement to TMZ, Tammy says that her work is done now that Chris' album is out.

"I am an entertainment/music publicist and was hired as a publicist, as they often are, to work specifically on his music publicity for the term up to the release of Chris Brown's F.A.M.E. album, which was released on Tuesday March 22 and is entering the Billboard and iTunes charts at number 1 this week."

I love and support Chris and it has been an honor to be a part of this album and I look forward to the possibility of working with him again in the future."
And then she added, "AAAAAAAH! Don't throw that chair! I'm going! I'm going! I promise! Let me grab my bag!"
But seriously, now that the role of Chris Brown's official shit picker-upper needs filling, I'm going to nominate the perfect replacement. MOM BREEZY, of course! This can be her first statement to the press on Chris' behalf:
Team Breezy movement? Err. I think I just made one of those, which is a signal that I'm about to do a "HUGE" thing. That's why my dog got out from under my chair and headed for cleaner air.
And here's some pictures of Chris with his girlfriend Karrueche Tran at Richmond International Airport today. Notice the giant knot on her head. Looks like Karrueche beat Chris to the punch, so to speak.

Friday, March 25th 2011
Q: What kind of charred heart devil person would turn down a terminally ill child?
A: Darth Vadar, Cruella de Vil, an Illuminati social worker and....INA GARTEN!
TMZ reports that the Make-A-Wish Foundation asked the Barefoot Contessa if she would grant the wish of a 6-year-old cancer patient by cooking him a meal. Ina waved her hand, blurted out "TOO BUSY!!!" and continued to pour vodka lemonade cocktails for her gay husbands at her Hamptons mansion. 6-year-old Enzo, who was diagnosed with Acute Lymphoblastic Leukemia three years ago, asked Make-A-Wish if they would help him meet Ina Garten. Enzo regularly watches her show on the Food Network with his mother.
When Ina's people told the foundation that she was too busy with her book tour to visit with Enzo, he said that he'd wait until her schedule cleared up. This was last year. M-A-W approached Ina again this year, but she once again said no before cackling into her cauldron full of the broken dreams of sick children. "You a cold ass bitch" - Freddy Krueger
Ina's rep, Satan, tells TMZ that she can't always grant wishes because of her schedule: "Despite her demanding schedule, [Ina] participates and helps as many organizations as she can throughout the year, helping children and adults like Enzo with life threatening and compromising illnesses. "
One of Enzo's relatives said that he doesn't understand why Ina won't meet him. M-A-W played nice with Ina by saying that she's a good friend of the foundation and sometimes wishes don't work out. Cinderella's fairy godmother just passed the fuck out. Bibbidi-bobbidi-boo-bitch-bye.
Enzo's back-up wish, swimming with dolphins, will be granted. In other news, the Food Network has announced that on the next episode of the Baresoul Cuntessa, Ina will show us how to make roasted dolphin and a sauce made from childrens' tears.
Friday, March 25th 2011
One of my fantasies is to be in a documentary version of "Honey, I Shrunk the Kids" called "Honey, I Shrunk the Gay" just so I can be miniaturized. Then I can crawl up White Oprah's black hole nostril, crawl over her whiskey snot balls, stumble through the cocaine tundra in her nose canal and make my way up to her brain, because you know it's a fantastical world of nonsense in there. I'd waltz with fried brain cells, take a dip in the Adderall powder pool and marvel at the WTF images projected in the Jack Daniels Theater. The HUH? shit this crazy comes up with.....
Take this mess for instance, White Oprah echoed her "Lindsay is a one name WONDER" thought to Popeater and goes on to say that her innocent child really is going to drop the Lohan from her name completely. And the American Crackhead Comedy Award goes to.....

"Lindsay is dropping the Lohan and just going by Lindsay. Plus, me and Ali will be officially changing our last names back to my maiden name, Sullivan."
A "family friend" dipped a few more gems into fuckery's gas stank by saying, "So many of the greatest people in showbiz are known by just their first name. Look at Oprah and Beyonce. Now you can add Lindsay to that list. And it's a way for them all to start over. No one in the family want anything to do with Lindsay's father anymore and that includes sharing a last name."
Maybe she can legally change her name to Prisoner No. 666-BITCHPLEASE or HAHA since that's what she'll be addressed as in a couple of months.
But really, what is wrong with them?! The Lohans (who will FOREVER be Lohans) live in a fart bubble that must filter out any mention of Lindsay Wagner or Lindsay Price. Because those Lindsays are way more famous. You can take the Lohan out of the Lohan, but you can't take the DELUSION out of the Lohan.
Friday, March 25th 2011
When Madge adopted LawdHaveMercy (or whatever her name is) from Malawi, she promised to put her celebrity, money and charitable heart into helping the young girls of Africa by building a fancy school for them ala Oprah. The Kabbahalalalalh Center signed on as a partner, Philippe van den Bossche (the boyfriend of Madge's trainer Tracy Anderson) was named as executive director and they even shooed away the locals who lived on the ground where the school was supposed to be built. Well, those locals are exhaling out a giant karmalized "UH HUH," because the school is not going to happen today, tomorrow or ever.
The New York Times reports that the executives of Raising Malawi fucked away $3.8 million of the charity's money. The foundation is now as broke as Baby Jesus' peen after wrassling with Madge's strong man crotch.
Philippe and the other executives used the money to pay for their salaries, cars, golf course memberships and housing for the school's director. Officials say that Philippe quit that bitch last October and the Kabbalah Center also jumped from that sinking ship. The board of the foundation has since been replaced by Madge and her manager. The higher-ups in Malawi are putting the blame on Madge, because they say she was unable to raise the $15 million needed to build the school. Madge put $11 million of her own money into the project.
Even though the school isn't going to happen, Madge is still trying to save her foundation by asking Global Philanthropy Group to help. The founder of GPG told the NYT that he advised Madge to cancel plans for the school completely and instead use their cash to further fund education programs that are already in place. Dude went on to slap the foundation's previous management team:

"Despite $3.8 million having been spent by the previous management team, the project has not broken ground, there was no title to the land and there was, over all, a startling lack of accountability on the part of the management team in Malawi and the management team in the United States. We have yet to determine exactly what happened to all of that $3.8 million. We have not accounted for all the funds that were used."
Madge refused to go into detail about this mess, but said that Raising Malawi will go on even though she's "frustrated that our education work has not moved forward in a faster way."
A MESS! Why didn't Madge put Gary Glass from Desperately Seeking Susan in charge? He would've never let this happen. So no school means no Like a Virgin Kegel exercise class and no Material Girl economics class. Sad. And that Philippe demon better spend time with his ass cheeks while he still has them. Sometime in the near future, Madge is going to slither under his bedroom door, paralyze him with her crotch thrusts and then snap at her cronies to chew his nalgas off. Philippe will be reminded of his betrayal every time he sees Madge on TV stroking at his ass cheeks on her face. She'll throw him a special "I'm coming for your taint next" wink.