Archives
Sunday, October 2nd 2011
Self-proclaimed fashion icon Kanye West debuted his first womenswear collection in Paris yesterday and you can see that busted-fit mess here or you can go down to the Daffy's changing room and go through the pile of "DO NOT WANT" clothes since that's pretty much what his shit looks like. But the bigger mess was sitting in Gay Fish's front row. It was some Halloween come early shit!
There were the Trollsens looking like the inbred secret twins of Wednesday Addams and Cousin Itt, Terry Richardson looking like the scariest monster of all Terry Richardson, Jared Leto looking like a young Suzanne Pleshette as a lesbian gallery owner (basically, he looked hotter than ever) and Ciara who was only there because Kanye thinks she's one of the Kardashians. And then there was Lindsay Lohan and Lindsay Lohan's weeping willow tits and Lindsay Lohan's wonky nipples......
THOSE TEEFS! They look ashier than a zombie's dusty b-hole. I just want to take a Swiffer duster to them and then moisturize them with some damn Lubriderm. THAT SKIN! It's like somebody sanded off the fifteen layers of fake tanner with sandpaper, left it out in the rain overnight, whitewashed it and then sanded it some more. Skin should not look like a Shabby Chic dresser. THAT DRESS! I swear, LiLo trolled through some cemetery in Paris, dug up the grave of some ho who died in the 1800s and then ripped the rags right off of their bones.
But the good news is that if LiLo needs a job for October (which the bitch does), she can get one dancing with the other ghosts in the downstairs ballroom of the Haunted Mansion ride at Disneyland.
Sunday, October 2nd 2011
Stop me if you've heard this shit before.... Mitch Hurtwiz told the audience at The New Yorker Festival today that not only will there be an Arrested Development movie, but it's also coming back to TV for a short season. TVLine says that Mitch told everyone that the plan is to do 10 new episodes and each episode will focus on one Bluth and what they've been doing during the past 5 years. Right after that mini season airs, the movie will come out. Will Arnett said this was true on Twitter and Jason Bateman said they're all hoping to shoot everything next summer for a release in 2013. You know...
That's what that Mitch bitch said the last time. Mitch always tells you he's about to cum and you get all excited, but then he just gets up, struts to the bathroom, turns on the cold water and sticks his peen under the faucet. Then just as your parts go cold, he comes back, humps on you harder and promises you that he's really going to cum this time and it's going to be even bigger than the last load he said he was going to cum out. You're biting at the air in anticipation, but then his ass rolls off of you and goes back to the bathroom. The only thing Mitch has given all of us is blue balls! I'll believe it when my Tivo is sucking up new episodes. So because of this, my initial reaction to this news is this:
Instead of this: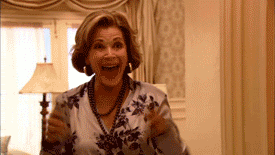 Sunday, October 2nd 2011
Around five months ago the wondrous acid bubble that is Japan popped Russell Brand's dreams of running through their Hello Kitty Kingdom by refusing to let him step one pointy-toed foot into their country and now Canada is also declaring that they're a Russell Brand-less nation. Katy Perry's husband tried to get into Bieberland yesterday to perform at Casino Rama in Rama, Ontario, but the mounties at the border stopped him and told him to get the fuck ooot. Russell Tweeted this out before he was shoved back into the US by the fist of Canada!

HELP! I'm gonna be late for Casino Rama show unless someone can force Canadian customs officials to let us land in Orillia!
How do you manipulate customs officials? Wasn't Hitler's father a customs officer? I'm pretty sure he was.
Let me in! I must perform at Casino Rama, Orillia tonight at 9 for 5000 Canadians!
Tonight's Casino Rama show postponed. I'm sorry. I can't enter Canada. We must abolish the borders between our nations AND our minds.
Russell didn't Twat out why Canada wouldn't let him up into their legs, but The Daily Mess says it could have something to do with his criminal record. But by the looks of that picture of Russell at the border, Canada probably refused his ass because they know that you can't trust a dude who looks like an Al Qaeda TV weatherman.

UPDATE: It was a stupid ass prank (read: cry for fucking attention because he's a fame whoring fart). Russell never left California, because of issues with his private plane. Canada should still keep his ass out for being a first-class douche twat of the highest order.
Sunday, October 2nd 2011
After 28 years together and hundreds of nights of Gene Simmons coming home with his tongue covered in the crotch sludge of one of his side pieces, he and Shannon Tweed have gotten themselves married. In a ceremony at the Beverly Hills Hotel that was probably more awkward than their interview on Joy Behar, Gene promised to love and to cherish Shannon in sickness and in health until death do them part or until she finally snaps by pulling an Elin Nordegren when her man whore husband gives her crabs again.
The most tragic thing in the world besides a groupie slut willing to wrap her ass tunnel around Gene's tongue is a 54-year-old Shannon Tweed getting crabs the "non fun" way. People has all the details you care about (you don't care about these details) Gene and Shannon's late-in-life wedding:

Tweed, 54, walked down the aisle in an ivory Priscilla of Boston gown – one of three dresses she chose for the big occasion – and carried a bouquet of ivory garden roses.

The couple exchanged vows they wrote themselves in front of 400 guests including Hugh Hefner, Bill Maher and his fellow KISS members (Paul Stanley was in the wedding party). The wedding will appear in the new season of Gene Simmons Family Jewels on Oct. 18.

Also in attendance were the couple's two children Nick, 22, and Sophie, 19, who was the maid of honor.
From watching a few episodes of Family Jewels (which I ONLY watch because Nick Simmons does things to me) I've learned that Shannon and Gene's relationship is not as sturdy solid as the King Tut headdress of gorilla fur around Gene's face. But maybe Gene's just playing the role of a "geezer skank asshole who only cares about where his next piece of coochie is coming from" for maximum dramatic effect. Whatever the case may be, I hope this marriage lasts for eternity. And by "eternity" I mean until their reality show needs a ratings pick-me up in the form of a very special divorce episode.
Sunday, October 2nd 2011
Andy Rooney's enchanting and extraordinary magical cloud puff eyebrows that have been tickling my retinas since the beginning of my time.
It's the end of an era today, because Andy Rooney's night nurse will wheel him off of 60 Minutes front porch for the final time and next Sunday you'll close your eyes in your sleeping bed while feeling a little bit more empty inside, because you didn't get a dose of his signature old coot whine before the Amazing Race. Literally thousands of years after his inaugural rant about that shady queen Methuselah, Pepaw Rooney's bitch and moan finale (his 1097th) will air on 60 minutes tonight.
No more fresh commentary from the Statler and Waldorf swirl in a Sears Roebuck suit about how Cornflakes are no longer 15 cents a box and how them whippersnappers today need to listen to more Ella Fitzgerald instead of that Lady Bieber feller. We won't get anymore insightful investigations about how many peanuts are in a can of mixed nuts. But more importantly, our TV screens are saying goodbye to one of the most iconic eyebrow situations in the world!!!!!!
Andy Rooney's brows are this world's forebrows and if it wasn't for those double bushels of cat whiskers over his eyes, none of us would have eyebrows! Andy's got the Adam & Eve of brows! George Washington's ponytail was modeled after Andy's luscious brows and some say that God used Andy's eyebrows as inspiration when he was creating the clouds in the sky. Andy's angel wing brows are history!
When Andy is in your face, verbally snarling at you because he says you blink too loud, you can't be mad at him when the white hair tentacles on his face are poking at your cheeks.
So farewell, Andy, I will miss your pointless grouchy rants that are the verbal equivalent of an oldie loudly unwrapping a piece of hard candy in the middle of a theater during the quietest part of a movie, but mostly I'll miss your brows. May heaven be a place where all of us have patches of unicorn pubes over our eyes like Andy does.
Sunday, October 2nd 2011
Sting (60)
Camilla Belle (25)
The Obama Girl (29)
Ayumi Hamasaki (33)
Mandisa (35)
Efren Ramirez (38)
Lene of Aqua (38)
Tiffany (40)
Kelly Ripa (41)
Maribel Verdú (41)
Gillian Welch (44)
Philip Oakey (56)
Lorraine Braco (57)
Annie Leibovitz (62)
Donna Karan (63)
Avery Brooks (63)
Don Mclean (66)
Rex Reed (73)