Archives
Saturday, January 8th 2011
The stupid Kardashian Kard was a dumb idea to begin with. Who in the hell wants to pay for their shit with that krap kard? It's the quickest way of telling those around you, "Look! I'm an asshole!" Even my "pig in a tutu" personal checks aren't as embarrassing as the Kardashian Kard (I think).
Even if the Kardashian Kard gave you 80% off of butt lub, a discount to Fatburger and purchase points to buy a Flip camera that you could use to shoot your own sex tape, it still wouldn't be worth it. But instead of giving out rewards, the Kardashian Kard TOOK! TOOK! TOOK!
The prepaid card cost $99.95 to own for the first year and $7.95 per month after that. Users had to pay $1 to $6 to load money onto the card and make ATM withdrawals. Because of this, the Connecticut Attorney General threw a side-eye at the card and accused it of charging "predatory fees." After the piss storm (and not the kind Kim is into) fell on the Kardashians, they terminated their contract with the debit card company. Naturally, the debit card company is suing them for $75 million for breach of contract. The Fresno Bee has the details:

Revenue Resource Group LLC says it lost millions of dollars after the sisters -- facing a firestorm of bad publicity over the card -- pulled out of the deal.

"It's our only choice," said Nancy Torosian, chief operating officer for the card company. "We have been severely financially impacted."

The lawsuit alleges the sisters improperly terminated a two-year contract to promote the Kardashian Kard, a MasterCard-approved prepaid debit card. The deal had called for the sisters to advertise the card on their websites and through social media. They also were supposed to appear at events on behalf of the company.
Many would feel a warm sense of satisfaction tinkle onto their hearts if the KKKs were stripped of the Spanx off their backs, but it doesn't need to go there. They can work this out. Kim should just buy thousands of Kardashian Kards, which she can melt down in a crock pot and inject into her lips. A win/win!
Saturday, January 8th 2011
An Open Post is definitely needed tonight and so is a video of a puppy being a puppy and sort of sounding like a lazy parrot. Although, I don't think a puppy can even unsad the sad today.
via Cute Overload
Saturday, January 8th 2011
Ted Williams was homeless only a week ago and now he's filling the ears of the country with his "velvet waltzing with silk" voice on a Kraft Mac & Cheese ad that's going to air during their Fight Hunger Bowl tomorrow. This is only the beginning for Golden Voice and it won't be long before he's the voice of EVERYTHING. Hopefully that everything includes: Ke$ha albums and the audio book for Snooki's novel.
Click here for the making of Ted's commercial debut.
Saturday, January 8th 2011
You've already mastered Rachael Ray's Le Cordon Bleu-worthy recipe for microwaved bacon and now here's your next challenge: Paula Deen's canned peas in a pot recipe! Once Sandra Lee's recipe for Easy Mac hits Food Network's site, we'll have ourselves a full fucking meal!
The Land O' Lakes Indian Maiden's adoptive mother, Paula Deen, is going to change your culinary life with her innovative recipe for English Peas.....which is more like Spears Peas (or Cyrus Peas). There's a good chance it's much too complicated for your ass to conquer. If that's the case, just melt the butter and serve it in a plastic tub. Or you know, you can just throw a half stick of butter on the table and let everyone scratch each other's eyes out for a piece. That's how the Deen family does it, I'm sure. And really, only half a stick of butter? That must be a typo. Paula clearly meant half a carton of butter.
Just like with Rachael Ray's complex bacon recipe that will win her a James Beard Award this year, the comments in Paula's recipe are the best ingredient! Examples:

You need to be clearer in your recipes. I melted the butter with a small amount of pot (about two joints' worth in the microwave then added the peas. Since I only cooked until the peas were warm the marijuana was still basically raw. The stems made it really unpleasant.

Perhaps in the future you could substitute "saucepan" for "pot". It's confusing. - rudyrucksack

This was outstanding! I did make a couple modifications. I eliminated the butter, and in place of the peas I substituted one can of Chef Boyardee spaghetti and meatballs. - paschabloomington

Whoa, whoa, whoa Paula. This is really complicated for me. Now...A half stick of butter? See, this is why I'l never be as good of a cook as you. As I was cutting the butter I had no idea that my friend was using the Necronomicon in the other room. As I did I unleashed an old God into that stick of butter. I morphed into a terrible butter demon of 1,000 horrors. Thinking quickly I used it's only weakness against it...a heated butter knife. I sliced at the creature and it screams echoed like the wail of millions of banshee's. - number17
Sandra Lee, it's time to step up to the hot plate and show these bitches how lazy is really done.
Saturday, January 8th 2011
By popular demand, here's Heidi, the cross-eyed possum who has taken The Hoff's place as Germany's sweetheart! Now we know what happened to Kate Gosselin's ole' possum head!
People all over the world have fallen in love with Heidi and her confused cross-eyes that look like you while watching an episode of Strange Love, or you trying to read the tattoo on your piece's pubic bone while licking on his peen (you're a reader....and a multitasker). What's not to love about Heidi?!
Officials at the zoo where Heidi reigns say her eyes are most likely crossed due to massive amounts of fat deposits behind her eyes, which was caused by eating bad shit as a baby. Heidi's cross-eyes aren't painful at all, but she will permanently look like STAINS staring at a dollop of cupcake frosting on his nose. That isn't a bad thing. Here's a semi-creepy song and video dedicated to Heidi and her real-life googly bubble sticker eyes:
via The Awl
Saturday, January 8th 2011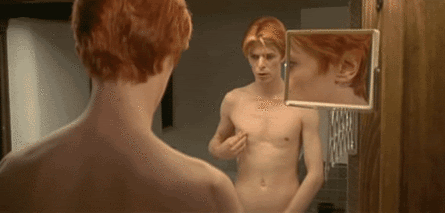 David Bowie (64)
Zahara Jolie-Pitt (6)
Noah Cyrus (11)
Gaby Hoffmann (29)
Rachel Nichols (31)
Sarah Polley (32)
Amber Benson (34)
Jenny Lewis (35)
Sean Paul (38)
Jason Giambi (40)
R. Kelly (44)
Michelle Forbes (46)
Wolfgang Puck (62)
Stephen Hawking (69)
Carolina Herrera (72)
Shirley Bassey (74)
(Image via Pichaus)