Archives
Wednesday, December 29th 2010
Danny McBride (34)
Jessica Andrews (27)
Alison Brie (27)
Diego Luna (31)
La Toya London (32)
Katherine Moennig (33)
Mekhi Phifer (36)
Jude Law (38)
Leonor Varela (38)
Jennifer Ehle (41)
Evan Seinfeld (43)
Andy Wachowski (45)
Paula Poundstone (51)
Patricia Clarkson (51)
Yvonne Elliman (59)
Ted Danson (63)
Marianne Faithfull (64)
Jon Voight (72)
Mary Tyler Moore (74)
Inga Swenson (78)
Tuesday, December 28th 2010
The hell? This is not the week for cold bitches who feel a shiver shoot into the satchels of ash in their chests whenever they read about an in-love couple secreting pink hearts out of their pores after getting engaged. Seriously, everyone in Hollywood has gone from putting cock rings on their fuck partners to putting engagement rings on 'em. It's an engagement epidemic! And with New Year's Eve coming, it's going to get worse. Gross. Where are you when we really need you, 2012?!
Anyway, add Reese Witherspoon to the list, because she's engaged to her agent boyfriend of almost a year Jim Toth. UsWeekly has the details:

She and Hollywood agent Jim Toth are engaged, her rep confirms exclusively to UsMagazine.com. "They are extremely happy," the rep tells Us.

The Oscar-winning actress, 34, began dating Toth, 40, around January 2010, shortly after her split from Jake Gyllenhaal. The duo went public with their romance in March during a romantic birthday weekend in Ojai, Calif.

Toth works as an agent at L.A.'s Creative Artists Agency; Witherspoon is a CAA client, but Toth doesn't represent her.
Meanwhile, Taylor Swift got on one knee and slipped a red candy ring on Jakey's finger while they played Cinderella in her playroom. Of course Jakey was Cinderella, because Taylor can't do the "innocent maiden eye flutter" as good as he can.
Tuesday, December 28th 2010
LeAnn Rimes Tweeted the above denial after HollyBaby ran a story claiming that she's got a womb full of baby. Some source said that LeAnn's permanently sunset eyes rose a bit when a pregnancy test she just peed on came up positive. But before Tweeting about how she's going to spend the rest of her holiday guzzling on tequila in Mexico, LeAnn denied that a tiny little Falcorling will flutter out of her vagina soon.
I know LeAnn and Eddie's tongues usually smell like they've just tossed a bull's salad, but I believe her this time. If LeAnn was with child, she'd find a way to shove a Blackberry down her vagina canal and into the hands of her fetus so it could Twitter non-stop about how wonderful and blessed it feels to be inside of her. She's already trained Eddie to do that, so she'd definitely teach her unborn baby too. So yeah, no squint baby today.
Here's LeAnn pulling a "Oh, let me casually put my hitchin' hand on Eddie's shoulder in front of the paparazzi so it can get a clear shot of my gigantic engagement ring" at LAX today. Bitch should just put a picture of her ring on a billboard already.
Tuesday, December 28th 2010
The Sun got their hands on a bunch of Amy Wino's old notebooks circa 2001 found in a pile of trash on the streets of North London. You know, the former Crackie of Camden regularly lounged in a pile of trash on the streets of North London herself, so the notebooks were probably just trying to find their way back to their owner. But instead, they found their way into The Sun's offices who published pieces from that mess. In the notebooks, Wino wrote a few song lyrics, talked about a boy named Felix and listed all the things she's going to do when she gets a record deal. Well, Wino pretty much accomplished almost everything on her to do list except for the "get a gym membership" part. But who needs a gym membership when you've got crack.
I love the "Live like the bombshell I really am" shit. That should be everyone's life goal. And through most of 2008 and 2009, Wino looked like she just crawled out of a nuclear bomb zone, so that counts, right?
Tuesday, December 28th 2010
This married celebrity female chef who has been in this spot before, also spent some one on one time with this football player who was Nick Lachey's man crush and may have slept with Paris Hilton too. I think he did, but I am too lazy to look it up. (CDAN)

All signs point to

Giada De Laurentiis

and

Matt Leinart

, so I'll register them as my official guess. Or we can just let our imaginations go full fuckery by saying that Paula Deen is rubbing sticks of butter all over Brett Favre's cocktail salchicha.
This film actress has a Public Boyfriend and a Private Boyfriend. Public Boyfriend was set up by their publicists. The two are obligated to participate in multiple photo ops together every month. Even though Public Boyfriend is more famous than our actress, she's talking smack behind his back about how boring and pathetic she finds his work, how much she's helping his career and reputation, and how she can't wait for their contract to end.
Whenever she's not with Public Boyfriend, she flies straight into the arms of Private Boyfriend. She's not very subtle about it either. She is regularly seen out drinking and partying and playing beer pong with Private Boyfriend until the wee hours of the morning. She claims they are just working buddies, but we don't think working buddies regularly spend the night together in the same hotel room. (Blind Gossip)
Ashley Greene and Joe Jonas? And of course working buddies spend the night together in the exact same hotel room and in the exact same bed. It's called IN THIS ECONOMY! Ashley can use that one.
This actor just barely out of his teens, recently confessed to a friend that he did something he regrets terribly when he was younger. Several years ago he claims he was allegedly part of hazing a group of younger guys, and the hazing went too far. He didn't say exactly what they did, only that the boys were naked and humiliated. The boys who were the victims never pressed charges, but to this day the young actor feels guilty about it. It might not seem that salacious, but in the show this star acted in, he played a child getting bullied. (BuzzFoto)
Naked and humiliated? Was this torture game called "Seven Minutes In Hell With John Travolta?" And I don't have one clue who this could be.
Tuesday, December 28th 2010
Zahara throwing a "Bitch DON'T EVEN" side-eye at a little boy who has no idea what's about to come his way - Lainey Gossip
Professional bikini wearer Bar Refaeli even wears a bikini during her off hours. She's so dedicated! - The Superficial
Victoria Silvstedt is so maternal - Hollywood Tuna
Screw RiRi in a bikini, the hot bitch behind her is the real star in more ways than one (site NSFW) - Drunken Stepfather
R.I.P. Ford Explorer of Brooklyn Heights - TDW
Blah blah blah blah Kirstie Alley blah blah blah - The Berry
Glee's Kurt is going to get some peen on Valentine's Day - Towleroad
RiRi is singular again - Celebitchy
The loneliest and most miserable Christmas Eve ever - Popsugar
This is a "Want" I can get behind - Popoholic
Stephanie Seymour is in a bikini - Hollywood Rag
And so is George Clooney's leased piece - I'm Not Obsessed
Unfortunately, Chris Hemsworth isn't in a bikini, but he did get married to Tacky Pataky - Just Jared
Lily Allen is gonna get married - ICYDK
Dolphins can't get enough of themselves - OMG Blog
Klingon head galore - Cityrag
(Image via Fame Pictures)
Tuesday, December 28th 2010
Patty Hearst's daughter Lydia is all set to play a spoiled movie actress who fills her nostrils with the bad shit and has been in rehab about as many times as she's drunkenly crashed into parked cars in a film called Dogs in Pocketbooks. The description of Lydia's character is pretty much what the foreword on Lindsay Lohan's psychiatric file reads like, so every bitch with a brain cell figures that shit is based on her. Well, when anybody tries to mess with the pristine Lohan name, White Oprah pulls her head out of the truck stop bathroom toilet and immediately calls her lawyers. Bitch did it with Glee, and now she's doing it with this mess. White Oprah fired this statement off to TMZ:

"The new movie is definitely based on Lindsay's likeness. We have a very strong case. Anyone bringing negativity will be dealt with accordingly."
White Oprah's lawyer Stephanie Ovadia adds that the movie is using LiLo's likeness without paying up.
Many of us say that White Oprah has the mothering skills of a guppy, but this proves that she does have a maternal bone in the dehydrated mound of ground up hyena meat she calls her body. I mean, White Oprah probably read the words "coked up mess of a dumb slut" and immediately spewed out dollar sign-shaped tears before shouting, "That's my baby!" See, a mother always knows her child.
Tuesday, December 28th 2010
If you told me you had a video featuring a hot piece with a bubble butt, four Real Dolls and a whole lot of hard pole, this is not what I would envision in the gutters in my head, but this is even better. And you know what gets a close second? The stunned and frozen WTF faces plastered all over the audience. Somebody book the One-Man Village People for the Super Bowl 2011 half-time show!!!!!
via Joe.My.God.
Tuesday, December 28th 2010
You would think that by marrying a prince you'd get a servant to wipe your ass, a servant to spray lavender oil on your after-BM anus, a servant to pick our your eye snots, a servant to make sure the butter slices fully melt in your baked potato before serving it (I HATE NON-MELTED BUTTER SLICES), etc... etc... The whole point of marrying a prince is so you don't have to live like a dirty filthy commoner anymore. But Kate Middleton will have to continue to live like a dirty filthy commoner, because word is that she won't have any household help after she married Prince William. The poor homeless peasants on the street are like, "It's so hard being Prince Willy and Kate."
Prince Charles has a staff of 150 that costs around $9.6 million a year, but Prince William and Kate want to live like the normal people do. They will do their own laundry, cooking, and cleaning. They will only employ bodyguards to protect them while they try to live like all of us. A source tells The Telegraph, "They want to do their duty and make sure they are a real asset to the country but they are private individuals who want to get on with their lives. Prince William is not into extravagance and, like any other young officer in the armed forces, that is how he chooses to live his life. He and Catherine live without domestic staff and they wouldn't do it any other way. That's the life they want to lead."
Well, there goes my plan of getting a job as Kate's lady-in-waiting so that I can get closer to the torch of the royal family Prince Hot Ginge. Wait. On second thought, The Telegraph's article didn't say anything about Prince Hot Ginge going SANS SLAVES. I'm sure he still employs a full-time servant to gently brush his ginger crotch bush hundreds of times a day. Get me a fireplace glove and point me toward the royal job fair!
Tuesday, December 28th 2010
Kelsey Grammer wants to drop a speed ball into his divorce from silicone orchid Camille Grammer and legally remove her from his life as soon as possible, so that he can be free to marry his girlfriend Kayte Walsh. TMZ says that the financial settlement between Kelsey and Camille hasn't been worked out yet, but he still wants a judge to declare him divorced before they figure out the money shit. California law states that Kelsey and Camille's divorce can be final on January 1st, six months after she filed. If a judge agrees to take a cutter to Kelsey's wedding ring on the first of the year, then he's going to put on a fresh one from Kayte as soon as possible. Somebody grab the shovel trophy out of Camille's claws and hand it to Kayte, because the trick ho is good. Or maybe not...
TMZ also says that since Camille and Kelsey don't have a prenup in place, she's pretty much guaranteed 50% of the cash they made together during their 13-year marriage. Thanks to a bunch of real estate moves (orchestrated by Camille, of course), they made around $100 million in 13 years. That means Camille will stuff a $50 million check between her al dente plastic titty balls.
Kelsey better fill Camille's wheelbarrow with anything and everything she asks for, or else she'll use her hypnotic Club MTV moves to lure him into an empty dining room before locking the door and leaving him with this: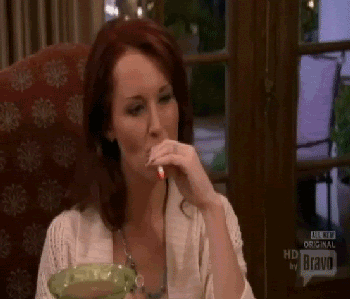 Yup, the bitterness left in your mouth from losing $50 million tastes a lot better than cunthol-scented e-cigarette smoke.