October 12, 2014 / Posted by:
Sweetas
I can tolerate Sarah Silverman and Chelsea Handler, and actually would love to party with them and live to tell. They both seem like that crazy fun bitch that will show you the best time of your life and bail right before you wake up in jail in a pile of someone else's barf on the drunk tank floor. People has a video of them as Thelma and Louise and their tribute is cute and all, but.
BITCHES CAN WE TALK. You don't touch Thelma & Louise unless you can bring it better and since there is no better, just don't go there. Ever. Actually I think that's the 28th amendment to the Constitution: Leave Thelma & Louise ALOOOOOOONE.
Gena Davis and Susan Sarandon, the original and only T&L, had this reaction when they saw the video: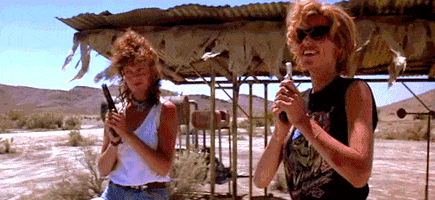 So basically Sara And Chelsea can choose from "WHAT NOW BITCHES" and "NO". But thanks for playing! And call me but first, call a bail bondsman.
Our commenting rules are pretty simple:
If you make any overly offensive comment (racist, bigoted, etc..) or go way off topic when not in an Open Post, your comments will be deleted and you will be banned. If you see an offensive or spammy comment you think should be deleted, flag it for the mods and they'll be forever grateful and give you their first born (although, you probably don't want that).