The refined rose at the Angels vs. A's game who took pictures of her chichis during the game, because why not? This is the redefinition of YOLO!
Busted Coverage has video from the game on Tuesday night of a true lady who was sitting behind home plate alone and was soooooo bored by all the men in tights throwing balls that she started taking pictures of tits. She went all Amanda Bynes at the baseball game.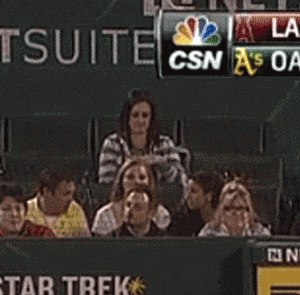 It's like watching a rose bloom at the home plate.
I really don't know what's going on and unless she's got a whole lighting crew down her shirt, those tit selfies are going to be really dark, but I'm still all for this. Any time is the right time to take pictures of your chichis. Keep fucking that chicken, home plate rose!
(GIF via Buzzfeed)
Our commenting rules are pretty simple:
If you make any overly offensive comment (racist, bigoted, etc..) or go way off topic when not in an Open Post, your comments will be deleted and you will be banned. If you see an offensive or spammy comment you think should be deleted, flag it for the mods and they'll be forever grateful and give you their first born (although, you probably don't want that).