Those of you who watch The Real Plasticwives of Orange County know that Droopy Dog Vicki's world crashed down to the same level as Alexis Bellino's IQ when she found out her daughter Briana eloped with her boyfriend at a drive-thru wedding chapel in Las Vegas. I was shocked too, because I kept waiting and waiting and waiting and waiting and waiting for the episode where Briana comes out as a proud labia-licking lesbian. It didn't happen and instead Briana married a dude. Vicki freaked out, because Vicki is Vicki and if it's not about Vicki Vicki doesn't like it. Vicki felt like Vicki's daughter robbed Vicki of the experience of being the mother of the bride at a wedding Vicki would've made all about Vicki. I'm typing Vicki's name so much, because blogging legend has it that if you don't type Vicki's name at least 25 times in a post about Vicki, you will awaken the Vicki monster and Vicki will crawl out of the closet to scream at you for not making this post all about Vicki!
During the past episode, Droopy Dog threw a marriage announcement/wine club (???) party for her daughter and Tamra asked Briana if there was a baby with a shot gun in there. Vicki's head nearly popped off and she said she wouldn't be able to take another bomb drop. Well, pull out your telescopes and search the sky for a soaring Vicki head, because Radar says that Briana's love tank is full of amniotic fluid:
The reality TV star is already four months pregnant and can't wait to be a mother, a well-placed source tells us.

The news likely came as another shock for Vicki who, as RadarOnline.com reported felt "confused and sad" when she recently learned about Briana's secret elopement.
Vicki hasn't yet given a statement about this, but we all know what her official response is. Yes, I'm using this GIF again: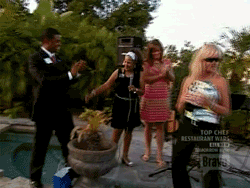 Honestly, Vicki loves all of this. Ho loves the drama. If it allows her to be the neurotic, unreasonable, lunatic monster that she is, Vicki is all about it. Some people just love being crazy. Besides, Vicki will love her grandchild as long as Briana names it….wait for it…Vicki Jr.
In other OC Housewives, Lynne Curtin, the Steven Tyler-ish beauty who makes Alexis Bellino look like the founder of Mensa, is getting a divorce! Who will get control of her Cuffs of Love empire?!!!!
Our commenting rules are pretty simple:
If you make any overly offensive comment (racist, bigoted, etc..) or go way off topic when not in an Open Post, your comments will be deleted and you will be banned. If you see an offensive or spammy comment you think should be deleted, flag it for the mods and they'll be forever grateful and give you their first born (although, you probably don't want that).