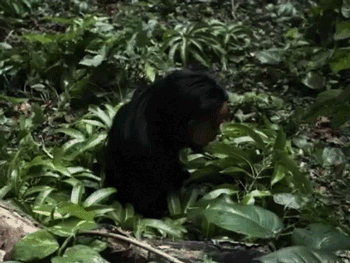 The monkey in the doll face hat from last night's episode of The River
So last night was the premiere of the show that ABC has been shoving down our eye sockets almost harder than NBC has been shoving that Smash shit down our eyes sockets. The River is sort of like Blair Watch (the sequel) meets Paranormal Activity meets The Jungle Book meets (hopefully) your mouth over a bong. I watched it sober and I do not recommend it. Snort Twinkie cream or freebase a Starburst or something. If you don't, it could be a work of pure comedy like it was for me. ABC kept warning our adult eyes that it'll make us scream through our assholes, but it just made me laugh. Like the part (SPOILER-ISH ALERT) with the monkey in the doll face hat. The main hos are walking through the jungle and they hear a little girl crying. They spot what they think is the little girl crouching on the ground, but when they get closer, it's really a doll face on a monkey's head. COMEDY! Those bitches started screaming like they just saw a SANS FARDS Jocelyn Wildenstein, but I would've been looking around to see if I accidentally stumbled into Lady CaCa's Monster Ball. I mean, why is that monkey wearing a doll face hat? Who does it think it is? The other monkeys are like, "THIS BITCH thinks it's doing couture now."
I bet this is what it looks like after Kim Kardashian lures a dude into her cave. Kim's plastic face pulls back and her real beast face comes out to suck the life out of her victim. Well, since I put it that way, maybe this shit is scary after all.
Our commenting rules are pretty simple:
If you make any overly offensive comment (racist, bigoted, etc..) or go way off topic when not in an Open Post, your comments will be deleted and you will be banned. If you see an offensive or spammy comment you think should be deleted, flag it for the mods and they'll be forever grateful and give you their first born (although, you probably don't want that).