A natural reaction to this new promo picture for Beyonce's last album is: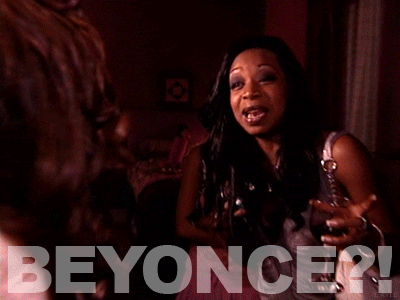 Because that looks like Beyonce as much as this pasty fat blob of depressing feelings over my stomach looks like Serena Williams' 10-pack. But some bitches aren't mad because the "Harpo, who dis woman?" Photoshop tool was abused during the making of this picture. They're mad because they say Beyonce was whitewashed AGAIN. Over three years ago, L'Oreal was accused of giving Beyonce whiteface filipinoface and now the #1 newspaper in Fuckeryville, The Daily Mail, says she might be at it again. They brought out some comments from 2008 that a writer for the Daily Mail made about how Beyonce is bad for Black and Asian girls:
"Too many black and Asian children grow up understanding the sad truth that to have dark skin is to be somehow inferior. Of course, black and Asian parents work hard to give their children a positive self-image and confidence in their appearance, despite the cultural forces stacked against them. But when black celebrities appear to deny their heritage by trying to make themselves look white, I despair for the youngsters who see those images."
But the DM also spoke to some "expert" who said that Beyonce's lighter skin color in the picture above could be from bright lights on her face and shit. To me, that's exactly what's going on here. It's just a light! Specifically, it's just Beyonce glowing inside from the illuminated seed of infinite light that Jay-Z jizzed into her. Either that or Beyonce was too busy shopping for South American baby ovens at the time of this photo shoot and so she asked my Cuban friend Armando to do his best Kylie Minogue drag for this picture.
(New York GIF via RealityTVGifs)
Our commenting rules are pretty simple:
If you make any overly offensive comment (racist, bigoted, etc..) or go way off topic when not in an Open Post, your comments will be deleted and you will be banned. If you see an offensive or spammy comment you think should be deleted, flag it for the mods and they'll be forever grateful and give you their first born (although, you probably don't want that).