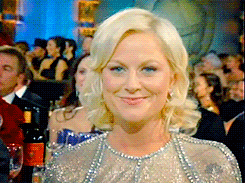 Somebody had to give the videobomb of the night and even though I was secretly hoping it would be an actual lit bomb behind Madge as she licked her own ego during her ten-year-long acceptance speech, it was Tina Fey! While who ever was on stage was throwing out the names of the nominees for Best Actress in a TV Comedy, Amy Poehler thought the camera lens and her were having a special intimate moment together, but then Tina snuck in like a chrishansenhaveaseat.gif. Tina is seriously becoming a seasoned bomber, because this is her second time stealing a ho's shine at an awards show.
So if your ass is ever sitting in a $30,000 borrowed gown at an awards show and you hear the sounds of the Jaws theme behind you, it's Tina Fey stealing your shot! Or it's Phoebe Price since the secret ingredient in her chicken cutlets are magnets that drag her toward the camera. Wait. Are we sure this isn't actually Chicken Cutlets in a Tina Fey mask?
Our commenting rules are pretty simple:
If you make any overly offensive comment (racist, bigoted, etc..) or go way off topic when not in an Open Post, your comments will be deleted and you will be banned. If you see an offensive or spammy comment you think should be deleted, flag it for the mods and they'll be forever grateful and give you their first born (although, you probably don't want that).